'The most amazing race, not only that I've commentated on, but that I've seen'
Sir Anthony McCoy celebrates his 47th birthday on Tuesday, so to mark the occasion we remember when a seemingly mundane ride at Southwell in 2002 turned into something far bigger for the legendary rider. This article was originally published on December 23, 2020.
---
Sir Anthony McCoy riding an odds-on favourite to victory in a novice chase at Southwell on a Wednesday afternoon would not normally capture the attention of the sporting world.
But that does not begin to scratch the surface of a chaotic race, broadcast live on At The Races, which saw all seven runners either fall, unseat or refuse.
At one point there were no runners left in contention at all to the amazement of racecourse commentator Mark Slater. Amidst the carnage, the ruthless winning machine that was McCoy, who had parted company from the Martin Pipe-trained Family Business at the tenth, spotted his opportunity. McCoy made the split-second decision to remount his ride before sauntering home in blissful isolation.
Slater and McCoy tell the story of a remarkable January afternoon at Southwell in 2002.
Mark Slater, racecourse commentator
It was the most amazing race, not only that I've commentated on, but that I've seen. I remember there were a couple horses that fell early – Family Business parted company with McCoy about halfway round and as far as I was concerned, that was him out of the race.
Going down the back straight it all started getting very chaotic. Those that were left were falling, refusing or unseating. I think one horse fell, was remounted and then was still in front of the only other horse that was in the race at the time.
At the final fence on the far side, the last horse still continuing, Eaux Les Cours, refused and I remember saying 'that's it, there are no more horses in the race.' I was preparing for it to be voided.
Then I looked down from the commentary box and all of a sudden here was Family Business and McCoy making their way back round to where they had fallen. It was a total surprise to see them because I'd stopped tracking them – the horse had galloped away after the fall and quite where they were reunited I've no idea because my attention was on the rest of what was happening.
About 30 seconds after the last horse had come to grief on the far side, Family Business got back to where he had fallen and they just got to do their own thing for another circuit.
After what had happened, I was still trying to keep an eye on the horses on the far side just to see if anyone else was going to remount. It was such a strange spectacle of events.
A few years later, I was at home watching A Question of Sport and it popped up on the 'what happened next' round. It was definitely a story that made it out of the usual racing pages. I've been commentating since the late 80's and I've never seen anything quite like it.
AP McCoy, jockey of Family Business
I remember falling off him and for some reason – I don't know why – I kept watching the ones that were left. A couple had already fallen and the others weren't jumping great at all. I'd actually got in a Land Rover to bring me back up to the winning post and as I was walking back towards the weighing room, I was still watching them jump.
I think I spoke to Bob Hodge, the travelling head lad for Martin Pipe, and they had caught Family Business. They were about to walk him back toward the stables. I said to Bob 'why don't I just get back up on him?' Don't ask me what made me do it because when I got back up there were still three left.
I went back down and I remember thinking 'do I have to jump the fence that I fell off at?' I thought I better just in case they say I haven't completed the course. So I jumped the fence again and that was it.
The one thing I recall the most is that someone had backed him on Betfair at 1,000-1 when he'd fallen and there were still others in the race. Whatever I was thinking getting back on him, I wasn't thinking as ambitiously as the fella that backed him at those odds.
Numerically speaking it was the most successful year I ever had. In the 2001-02 season I had 289 winners and 307 in the calendar year of 2002. I was obviously desperate. Not one of those winners was as crazy as Family Business, he was definitely a surprise.
---
Read more Magic TV Moments:
'He was a real showman and there was no-one before or since like him'
Rishi Persad: 'The thought in my head was 'holy s***, this is massive''
Hayley Moore: 'It was a random thing to do. I didn't expect it to go viral'
Luke Harvey: 'It very soon dawned on me that I was part of television gold'
Derek Thompson: 'I simply assumed it was a woman and still laugh about it now'
---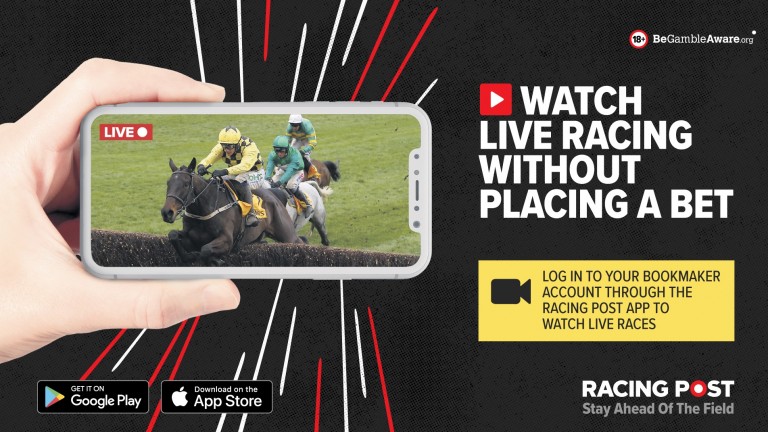 Watch live races through the Racing Post. Log in to your bookmaker account and look on the racecards for eligible races. Click the red 'Watch live now' icon and they're off! Find out how here
---
Don't ask me what made me do it because when I got back up there were still three left