'People care and the love for old racehorses shines through years down the line'
For National Racehorse Week, the Racing Post has visited racehorses at five different stages of their lives. In part five, senior features writer Peter Thomas finds ex-racehorses enjoying retirement at the British Racing School.
---
Touch The Sky was once a very hot property. Although expectations would have been managed at Lordship Stud, as a son of Derby winner Sea The Stars and Oaks winner Love Divine he might have been expected to turn out pretty useful, with a long-term value to match.
That was then, though, and this is now. The blue-blooded gelding spent two seasons on the sidelines with injury, won a couple of Class 4 handicaps for David Elsworth and was finally retired at the age of five, having reached a handicap mark of 85 that did scant justice to his pedigree. Then he was sold, for the princely sum of £1.
The buyer was the British Racing School in Newmarket, where the contented under-achiever is now enjoying his second career as a schoolmaster to the jockeys, trainers and stable staff of the future. It may not be quite the stuff of legend, but it's an honest living for a potential superstar who never quite made the grade. Most importantly, it guarantees him a home for life and the endless devotion and care of a small army of admirers.
"We buy all our horses for a pound, for insurance purposes," explains Grant Harris, chief executive of the BRS, "but to us he's invaluable, like all of the horses we have, because without them we couldn't do this.
"We're a charity, so we can't afford to pay for horses like him, but he was a six-year-old living out his days in a field at Lordship Stud and they didn't know what to do with him, so owner Trevor Harris asked if we'd like to give him a go, and he's been a great success."
At the other end of the scale is Andrew, the only crossbreed in a yard of some 80 thoroughbreds, currently standing contentedly in his box, serenely devoid of any inferiority complex and renowned as a "bombproof" member of the teaching staff.
Then there's Poetic Rhythm, once famous as Fergal O'Brien's first Grade 1 winner in the 2017 Challow Hurdle – now tacked up, with trainee Lucy Hughes in the saddle, ready to begin the day's lessons.
These are just a few on the long list of ex-racers who have been recruited for second careers in the low-pressure environment of the BRS. Some are model employees, sweet-natured and docile; others have a naughty streak that makes them ideally qualified to prepare their young riders for some of the greater challenges in a racing yard; all of them are fit to do the job in return for a life of certainty, security and an endless supply of Polos.
'George' isn't a saint, but he seems to have taken to his new job with relish. He likes a buck and a kick before and after his stint on the all-weather strip – just to remind everyone that he was once a bit of a star, presumably – but Hughes, an 18-year-old soon to continue her training with Cheshire-based Oliver Greenall, is wise to his ways and happy to indulge him.
"He was keen, but that's fine," she says. "I like going quick and it's good to get the opportunity to ride a horse as good as him.
"You definitely fall in love with them. Poetic's one of my favourites – he can have his off days, but he loves a cuddle and the more you ride them the more of a connection you get and the more they understand you.
"We're all horse lovers here and it's nice to be part of the way racing treats horses like him when they've finished racing."
Poetic Rhythm is one of many success stories the school has written as a major rehomer of retired racehorses. His owner Chris Coley had enjoyed his successful racing career but was aware his best days were behind him and was keen to find him a new role that would satisfy his innate competitive instincts and offer him a good life into the bargain. So O'Brien's other half Sally Randell offered him to the team and the recruitment process began.
"Sally came here for her trainer courses and we managed to get her an exemption from the last day to ride in the Grand Military, which she won," says Harris, "and since then she's been a great friend of the school!
"When she teamed up with Fergal, we knew we could send students there, the same way as we do with people like Dan and Grace Skelton, so it's a symbiotic relationship. They started sending us horses and Poetic Rhythm was just the kind we like. He'd had a few back issues, was sliding down the handicap and struggling to win, but he was in good shape and I remember him arriving.
"Chris drove up here and was in buckets of tears and took loads of photos, but he knew George would be ideal for us, so we took him in and checked him out."
"He could have gone one of two ways," says Zoe Hammond, quality assurance manager at the school. "When he was walking back down after work he went sideways, jig-jogging and got in a ball of foam, but he's on less food now because he's not racing and within a week he calmed down.
"He's still lively, but that kind of behaviour teaches students to ride on a long enough rein, because if they grab hold of a horse, that's when you get the issues. That's teaching them to ride racehorses."
There was never any danger of George being put into work that didn't suit him or, worse, threatened his wellbeing.
The selection procedure sees to that, as Hammond explains, saying: "As soon as the phone rings, we look up the horse's form on the Racing Post website to see if they're hard-pullers or have any other awkward traits. That doesn't necessarily relate to what they're like at home but at least it gives us some idea.
"Then we'll contact the people and arrange to have the horse on a six-week trial. It used to be four weeks but now we get the instructors to ride them on every facility and then get the more experienced students to do the same: indoor, outdoor, round canter, straight canter, in behind, on their own, so we have a really good idea what they're like.
"Most of them are fine. Some we'll take a chance on if they've not long come out of training and we think we can work with them. We check them out for a couple of weeks after the trial and let them get rid of their racing brain, and we may do some jumping with them, everything we possibly can to understand them."
A huge variety of characters arrive at the yard, but a certain background tends to prevail, for reasons that are easily explainable.
"The majority are ex-Flat horses," says Harris, "because it's very difficult to source a sound jumper that has come out of training because they often have a second career in hunting or eventing.
"An eight-year-old gelding that's going downhill, has been through three or four yards and has missed its chance at the horse-in-training sale, that's what we get a lot of, but we were offered a new horse yesterday from the Hong Kong Jockey Club, via one of our trustees, Hetta Stevens.
"He was by Holy Roman Emperor out of Ape Attack and cost €100,000, but he was never raced or even named, so you can get all types."
All types, so that students, who may ride 50 individual horses on their course, can gain as much experience as possible. Types like Falmouth Harbour, a 16-rated gelding who beat just four horses in four runs for Paul Cole. "I went to see some students down there and came back with him," recalls Harris. "The owner was delighted and so were we!"
Types like Heart Of A Hunter, who is barely three weeks out of training with Tony Carroll and is out in a field learning to relax; like Brief Goodbye, the former John Berry-trained horse who, at the age of 21, is described as a "naughty old man" who has never quite shed the habit of trying to get rid of unsuspecting riders.
"The students need to ride plodders and difficult ones," says Hammond's husband Mike, yard instructor and former point-to-point trainer, who spends much of his morning charging along beside the straight gallop in a minibus, encouraging and cajoling riders via a walkie-talkie.
"The horses have got to be realistic for the workplace. These guys have one more week here and then they go to work – there's no point in wrapping them up in cotton wool until the end, so we've got a couple of tricky ones this morning."
The students seem to derive great benefit, experience and no small degree of excitement from a spin on the livelier steeds, just as the owners and trainers who send them here derive a huge amount of satisfaction from knowing they have done a good thing.
"We had a horse arrive recently called Sussex Road," elaborates Mike. "His claim to fame is that he was rated 46 over fences, the lowest-rated chaser in the country, but when he was advertised on Facebook, I rang and asked if we could have him.
"The trainer, Aytach Sadik, had already been offered a couple of grand for him but he went away and thought about it and phoned back a few days later. When he came to look round the place, he said it was a privilege for his horse to live here.
"He chose us because he knew if he sold the horse he'd lose control of him and wouldn't know where he was going to be sold on to in the future. He wanted his old favourite to be somewhere consistent for a long time and be looked after properly, and we can offer all of that."
With a non-racing agreement signed, each horse is guaranteed a life out of serious competition, but with its instincts to gallop satisfied it has the physical wherewithal. Some of the old-timers loafing out in the fields would still lead the rest a merry dance on the all-weather given half a chance, but there comes a time when their enthusiasm has to be kept in check.
"The majority of our horses have quite a few miles on the clock," says Harris. "They'd be aged six to 25 and they'd have their niggles, but they're not injured, they're just like you and me, they're middle-aged horses."
"The aim is to keep them for as long as we can," says Zoe. "We had a couple we've just rehomed at the age of 25 and they'd still have been doing indoor work with the absolute beginners and maybe one little canter a day, but if it's hot we don't do much with them at all.
"The trouble is, we have lively old boys like Patsy Finnegan [who had been trained by Jim Old, Alan King and Nick Wright] who is 19 now, which you can forget because he's always so bouncy, doing what he's bred to do. He's still a lovely horse and a real favourite with the students, but we make sure he takes it easy."
The symbiosis between owners, trainers and the BRS is obvious, but there are other areas in which these semi-retired horses help to complete the circle of racing life. The school is the first port of call for the Royal Veterinary College when it wants to carry out studies on anything from saddles and shoes to stride patterns and provides the results in return; SIS trialled its tracker system here and the quid pro quo consisted of five sets of numbered saddle cloths; and when a blood donor is required by Rossdales Equine Hospital, there's one place they will be sure to contact.
"There was a regally bred broodmare that needed a caesarean in February and we sent a horse down there that was a perfect blood match," remembers Mike with no little pride. "He stayed down there for a week so they could take blood from him whenever they needed."
These are horses who begin their lives giving sporting pleasure in return for bed, board and kindness, and carry on serving and helping to perpetuate racing, while being treated like family pets. Even the people who passed them on for £1 rarely forget them.
"Whenever I see Trevor Harris at the races, the first thing he asks is how Touch The Sky is, and a lot of former owners will visit when they're at the races in town," says Harris.
"They turn down money in return for peace of mind, and they love to stay in touch with the horse that's now keeping people in the industry busy and giving a lot of pleasure."
"What it shows you is that the sport cares, people care and most of them want to do the right thing," says Zoe. "The love for old racehorses shines through years down the line."
---
If you would like to take part in the many events of National Racehorse Week go to nationalracehorseweek.uk for more details.
Members can read exclusive interviews, news analysis and comment daily on racingpost.com. Click here to sign up
---
Catch up with the other parts in the series here:
The foal: 'If I was a horse living in a paddock like this, I'd think life was pretty good'
The two-year-old: 'If they were revved up to win they wouldn't keep on improving'
The superstar: 'It's no different to managing a top footballer'
The veteran: how Rosie Margarson and best friend Bean became social media sensations
---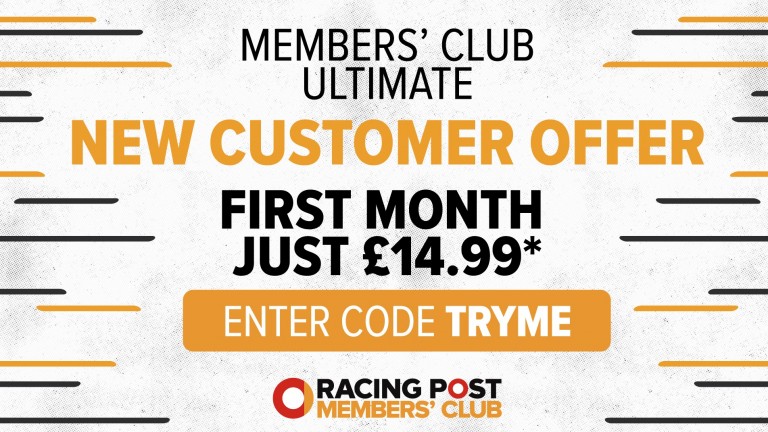 Over 50% off Racing Post Members' Club! Members' Club is the only subscription racing fans and punters need in order to stay informed and make smarter betting decisions. Features include early access to the Racing Post digital newspaper, exclusive news and interviews, premium tips and form study tools to assist with betting. Select 'Get Ultimate Monthly' and enter code TRYME to get your first month for just £14.99* – that's better than half price!
If you decide that Members' Club is not for you, then you can cancel at anytime by contacting us.
*Members' Club Ultimate Monthly first month will be charged at £14.99, renews at full price thereafter
---
He chose us because he knew if he sold the horse he'd lose control of him and wouldn't know where he was going to be sold on to in the future