Bryony Frost: 'The Irish horses will have to be good to beat Black Corton'
Bryony Frost kicks off a daily series featuring bookie Ben Keith, Gordon Elliott groom Georgie Benson and Lil Rockerfeller's owner Andy Smith as the excitement mounts in the build-up to Cheltenham
My Sunday off – I'm just out having a walk around the fields and taking time to think about what a good day it was at Ascot on Saturday.
What a great little horse Black Corton is, he's got big ears and a funny sort of waddle and you might not look twice at him, but I wouldn't swap him for anything.
He made some good horses look moderate and it was a marvellous feeling. He's got to get there in one piece and so have I, but we'd have a great chance in the RSA Chase.
I know there are a few good Irish horses about, but they'll have to be really good to beat my fella. Everyone was down at the Manor [in Ditcheat] celebrating on Saturday night, but I didn't join them – I said they could have my drinks for me! It's all about making memories and Saturday was one of those days.
Last week was a good week – the Jockey Club very kindly made me one of their ambassadors, and gave me a new car to go with my role. It's lovely: a dark grey Range Rover, I've given it a good spin already, took it down to Plumpton and back, and now I suppose I have to start paying everyone back for all the lifts I've cadged off them.
It's usually me falling asleep in the passenger seat, but I'll have to grit my teeth and keep my eyes on the road while someone else snores away!
I'm not sure where I'm riding this week – maybe Taunton on Tuesday – but I like the unpredictability of not knowing what the next step will be, it appeals to my nature.
The boss [Paul Nicholls] is minding my career as though I were a novice hurdler – I'm a bit keen, a bit impatient and I probably need a ring bit – and that's great, because so many top jockeys have come out of the yard after following the same system.
It's tough to keep a lid on it because all everyone's talking about is Cheltenham, it's only three weeks away now and the hype and excitement are really starting to build. They call it racing's Olympics and now it's all about fine-tuning the athletes so they're spot on on the big day.
I know a lot of women have already decided what they'll be wearing to the big four days, but that doesn't worry me too much – as long as I'm wearing dark blue with light blue stars and a red cap I'll be happy.
---
Members' Club Ultimate subscribers can read our festival stable visit with Gordon Elliott exclusively online the night before publication in the paper. Not a member? Enjoy your first month free when you subscribe using promo code FREETRIAL. Find out more here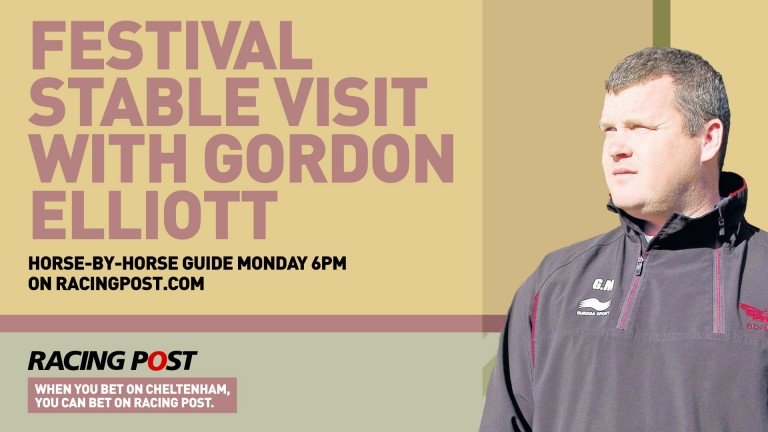 ---
I'm a bit keen, a bit impatient and I probably need a ring bit