The good, the bad and the ugly of the week's racing
High Noon for Ayr
Never has one patch of ground attracted so much attention as the infamous waterlogged stretch at Ayr that caused the cancellation of the Gold Cup and the entirety of the Western meeting, Scotland's premier Flat fixture. Speculation has swirled all week about what lies behind the problem, with dodgy drains and supermarket car parks among the possible culprits in what soon descended into a whodunnit of the turf.
As of now it's still unknown why this one patch gave so much trouble – a report is due to be presented to the BHA – but with thousands of disappointed racegoers, trainers, jockeys and owners out of pocket and a financial shock to Ayr and the wider industry of several hundred thousand pounds, answers need to be forthcoming.
---
When racegoers aren't racegoers
Have you ever wondered how many people at a race meeting are there purely to dress up, drink champagne out of little plastic flutes and sit about in lawn furniture? Now we have the answer: roughly one in four.
That is what portion of Ayr's usual Gold Cup crowd of 12,000 turned up to on Saturday, after the loss of the three-day Western meeting. Some 3,000 attended the raceless raceday, most of them in full finery and determined to make the most of the day.
This was slightly dispiriting stuff for those of us who think the actual horseracing is quite an important part of horseracing, but it salvaged something from the wreckage of the meeting and gave ticket holders who had been looking forward to a day out something to do with their Saturday. All in all, it was a good call from Ayr.
---
Who needs a honeymoon?
Most married couples look forward to their imminent honeymoon after their nuptials are sealed. That wasn't the case for trainer George Scott and new wife Polly who, after tying the knot on Sunday, had James Garfield to prepare for the Mill Reef Stakes six days later.
The plan came together nicely as James Garfield, owned by Scott's new father and brother-in-law, stylishly captured the Group 2 at Newbury under Frankie Dettori.
Mission completed, the passports are now ready to come out. However, racing is again the focus as James Garfield looks set to head to California for the Breeders' Cup.
---
Handbags at dawn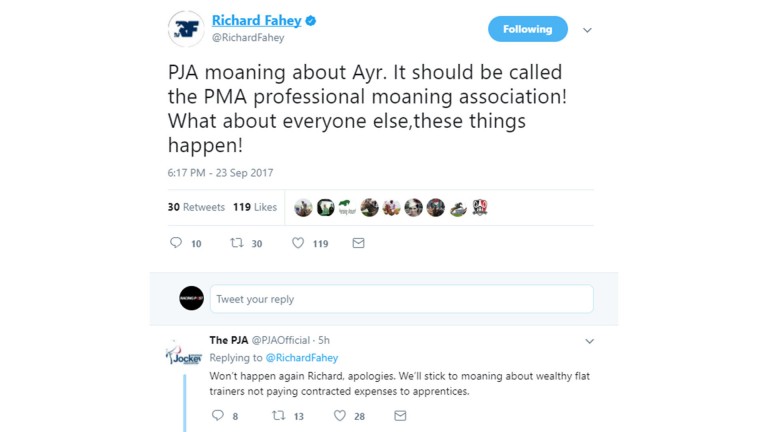 Richard Fahey and the PJA have a feisty exchange about jockeys' complaints over the Ayr abandonment.
---
So long, says Fred
The combustible relationship between racing and Fred Done exploded again this week after the Betfred supremo stated he would no longer sponsor races apart from at Ascot and Chelmsford.
Races such as the Ebor, Cambridgeshire, Classic Chase and Cesarewitch need new backers as will many of the near 1,000 contests Betfred support. Done also promised to close 49 of his 51 racecourse betting shops.
"As from next year, racing and Betfred have got to learn to live without each other," said Done, who is unimpressed with the introduction of a new Tote by many courses from next summer.
---
Picture of the week
Notorious interloper Richard Melia was back on the scene at Yarmouth on Thursday. He was ejected after leading in the winner of the first race. He has now been banned from all Arc courses, but somehow we suspect he'll find his way in again – he always does.
---
Take that
Take Cover is fast becoming everyone's favourite horse, enhancing his claims with another pillar-to-post victory at Newbury on Saturday.
Ten years young, Take Cover seems to be enjoying himself more than ever and he captured his third race of the year for trainer David Griffiths and owner Andrew Hollis.
He is a credit to his connections and looks certain to be ripping up the track next year as an 11-year-old. How exciting.
He is a credit to his connections and looks certain to be ripping up the track next year as an 11-year-old