'That's our best ever year' - Murtagh reaches milestone thanks to 21-1 double
Wednesday: Navan
Johnny Murtagh can now celebrate his best season numerically thanks to victories from Mile End and Maristella. The 21-1 double took the trainer to 42 winners for the campaign and he heaped praise on stable jockey Ben Coen for helping him reach the milestone.
"That's our best-ever year," said a delighted Murtagh. "The last couple of weeks we were getting close, so I was hoping we would do it and it's great that we have. Ben is a great rider and a great lad."
Coen needed to be at his best to get Maristella's head in front right on the line in the feature Irish Stallion Farms EBF Fillies Handicap.
Murtagh said of the 9-4 joint-favourite: "She's just won but probably deserves a shot at black type. There's not much left for her, although there are fillies' races at Naas and Leopardstown. She likes soft ground and probably wants a mile and a quarter. I'm delighted to win two races with her this year."
Mile End was a comfortable winner of the nursery and Murtagh added: "She's won two now and deserves to be on the team next year. The way she's going she might make a nice sprinter."
The victory was part of an across-the-Irish-Sea double for the Gredley family, whose colours were also carried to victory by Hollie Doyle on Save The World at Nottingham.
Diamond sparkles for Lynam
When Rough Diamond won at Naas in May, Eddie Lynam said if he were a human he would have been kept back a year at school as he was severely lacking in intelligence.
When asked whether he was a cleverer student now, following his half-length victory in the 5½f handicap, the trainer replied: "No. He's the type of gobshite you'd meet on the last bus home after a night out on the town!"
Rough Diamond might not be the sharpest knife in the drawer, but he was on his best behaviour here and was nicely on top at the line under Dylan Browne McMonagle.
Lynam added: "Trevor [Dalzell, owner] has been with me yonks so it's nice to get winners for him. This fella is out of a mare who has had four foals with us now.
"The first one won three, the second [Tide Of Time] won eight. Gobi Star won at Down Royal the other day and now this fella has won three. The mare has been good to me. It's the Slade Power family."
Salt Lake City 33-1 for Derby
The Aidan O'Brien-trained Salt Lake City was slashed to 20-1 (from 100) for the Vertem Futurity Trophy by Paddy Power and to 33-1 (from 66) for next year's Derby after an emphatic front-running display in the mile maiden.
Winning jockey Wayne Lordan was impressed and said: "His first run was very eyecatching. I don't really know exactly happened last time at York. Maybe it was travelling or something like that, I'm not sure, but he's been working nicely at home and it's not a surprise he's gone and done something like that."
---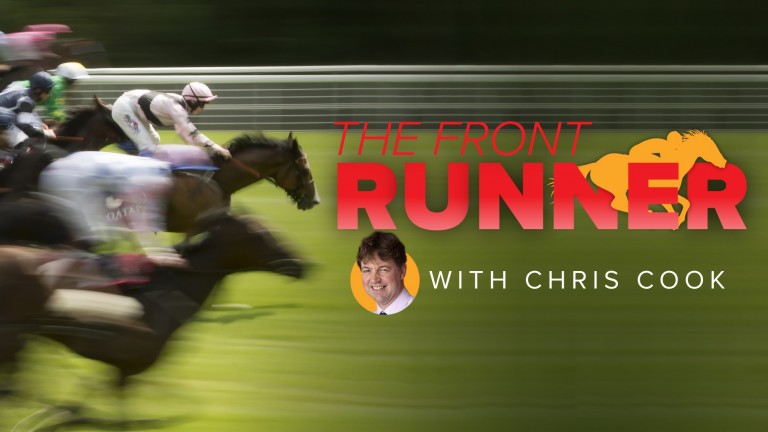 The Front Runner is our latest email newsletter available exclusively to Members' Club Ultimate subscribers. Chris Cook, a four-time Racing Reporter of the Year award winner, provides his take on the day's biggest stories and tips for the upcoming racing every morning from Monday to Friday
He is the type of gobshite you would meet on the last bus home after a night out on the town!