Twiston-Davies pays tribute to 'unbelievable talent' Ryan Hatch
Mentor Nigel Twiston-Davies described Ryan Hatch on Tuesday as a top-class rider while John Neild, in whose colours Hatch won the Betfair Hurdle on Splash Of Ginge, recalled his long association with the jockey who has been forced to retire at the age of 24 on medical advice.
"He started coming to us during his school holidays and that's how it started," said Twiston-Davies, who provided Hatch with the majority of his best days, notably Cheltenham Festival successes with Same Difference and Blaklion.
"He's extremely talented, unbelievably so. He's a very quiet lad but never did anything wrong."
Twiston-Davies added: "We always thought he'd be top class and he proved it on the big stage quite a few times. He's very quiet on a horse and they jumped well for him. He was always in the right place at the right time."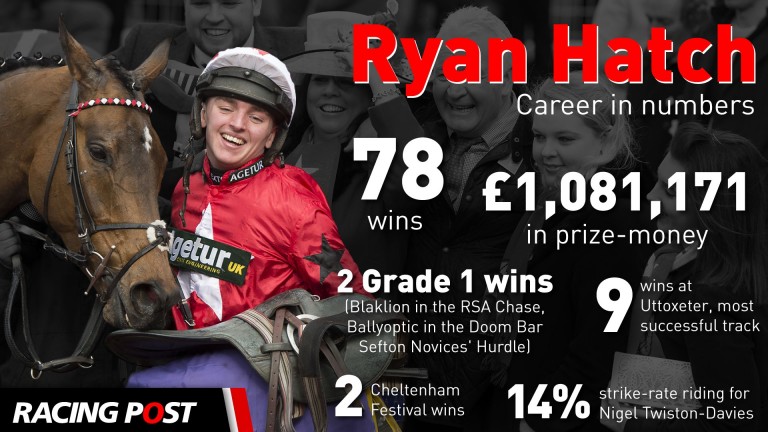 Neild said Hatch had been part of the story of Splash Of Ginge right from the start.
"He was the first person to sit on him and break him in," said Neild. "He looked after him in his early days with Nigel and mucked him out.
"We had to get someone else to lead the horse up for his first bumper at Chepstow because Ryan was riding. That was six years ago and he's family to us.
"It's awful news but I've had long chats with Ryan and we'll help him in every way we can once the dust settles and he thinks about where he wants to go. He's a great lad with a great sense of humour and has a good outlook on life."
Neild also revealed Hatch had not originally been jocked up for Splash Of Ginge in the Betfair Hurdle before a change of heart from owner and trainer.
He said: "I won't embarrass anyone by mentioning a name but we had someone more famous jocked up, then I rang Nige just before declaration time on Thursday. We both said we'd feel better if Ryan rode him. Even that was fate.
"Without the 7lb claim he probably wouldn't have won, and Ryan gave him an amazing ride. It's alright winning but when you win with the right people, it's that bit more special."
---
If you are interested in this, you should read:
Ryan Hatch forced to retire from riding on doctor's orders
Down the Hatch: beers flow after super Splash
He is very quiet on a horse and they jump well for him. He was always in the right place at the right time