Sir Alex Ferguson: I have a bet most days and racing's a great relief and outlet
When Alastair Down met the manager who, for once, wanted a Liverpool win
Published in the Racing Post on April 9, 2011
---
On the morning of Manchester United's Champions League quarter-final against Chelsea you might think Sir Alex Ferguson had more pressing engagements than sitting down and talking horses for three-quarters of an hour, but he is in fine and effusive form because racing allows him an escape from the sport that dominates his life and to which his working life is monument.
He is a Govan man, born and bred in the hard but prouder days when Clydeside rang to the industrious din of shipyards teeming with men and which were, historically, the very boiler rooms of the Scottish economy. We meet in an opulent London hotel that charges more for a night's stay than Ferguson's father would have earned in a year's unremitting graft.
"My dad loved his racing," he smiles, "but he was a bad judge. He backed Devon Loch and that rather sums up his punting I'm afraid. Mum liked it too and would have a tanner yankee on a Saturday.
"She used to say to me 'go and see what your father's backing'. So I would come back and tell her, 'two outsiders and two good things' and she would draw a big line through the two good things!"
For the benefit of those unfamiliar with pre-decimal currency, a tanner was six old pennies, or two and a half pence now. About ten years ago I did an article with Ferguson and some youthful sub-editor decided it should be "a tenner yankee"; Ferguson roars with laughter at the idea of either of his parents being able to shell out £110 for a Saturday bet when his dad was bringing home six quid a week.
But it is further evidence of the distance Ferguson has travelled that this afternoon he and his old pal Ged Mason have What A Friend at the business end of the betting for the Grand National – which still reaches out and grabs the public like no other race ever has or will.
And down the years the National has been good to Ferguson the punter. He says: "The first bet I had in the race was half a crown each-way on Nicolaus Silver, who won in 1961.
"But I remember Red Rum's first year very well. I was injured and the manager sent me to watch Hibs against Aberdeen at Easter Road. I had a bit of time to study the race and had £1 each-way on Crisp and £1 each-way Red Rum, who was a good price in the morning – and what's more I did the forecast."
He also had a decent touch on Ben Nevis, Earth Summit and Don't Push It last year – "someone told me JP [McManus] was going to be backing him and if it's good enough for JP then it'll do for me."
But the What A Friend experience promises to be on a far grander and more nerve-wracking scale. "We'd all been thinking about the Scottish National for him, but the Gold Cup changed all that. It was the most fabulous feeling to be part of such an incredible race and he beat a hell of a lot of good horses.
"Coming down the hill he just jumped too big and you've got to be so quick over those fences at that level. Mind you, that could stand him in good stead at Aintree. Paul Nicholls and Dan Skelton said we'd have to go for the National because we'd never have another chance like it at the weights."
Hardly any owner with a National runner ever misses the race but today the day job intervenes with a home game against Fulham. "Yeah, the race is off halfway through the second half," Ferguson says, "and it would be hard to imagine agony more absolute."
---
'We backed him here and there at 66s and 50-1 for fifty or a hundred quid'
---
But at least Ferguson will be spared hearing Fulham fans chanting that he has won it, when he hasn't, or fallen at the first when he's still on his feet, because Ferguson will not be pitch-side in the dug-out.
"I'm serving a five-match ban from the touchline, which all my staff think is terrific – if they had their way it would be a lifetime ban! So I'll be up in the directors' box."
Presumably, somewhere within Old Trafford they will be able to find a boffin who can tune the TV in the directors' box to the Beeb because nobody should underestimate how much Ferguson gets from his racing.
He says: "I have a bet most days and racing is a great relief and outlet. I prefer jumping to the Flat nowadays – it's somehow less intense and you get more personal satisfaction from it.
"It was a visit to Cheltenham for our anniversary a few years ago, when we met that great character John Mulhearn, that rekindled my interest. On the way home I said to Cathy 'How about owning a racehorse?' and she replied 'wherever did that idea come from?'"
Ferguson pressed ahead and he and Mason, in addition to What A Friend, have a handful of decent jumps prospects including one who rejoices in the spectacular name Cut The Lugsreilly.
For the benefit of soft southern Sassenachs, Ferguson explains: "Cut The Lugs Reilly was a famous Govan character who told the owner of a dog who kept barking in the pub that he'd cut the lugs off it if it didn't shut up. I think he ended up in jail eventually and there are some days when Cathy thinks that's where I should be."
For Ferguson an afternoon on course – he was at Aintree this week – is all about what he describes as "a different life". At a big club everyone has someone to go to except the man running the show.
He says: "Mine is a very isolated job. Sometimes in my office in the afternoons I can be there doodling and thinking about things and you are hoping someone will knock on the door, but they don't because they think you're too busy; so I find myself going out to find someone to talk to.
"If you're dealing with players you're dealing with emotions. Players are far more cocooned and fragile than they used to be – softer really. It's a change of times as much as anything – my dad would make the toys we got as Christmas presents; nowadays, any lower-middle-class parent just goes out and buys everything a child asks for from a long list.
"My job is to give players mental toughness. I want them to look at me and see myself in them. Every team talk and every coaching session is about giving them belief – I've never in my life gone into a game thinking I couldn't win it. Some of them even start to use my phraseology and then you've got a clue you're getting through.
"The other day I said that I must have given about a thousand team talks and Brian McClair, our youth academy director, turned round and said 'aye – and I've slept through at least half of them!'
"It's all about attitude. Our Brazilian players are always first out on the training grounds, whatever the weather, because they have a passion to play. And when I leave one out of the team it's 'right, I'm off home to Brazil'. They're great personalities and they've got winning mentalities.
"The best way of attacking this job is to make sure you don't lose, but the downside is that the fear of losing overrides the pleasure of winning."
If What A Friend does the business this afternoon the only downside for Ferguson will be not being at the horse's head in the winner's enclosure.
He says: "What I don't want to do is to be sitting in the directors' box listening to someone saying 'he's in sixth, now he's eighth, no tenth.' I really don't want to hear that."
For god's sake, will somebody take pity and find one needy man in Manchester a television come 4.15 this afternoon.
What A Friend was pulled up before the fourth-last in the 2011 Grand National won by Ballabriggs
---
If you want more on the 2021 Grand National festival . . .
2021 Grand National: confirmed runners and riders for Saturday's big race
2021 Grand National: essential information for jump racing's biggest event
What will the 2021 Randox Grand National winner look like?
---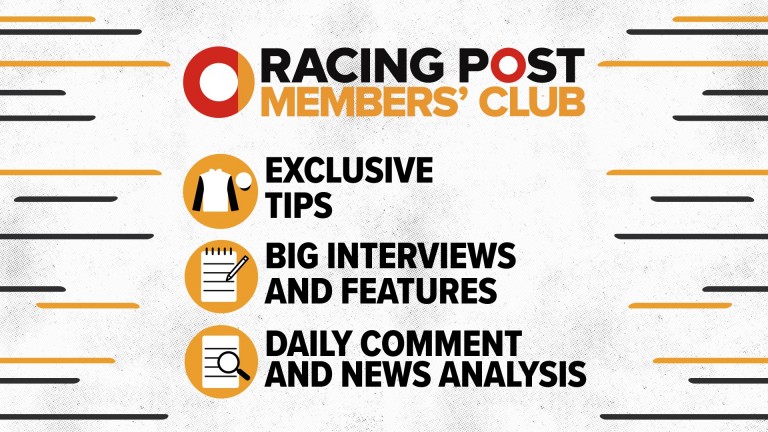 Join Members' Club Ultimate and read tipping from the likes of Pricewise and Paul Kealy, all the big interviews and features, daily comment and news analysis – plus our Ultimate Daily newsletter. Click here to sign up.
---
What I don't want to do is to be sitting in the directors' box listening to someone saying 'he's in sixth, now he's eighth, no tenth