Shan Blue and the shortlist of big-time chasers who seemed to have it in the bag
The Front Runner is Chris Cook's morning email exclusively for Members' Club Ultimate subscribers, available here as a free sample.
In Monday's email Chris reflects on a dramatic weekend's jumps action – and subscribers can get more great insight, tips and racing chat from Chris every Monday to Friday.
Members' Club Ultimate subscribers who aren't yet signed up for The Front Runner should head to the My Account area and under Email Communication opt into 'All members-club only emails' to start receiving The Front Runner and more great exclusive email content!
Not a Members' Club Ultimate subscriber? Click here to join today and also receive our Ultimate Daily emails plus our full range of fantastic website and newspaper content, including tipping from the likes of Pricewise and Paul Kealy, all the big interviews and features, daily comment and news analysis.
---
Oh, the pain of Shan Blue's exit on Saturday, whether you're connected with the horse in some way or had backed him, or even if you were just watching and empathising with Harry Skelton. It was tough and it will go on being tough.
But context is a great thing and will help us through; horseracing has been going on for a very long time and so we can be sure that, whatever extraordinary thing we've just seen, it has happened before. You may feel you've been singled out for uniquely appalling treatment at the hands of fate but others have been through exactly the same experience.
Barton Bank is the name that was rattling around in what the Front Runner is pleased to call his mind after this Charlie Hall. Readers of a similar vintage will surely remember him well, a classy, near-black chaser of David Nicholson's whose jumping could be spectacular but was also extremely fallible.
He had just eased past Young Hustler in the 1994 Charlie Hall and was clearly going to win, with the others tailed off, when he met the fourth-last wrong and ended up on his belly. Somehow, Adrian Maguire stayed aboard ("He was absolutely ventre-a-terre," said the commentator, which doesn't come up every week) but was poorly rewarded for his efforts when Barton Bank actually did fall at the second-last.
Worse was to come two months later, when Barton Bank unseated Maguire at the last fence in the King George. They were eight lengths clear and only had to get over it in one piece, but that would have been too easy for Barton Bank, who later got the hat-trick up by falling in the Gold Cup.
A more recent example, and also at Kempton, would be Might Bite, who took the mother and father of falls at the final fence when he would otherwise have been an impressive winner of the Kauto Star. Daryl Jacob took a certain amount of flak for urging him into the last when they were clear but he was a tricky horse, as the whole world found out at Cheltenham the following March, and the jockey was evidently aware there was danger in letting Might Bite slow down to pop over. Back in third place, Frodon also fell at that final fence, which seems very out of character.
But they were novices, a stage from which Shan Blue has only just emerged, and novices can make mistakes. Look at the great-but-vulnerable Carvill's Hill, another last-fence casualty when on the point of winning the big novice chase at Leopardstown's Christmas meeting some 33 years back.
Also at Leopardstown, Valseur Lido dropped Ruby Walsh at the final fence in the Irish Gold Cup of 2016. He'd only just hit the front and wasn't far ahead but it looked all over bar the shouting.
I'm indebted to my good friend and fellow scribe Rory Delargy for mentioning some other notable examples from way back. I'd forgotten about Arctic Call putting in an extra stride at the last in the 1992 Martell Cup and firing Mark Richards over the rail at the photographers.
But I don't think I've previously seen Indecision in the 1981 Kim Muir, in which he had a huge lead before falling at the second-last. He seems to have got rather less coverage than you'd expect for a certain winner crashing out at the festival, the media focusing instead on Prince Charles, who had been unseated earlier in the race.
There are other examples – Rory still sounds a bit sore over Kamikaze in the Singer & Friedlander of 1998 – but I think you get the picture. These highly unfortunate episodes do not come up every season but they do happen once in a blue moon. This is the heritage of which Shan Blue is now part.
Thankfully, we can say that all these horses got up and came back to try again some other day. Might Bite and Carvill's Hill still had their best days to come and hopefully that will also be true for Shan Blue.
Interestingly, he's become favourite for the Ladbrokes Trophy, punters having twigged that the handicapper is not allowed to raise a horse's rating if he doesn't make it to the second-last. I'm inclined to think he'll need to develop a more relaxed way of racing in order to see out 3m2f at Newbury in late November but who would begrudge the glory to all concerned after what they went through at Wetherby?
---
The Cook Review: charismatic Frodon raised memories of Floyd on drama-packed afternoon (Members' Club)
---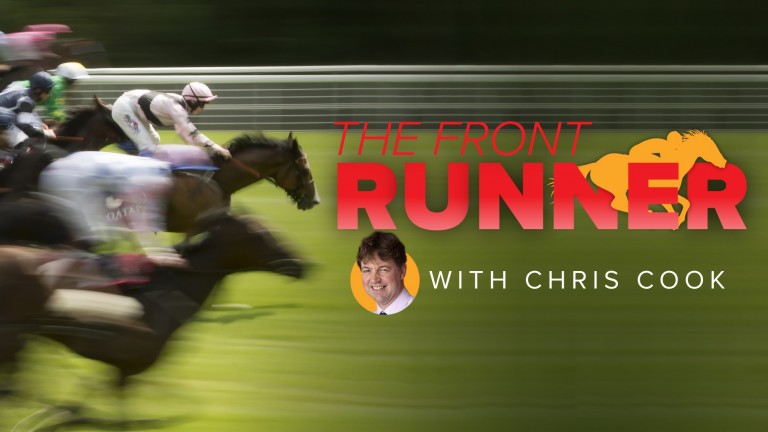 The Front Runner is our latest email newsletter available exclusively to Members' Club Ultimate subscribers. Chris Cook, a three-time Racing Reporter of the Year award winner, provides his take on the day's biggest stories and tips for the upcoming racing every morning from Monday to Friday
---
Might Bite and Carvill's Hill still had their best days to come and hopefully that will also be true for Shan Blue