'Setting up a newspaper is something you should never do more than once in life'
On April 15, 1986, the first edition of the Racing Post was published. Today marks the 35th anniversary of the newspaper, and this article was first published on April 11, 2011 to mark the paper's 25th birthday.
---
By late 1984, The Sporting Life was struggling under owner Robert Maxwell. "No-one knew what Maxwell's intentions were for the papers – he even referred to The Country Life in one article – and there appeared a danger that there would eventually be no daily racing paper," says Martin Smethurst, then of the Sporting Life Weekender, soon to be of the Racing Post.
At a meeting between Brough Scott and Sheikh Mohammed in February 1985, the idea of the Racing Post was born, and 14 months later, on April 15, 1986, the first edition rolled off the presses. Graham Rock, who had left the Sporting Chronicle to work with the Royal Hong Kong Jockey Club, was appointed editor, and a number of his staff remain with the Post to this day. Here, a few of them tell the story of the build-up to that first edition.
Joining the fledgling paper
Paul Johnson
Spotlight/football tipster
I was one of six former Sporting Chronicle journalists working on the Sporting Life Weekender when rumours began to emerge of a new racing paper being established, at the behest of Sheikh Mohammed via Brough Scott, to challenge The Sporting Life. The Life, our nemesis when we were on the Chronicle but now our employer, was in a state of flux under Robert Maxwell. Nobody quite knew what his intentions were, yet when Graham Rock came calling with job offers for the new project, everyone was understandably wary about jumping ship. The wily Rock, whom I had known since we had worked together at Timeform, eventually won me over.
Francis Kelly
Deputy editor
The closure of the Manchester-based Sporting Chronicle in 1983 prompted Mirror Group's Sporting Life to set up the Weekender, using the latest computer technology. Weekender editor George White employed six of us from the Chronicle and I was his deputy.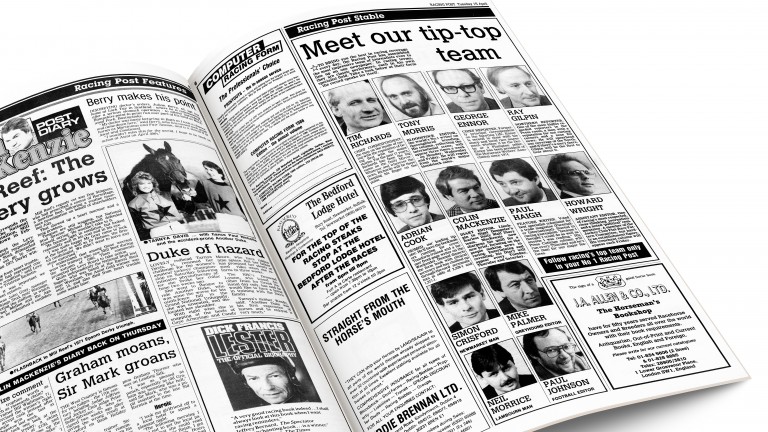 Two years later Brough Scott persuaded Sheikh Mohammed to fund a new racing paper because The Sporting Life was floundering. George agreed to join and went to hand in his notice to Robert Maxwell. An hour later he returned with a grin on his face, a new title of Sporting Life managing director, and a contract for me to be Weekender editor. However, Graham Rock had been a longstanding friend and former colleague and I preferred the challenge of the Post. So I was appointed Racing Post deputy editor – in essence production editor, which I still am today although the job has never stopped changing. Mirror Group sent me a solicitor's letter, saying I could not take sensitive information to a rival. And I even received a threatening phone call from Robert Maxwell at 7.30 one morning, telling me I was making a huge mistake. I replied I felt Sheikh Mohammed had more commitment to racing than he had.
Howard Wright
News editor
Everyone seemed to take it for granted that I would be joining the staff, but no-one approached me until mid-September 1985. The small team who had been recruited got together for the first time at the Cricketers in north London in December. I was asked what I'd like to do on the paper, and as we didn't have a news editor, I volunteered. Ex-Telegraph colleague Peter Hilton became chief sub.
Graham Dench
Spotlight
As soon as I got wind of the RP I was up for it, as I'd been at Timeform too long and in those days there were very few places to go to in that line of work. Graham knew Timeform was an obvious 'go to' place for well-trained, well-disciplined writers/tipsters, and after a 'secret' interview in an anonymous hotel between Wakefield and Barnsley, where I bumped into others from Timeform surreptitiously being interviewed, I was offered a job on the Spotlight team.
Francis Kelly Over one week in October we interviewed about 70 hopefuls. Although one or two slipped through the net, I regretted only one of our appointments. Tony Morris (bloodstock), George Ennor (reporter) and Mike Palmer (greyhound editor) were the only Life defectors.
Paul Johnson I was charged with helping Francis Kelly to scrutinise a pile of trial Spotlights to put together the final pieces of the tipping team led by Adrian Cook. I think we can permit ourselves a pat on the back for unearthing Emily Weber, the queen of sprint handicaps, Mark Coton, the founder of Pricewise, and Lawrence Wadey, who went on to fame and fortune in Hong Kong.
Emily Weber
Spotlight
We did a Spotlight for a day's racing. It took me 12 hours and practically killed me but somehow Paul Johnson, who marked our work, gave me the thumbs-up and I was in.
Getting started
The Post was going to be at the cutting edge of newspaper technology – and that brought its own problems. The build-up was beset with difficulties, with the launch postponed numerous times. Form, meanwhile, was faxed from a farmhouse in Dorset . . .
Paul Johnson It might be stretching a point to liken Rock to a 1985 equivalent of Manchester City manager Roberto Mancini, but the Post's Gulf-backed resources enabled him to shop around for some of the biggest names, such as leading bloodstock writer Tony Morris and the indefatigable racing-industry insider Howard Wright. However, I fretted about whether we had enough dyed-in-the-wool production men.
Francis Kelly Cutting edge as the Weekender was, journalists and sub-editors still used pen, paper and typewriters, but the copy was sent to operators of computers. At the Post journalists would write straight to computer. Even though I was at the front of newspaper technology I had never sat at a computer myself and all of us had to embrace new training. The end product would be sheets of bromide, which a team of compositors would paste on to boards.
It was not until 1998 that pages were fully computerised. A database is the core of a racing newspaper and we did not have one. So we did a deal with Trainer's Record, run by future Tote chairman Peter Jones. I worked on dummies with IT expert Ed Lim, designer Mike Shaw and layout wizard Gordon Watts, although I look back with embarrassment at them.
By January we had new offices in south-west London at Raynes Park. Setting up a new newspaper is something you should never do more than once in a lifetime, and there was an endless list of jobs to tackle. Even deciding the look of the masthead was an agonising process that took weeks.
Colin Russell (news reporter) I remember well the difficulties they had getting the form from Peter Jones's database into the paper. With just weeks to go it was a major problem.
Graham Dench Although there had been a core group working from the IRB offices in Tolworth Tower for months, I was among the first there when Raynes Park opened on January 1. There was literally no furniture and we had to buy a kettle and mugs. I had no newspaper experience and had only recently started teaching myself to type. Luckily, there was the most extraordinary team spirit. There were some brilliant brains on the design and systems side (Mike Shaw, a mad genius, and Ed Lim, who died a couple of years later) plus an American called John Nanney who worked for Atex (the computer system we worked on) and was just about the most unflappable guy I've met. It was all cutting-edge technology and we were adopting a regime used only by Eddie Shah on Today. We all made incredibly rapid progress over the three months or so before launch.
Frank Carter (Spotlight) There were difficulties in the run-up to production day but they did not often impinge on the daily life of a mere foot-soldier. Training and getting used to operating a computer terminal was a new experience, but even a ham-fisted technophobe like me was eventually up to speed.
Paul Johnson At the start of the new year the technology was still not in place for the football database to enable me to work from home and I began another lengthy stint of weekly commutes from Manchester to London. Nobody seemed quite certain when, if ever, we would be ready to launch as snag followed glitch and doubts grew.
Howard Wright We started from scratch. We had to put systems, processes and rotas in place, right down to making sure we had a dedicated telephone – yes, telephone – line on every racecourse for use by our reporters, and courier services in place to take the photographer's film – yes, film – from the racecourse to the processing house in London. Perhaps the biggest difficulty was the fact we never produced a dummy issue. A selection of photocopied pages were as far as we got. The first time we saw what the Racing Post looked like in its entirety was on the great day itself.
Adrian Cook (Diomed) The Racing Post was one of the first newspapers in which journalists filed copy via computer (a portable Tandy machine). I remember Colin Russell, Tim Richards and Ray Gilpin at my house trying desperately to work out how we used the Tandy and how we sent copy.
Emily Weber We shouldn't have launched when we did, we weren't ready, everyone knew that. There was a lot of pressure on the production guys, everyone was depending on them. There was a buzz about the place, but a friendly buzz. It could get fraught but Graham set a good example, he wouldn't have people yelling. He was always cheerful, never once lost his cool.
Francis Kelly Launch day was postponed several times. Cheltenham came and went and we were not really ready when MD Jeremy Thompson said we had to press the button, so in April 1986 we stumbled out of the stalls.
Potential for success
How convinced were Post employees that they were on to a winner?
Colin Russell We had a strong team, the best backers and with Brough Scott and Graham Rock at the helm, the prospect that we wouldn't succeed never even crossed my mind, not for one second.
Tony Morris (bloodstock writer) I was less gung-ho than some, who imagined that we would kill off The Sporting Life within a month. I remember saying that many people would change their spouse or their religion before they changed their newspaper. But I was confident about success in the long term.
Martin Smethurst (sub-editor) It was a huge step into the unknown, but I don't recall confidence waning or anyone thinking it may not happen, even with the postponed launches. It was always 'when', never 'if'. The belief was always there that, with Sheikh Mohammed's firm commitment, it would be a credible and ultimately successful rival to the Life.
Graham Dench There were nagging worries, and many of us had given up secure jobs hundreds of miles away, but I think we all thought we were on a winner. The Sporting Life was a shadow of the paper it became again once it faced competition and we were backed by one of the world's wealthiest men, although we could not have known quite what influence he would have on racing around the globe. We were going to be cheaper and everything we offered was fresh and innovative, so we assumed everyone would love it. Of course we underestimated how reluctant racing people are to try anything new.
Adrian Cook I was never in any doubt that the paper would be a success in the medium to long term as Sheikh Mohammed was backing it, although I was very much aware that distribution and printing problems could mean we had a rocky start. I was full of confidence that the people Graham had taken on would wipe the floor with our rivals. Graham had built up the team spirit with a lunch for staff, where among the newcomers was an eager Newmarket correspondent called Simon Crisford. We were raring to go.
Jim Cremin (greyhounds) I was equally excited and pessimistic. I refused to leave my job as racing manager at Wembley until granted a two-year contract as I felt there was a high risk the paper would crash and burn.
The great day
Tony Morris I was reporting the bloodstock sale at Ascot, and given a ridiculous early deadline – long before the auction was due to finish. Editor Graham Rock was keen that my name should appear in the first issue.
Adrian Cook I was very aware that we needed a winning front-page selection in the day's big race, the Nell Gwyn Stakes. Sonic Lady had been a highly impressive winner of her only two-year-old start and although she had the Cheveley Park winner Embla among her rivals I was in no doubt the Stoute filly was the one. Her victory was made all the sweeter as the Life's front-page tip was for Embla.
Martin Smethurst There was plenty of nervous energy as we worked through the day. We thought we'd be okay with the editorial, but it was the racecards and form that were always going to be the concern. There was a crackle of excitement in the air and some apprehension too. We had to launch when we did, but was it still too soon?
Howard Wright As far as I can remember there were no serious hiccups, and we got the copy and pictures to the printers reasonably close to deadlines. Others at the non-editorial end of the production line might tell me differently.
Jim Cremin Everything seemed to go wrong, with system delays, errors under pressure, and fire-fighting to get something, anything, out.
Tony Morris Very few of my words appeared and I had no byline, so I assumed – rightly, I later discovered – that chaos had reigned. There was a lot about the paper I didn't like, but I recognised it was going to take time before we had a product that satisfied me or anybody else.
Martin Smethurst After the editorial pages were produced I was on the 'stone', where the pages were being made up, watching them being faxed off one by one to the print sites, though I was back on the editorial floor when Graham announced that the last page had gone and the Racing Post was officially in existence. A huge cheer went up and we piled up to a room on the second floor, where the admin offices were, for drinks, nibbles and, I seem to recall, music. The evening dissolved into a champagne haze of happy faces.
Graham Dench Somehow we got it all away – pages were biked down to the printers at Burgess Hill – and by some miracle a bundle of papers was delivered late that night to the canteen, where the party was in full flow.
Howard Wright Waiting for the first copies to arrive, while we gathered in the top-floor canteen at Raynes Park, was fraught with concern, but the moment we saw we had produced something unique – a colour picture on the front; new, computer-driven layout for cards, form and results – was one I'll never forget.
The morning after
Colin Russell Compared to The Sporting Life, it was innovative and exciting, though not everyone saw it that way. Plenty of people preferred the old model.
Paul Johnson The first Post wasn't perfection but it was still a tremendous achievement and a glance at that front page adorned by a beautiful picture of Sonic Lady always has memories of those early days cascading back.
Martin Smethurst It was great just to hold a copy in your hands and think, 'We did it!'. It looked tremendous and all the staff were given a copy of the front page, which I got framed – a proper heirloom to pass on.
Francis Kelly It was such a thrill to see our new baby, with its groundbreaking, colour front page. Then the horror struck that we had to do it all again.
And after that . . .
Francis Kelly In truth the Life was the better paper at the time. Thanks to the investment of Sheikh Mohammed we were allowed the time to improve, but it would be several years before I felt we had overtaken them.
Paul Johnson We had no idea how long the Post would last in a market that had shown before and since there is no room for two national daily racing newspapers. But Sheikh Mohammed's brainchild always proved a tenacious, durable fighter, clawing enough circulation for it, rather than the Life, to be the survivor. The Post has done nothing but improve under five different editors and the range and depth of its present coverage is something we could never have dreamed of in 1985. I'm sure the best is still to come.
---
More RP Classics:
The Duke of Alburquerque: 'If he didn't want to listen to you he suddenly wouldn't remember any English'
Albert Davison: a master plotter who ensured Irish betting shops took a bashing
Ryan Moore: a fascinating insight into the mind of one of the world's greatest
Pat Smullen: It wasn't all about coming back to ride horses – it was just about coming back
Kieren Fallon: I never got a buzz out of riding; I saw it as part of my job
Trevor Hemmings: I got on well with Ginger but he and I would have clashed
Sir Michael Stoute: you should play it off the wicket and keep your standards up
Gordon Elliott: I wish I came on the scene ten or 20 years ago when Willie wasn't around
JP McManus: If I lose I don't have a bet for two weeks – it doesn't bother me
Corky Browne: the man who ran Nicky Henderson's powerhouse stable for 41 years
Fearless Freddie Williams: the legendary layer who took on the biggest punters
Harry Findlay: it was, and always will be, the easiest £33,000 I've ever won
---
The Racing Post newspaper will be back in shops to mark the return of British racing on Monday, June 1! With extensive coverage of all the racing, interviews with the biggest names, tipping from our renowned experts, writing from the likes of Alastair Down and all the cards and form, it's your unmissable guide to all the action. Pick up your copy on Monday.
---
Very few of my words appeared and I had no byline, so I assumed – rightly, I later discovered – that chaos had reigned