Russell could face action after appearing to strike horse in face
Davy Russell could face disciplinary action from the Turf Club after appearing to strike his mount Kings Dolly in the face at Tramore on Friday night.
Russell declined to comment at the course on Sunday about an incident that went largely unnoticed on the evening but has since attracted plenty of attention on social media.
It had been made clear at Tramore on Saturday – when the course hosted an all-Flat meeting – that raceday stewards had no power to address an issue from a previous fixture, but that the Turf Club did have the authority to re-examine such a matter, and to then hold an inquiry and issue charges should it see fit.
Turf Club chief executive Denis Egan said on Sunday: "It was only brought to my attention at around 8.30pm last night. It will be fully investigated and appropriate action will be taken, if required."
He added: "The stewards at Tramore on Friday night were not aware of the incident."
In the At The Races clip, which can be viewed via Twitter, Kings Dolly approaches the 'show' hurdle – an obstacle jockeys show their horses before a race – at a canter, coming to a rather abrupt and skidding halt with Russell lifted out of the saddle, although without ever looking likely to be unseated.
The horse then stands still, at which point Russell appears to deliver a blow with his right fist. Three other jockeys were looking on as the incident took place.
---
How social media reacted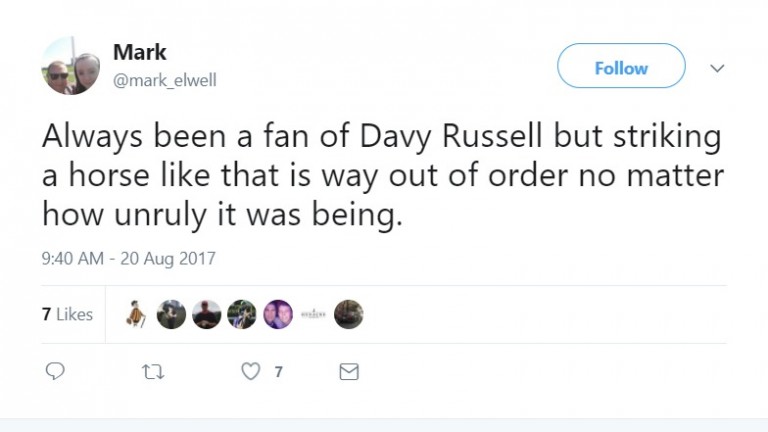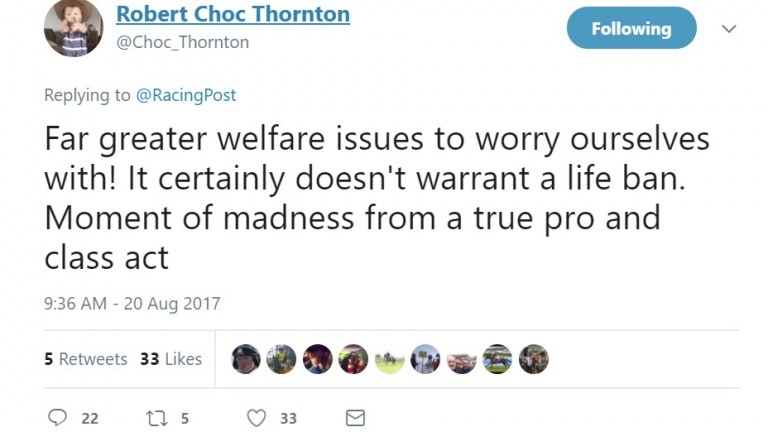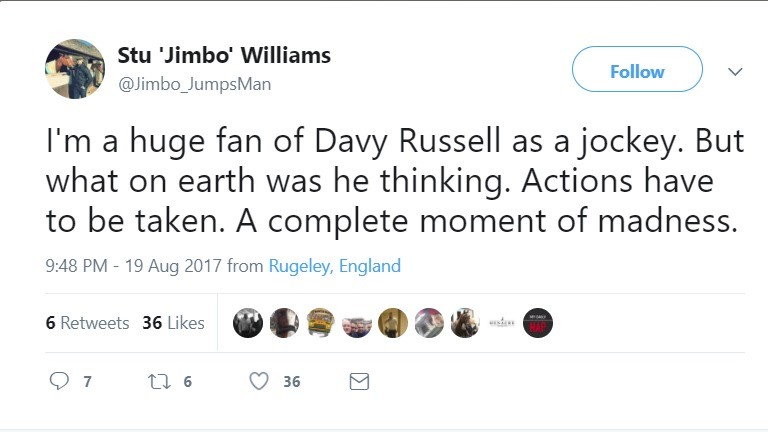 ---
Russell had ridden Kings Dolly for the first time in June at the same track, the pair winning a maiden hurdle by nearly five lengths. Since then the seven-year-old's form has tailed off, with Russell on board on two further occasions.
Kings Dolly, who is trained by Roger McGrath, finished eighth of 12 under Russell at Tramore on Friday.
McGrath reported Kings Dolly none the worse for the incident, which he said he had been unaware of on the night.
Perhaps the most comparable incident of recent times occurred at Stratford in 2006, when jockey Paul O'Neill head-butted his horse in the face after being unseated before the start.
That incident was missed by raceday stewards and dealt with later by the authorities, who banned O'Neill for a day, with stress placed on the fact the horse in question was unhurt.
Russell was chinned in a couple of photo-finishes at Tramore on Sunday, but signed off the day with a winner on Sir Jack Yeats.
---
What the experts said
Racecourse commentator and owner Simon Holt, rider Charlie Poste and trainer John Berry discussed the incident on the Sunday Forum on At The Races
Simon Holt It's a stupid thing to do. There are cameras all around racecourses these days and you cannot be seen to be hitting a horse on the head. Sometimes horses do need telling who's in charge at home – if you enter its box and a horse is turning around to kick you or bite you, perhaps you do have to growl at it a little bit and wave your arms, but I don't think it's acceptable to punch a horse in any instance.
Charlie Poste I should imagine it's something that has come from frustration. I'm sure he regrets doing it and they will deal with it and quickly move on. In the grand scheme of things, it's not a massive deal, but it shouldn't happen.
John Berry Perception is such a big issue now and I'm sure Davy [Russell] would be the first person to tell you he shouldn't have done it, although in the catalogue of animal suffering, it wouldn't even be a footnote. When a horse is doing something stupid or not concentrating and putting itself and the rider in danger, it can be incredibly frustrating.
---
If you are interested in this, you might like:
Davy Russell fined after refusing to take Clonmel rides
Balko Des Flos gives Russell a first Galway Plate success
Russell: Gigginstown jockey role is bigger than one-man job
---
The Turf Club have the authority to re-examine such a matter and to then hold an inquiry and issue charges should they see fit