Royal Ascot special: 'She's my best - and only - bet in a two-year-old race'
Introducing the Punting Club, our new and exclusive weekend tipping service
Welcome to the Punting Club! Unlike most clubs there's no joining fee or annual charge, and the only criteria for being part of the gang is simple: an appreciation for weekend punting and an enthusiasm for chewing over the big talking points.

Every Friday we – that's Punt regulars Tom Collins, Maddy Playle and Robbie Wilders (Punting Club membership numbers #1, #2 and #3) – will answer your questions on the weekend's racing action, share our best bets . . . and ruthlessly highlight the flaws in each other's arguments.
In this week's special edition we answer your questions ahead of Royal Ascot, one of the biggest betting weeks of the year, which starts on Tuesday.
You can submit your questions via this link each week, but read on to see what we have to say this week . . .
---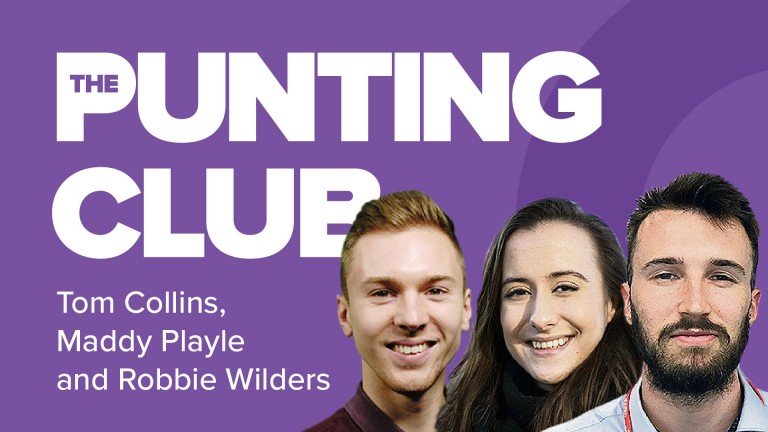 Give me two for a big double, that's what the punters want – ones you think are halfway over the line? Anthony Murphy
Robbie How about I give you a single? I'd always rather back one I think will go off a much shorter price and I can't see how Lavender's Blue is a 14-1 shot for the Duke of Cambridge (3.40 Wednesday). This filly has always been at her best over a mile and didn't quite see out the final furlong of the 1m1f Dahlia Stakes last time as well as Lady Bowthorpe and Queen Power (first and second favourites for this race). She still ran with credit to finish within half a length of those fillies, who have come out and franked the form since, and she receives 3lb from the pair this time.
What are your best bets in the two-year-old and three-year-old categories at Royal Ascot respectively? Ben Ellis
Robbie Quick Suzy looks to have been missed in the Queen Mary (2.30 Wednesday) at 20-1 for Gavin Cromwell. She has bundles of speed and dropping to 5f will help after 6f in a Group 3 at Naas found her out slightly. I backed Alenquer at 20-1 for the King Edward VII (3.05 Friday) before the Derby on a line through Adayar and while that price is gone I think he'll be pretty tough to beat in that. He could be a bit special.
Maddy It's a pain in the arse when someone gets the jump on you when it comes to tipping a horse, isn't it? Quick Suzy is far too big a price. She looked to have the rest cooked with her early pace last time and definitely represents value back down in trip. Keep your eye on Go Bears Go (3.05 Tuesday), who is the same price for the Coventry, too.
Tom As mentioned in another reply, Ruthin is my best – and only – bet in a two-year-old race at the moment. I couldn't have been more impressed with her debut effort at Keeneland and I'd be disappointed if she didn't win the Windsor Castle (5.35 Wednesday). I quite like Battleground in the St James's Palace (4.20) on Tuesday. He bolted up in the Chesham last year and clearly wasn't suited by Newmarket's Rowley Mile in the 2,000 Guineas. He's a decent price to bounce back on his favoured quick ground.
Is Palace Pier the best miler since Kingman? And do you think he can go on to be the best miler since the mighty Frankel? James
Robbie I think you're right but I hope you're wrong because I will always look to take him on at the prices he goes off at. Of his opposition in the Queen Anne (2.30 Tuesday), keep an eye on Sir Busker at 33-1. He was unlucky not to finish ahead of Palace Pier when they met in the QEII in October and this five-year-old has a progressive profile.
Tom, you're a huge American racing fan! Who's Wesley Ward's best two-year-old chance this year? For me it's Twilight Gleaming! M Hobbs
Tom Mikey! Nice to see that you've messaged the Punting Club, mate. Wesley Ward has brought across a brilliant string and I'm sure he will win at least one race. Ruthin has long been my nap of the meeting, although Ward has done my ante-post bet no favours by rerouting her to the Windsor Castle (5.35 Wednesday) from the Queen Mary! She was so impressive at Keeneland on debut in April that I can't oppose her despite the late switch. Kaufymaker has been all the rage, but I'm not as keen on her in the Coventry (3.05 Tuesday) as most.
Palace Pier and Stradivarius are sure things – discuss. Phil Woods
Maddy I take on Stradivarius every time and he usually makes me look an idiot but I'm of the mentality you've always got to try and take these hotpots on. He got the job done in the Sagaro Stakes but the form hasn't worked out well at all and he was beaten on his last three starts before that. I love Trueshan but he needs cut in the ground, so I'll wait until the day. As for Palace Pier, he's undoubtedly the best horse in the race but personally putting them in a double would be exactly the opposite of how I like to bet.
Tom I'd be surprised if either lost. Saying that, I won't be backing either. I'll happily lose my voice cheering home Stradivarius – I love that horse – but I'll bet Sir Busker against Palace Pier. You get much better value finding one to hit the frame than relying on a 2-5 horse winning the opening race of the royal meeting. Albeit, the horse in question is the best turf miler in the world.
Question for Tom Collins: who taught you everything you know? Joe Fruit
Robbie I'll answer this one on behalf of Tom. I have it on good authority that he has a poster of Elliott Wright in his bedroom and is heavily influenced by the Marbella-based Essex-born reality star. Thanks.
Tom I'm not a fan of TOWIE, Rob, though his cousin (Mark Wright) has a sweet left peg. In answer to your question, Joe, I got into racing from an early age as my dad was a keen punter – he taught me the basics. I watched an abnormal amount of races during my teens and got to grips with how to study cards, you naturally pick things up along the way from different sources. A more in-depth punting knowledge came after. Racing is always evolving and that's why it's so brilliant, but it rewards dedication and understanding and that's what I pride myself on.
I really like the look of Suesa in the Commonwealth Cup (3.40 Friday) – I'd like to know the panel's view? Stephen Reed
Robbie She is a fascinating runner but quick ground is an unknown and that would temper my enthusiasm. I can't see her going off much shorter than the general 5-1 currently available so I'd hold fire if you haven't backed her already. I won't be joining you as I've already gotten a bit trigger happy in this race, having supported Campanelle (7-1), Dragon Symbol (10-1) and Diligent Harry (16-1). If a horse outside of those three wins I will have egg (tofu) on my face.
Maddy It's hard to know what she has achieved in her four starts to date. The filly she beat last time has won a Listed race since and Racing Post Ratings have her on 113, which puts her right up there, but I'm not rushing to back her at 11-2. I'll be keeping an eye on a few at bigger prices. Fivethousandtoone has always been highly regarded and if he runs he would be of interest, while Diligent Harry shouldn't be dismissed as a second string if he runs alongside stablemate Supremacy. Most pertinent perhaps though is Mehmento, who definitely should not be a 20-1 shot on the value of his form.
Tom My French form knowledge is weak, I have to admit. The replay of her latest victory did the rounds on social media and that instigated the price crash. I want to find one at a bigger price – buckle up Robbie because that tofu is about to land flush in between your eyes! I think Thunder Beauty can go well for Ken Condon at about 33-1. She was a major eyecatcher on the drop back to 6f last time and will be finishing faster than most.
Is Youth Spirit each-way value in the King Edward VII (3.05) on Friday? Currently trading at 33s. Would have preferred Oisin Murphy to Tom Marquand, though. Sean McKendry
Maddy I like your style looking for one at a bigger price but Youth Spirit wouldn't be the one for me – he was massively outclassed in the Derby. I'm actually quite sad Bay Bridge isn't running because unlike Tom I didn't fancy him at all and if he would have been beaten I would have found it rather enjoyable – annoying him is something I've become quite good at.
Tom I'm not 100 per cent sure that Youth Spirit will run, but if he does and runs like he did at Chester then he has a small squeak. As Maddy mentioned, I love Bay Bridge and I'm gutted he is missing the race. I'll probably mourn my antepost bet while the race is on...
Fair play to Robbie for tipping Adayar for the Derby. Who is his Royal Ascot nap? Billy Nash
Robbie Yeah cheers mate, fair play to me for doing that as you allude to. I've had a sizeable each-way bet on Subjectivist in the Gold Cup (4.20 Thursday) at 8-1, and I wouldn't put anyone off going in at 13-2 before the field slices up. He looked a potential staying monster in the Dubai Gold Cup on his return, won't mind whatever the ground is, and will be aided by going into the race fresh. I think the ageing Stradivarius could have a big task on his hands reeling in this front-runner.
How do you rate the chances of Flotus in Albany Stakes? Michael Drummond
Robbie She has a big chance and like everyone else I was really impressed by her winning debut at Goodwood. However, those looking for an ante-post bet might wish to consider Hermana Estrella at 12-1 for Fozzy Stack. I was taken by this filly's winning introduction in a Group 3 at Naas where was green but finished powerfully to overhaul Quick Suzy, with nearly six lengths back to the third. I have stuck a point on the Hermana Estrella (Albany) and Quick Suzy (Queen Mary) related double too.
Where's the best place to be drawn on the straight course in big fields? Daniel Phillips
Tom Good question. I tend to focus on those drawn high, especially in the Wokingham and Hunt Cup, but much depends on where the pace is. If all the front-runners break from gates one to seven, for example, the draw bias could easily switch to those allocated single-figure gates. In simple terms, find the early speed and focus on that side of the draw. If there's pace everywhere, give the edge to those drawn high.
---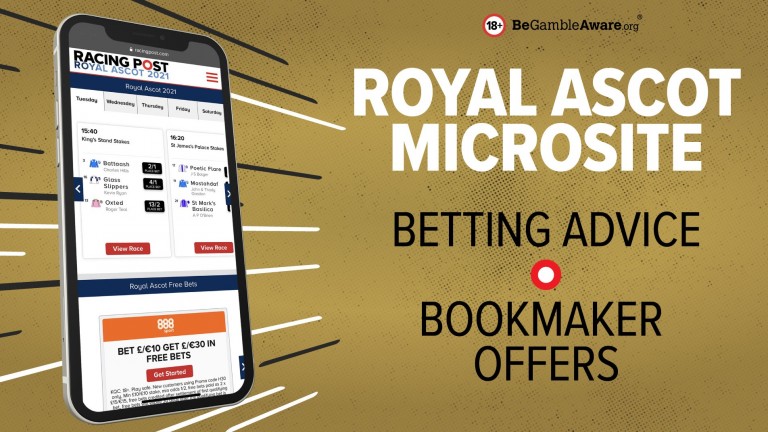 Check out the Racing Post Royal Ascot microsite for the latest tips and odds for the royal meeting. The best Royal Ascot betting advice and exclusive free betting offers all in one place.
---
If you want more on Royal Ascot:
'Surely 5-2 is a joke?' – the claims of six Royal Ascot favourites assessed
'He shouldn't be overlooked at 16-1' – five dark horses to note at Royal Ascot
Royal Ascot two-year-old guide: the horses to watch in the six juvenile races
The best Royal Ascot free bets and betting offers for the week
---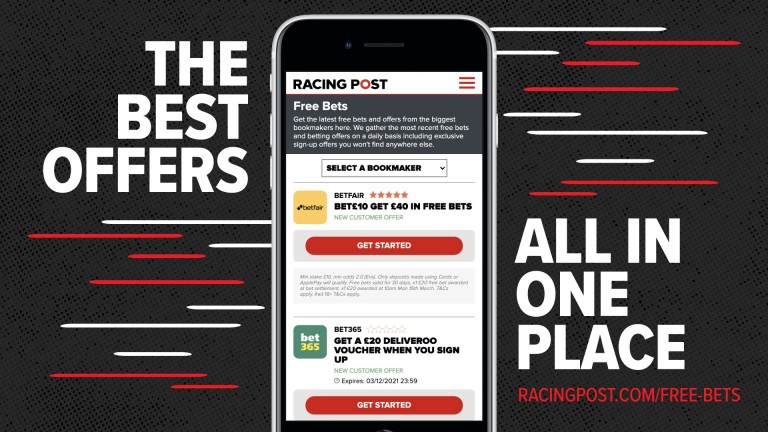 For all our exclusive free bet offers and must-have daily promotions click the free bets button or go to racingpost.com/freebets
---
If a horse outside of those three wins I will have egg (tofu) on my face