Ring out the old, ring in the new: it's all change with Sky and Racing TV
January 1 heralds not just a new year but a new era in racing broadcasting as the curtain goes up on the sport's two refashioned channels.
At The Races becomes Sky Sports Racing, with coverage from Southwell and Fakenham, while Irish racing will be broadcast for the first time on Racing TV.
The switch of the 26 tracks in the island of Ireland from ATR presents an immediate logistical challenge for RTV, which has six meetings to cover on its first day, from Cheltenham, Musselburgh, Tramore, Fairyhouse, Catterick and Exeter.
There are 40 races to broadcast in little more than four hours, at an average of a race roughly every six minutes, promising a fast-paced experience for the viewer.
RTV will try to show every race live, failing that the closing stages, and failing that the replay. There is a 40-minute gap between the last two races at Cheltenham to help ease the squeeze.
---
AND THEY'RE OFF! NEW YEAR'S DAY DISSECTION
Racing TV: six meetings, 40 races, 12.20-4.05
Sky Sports Racing: two meetings, 12 races, 12.35-3.40
---
It is a precursor of things to come, with RTV having secured coverage from 61 of the 86 racecourses in Britain and Ireland.
SSR, in turn, will have 25 British courses in its stable, once Ascot, Bangor and Chester switch from RTV early in the year. For the first time, French racing will also be shown exclusively.
Chelmsford has moved in the opposite direction and will make its debut as an RTV track this Thursday.
RTV's stable of racecourses has 52.6 per cent of the 1,511 meetings on the 2019 British fixture list, leaving SSR with 47.4 per cent.
Towcester is aligned to SSR and was allotted 11 fixtures for 2019, but with the track in mothballs after entering administration last summer, how many it will host remains to be seen. Its January 31 fixture will be held at Fakenham, also in the SSR camp.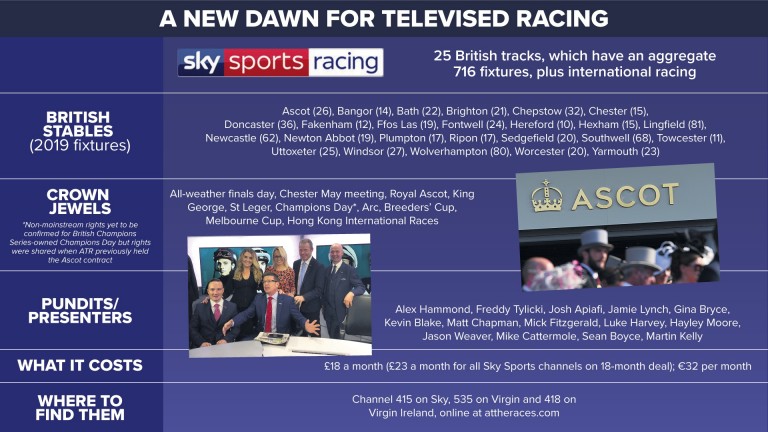 'Action-packed' day in store
Lindsay Davidson, who oversees the RTV channel content, said: "New Year's Day will signal our first ever broadcast from an Irish racecourse, which everyone is tremendously excited about.
"We'll have presentations from four racecourses on New Year's Day. Tramore will have the spotlight for the first race of the day and Gary O'Brien and Kate Harrington will be there to mark the moment, while Kevin O'Ryan and Donn McClean will be at Fairyhouse.
"In Britain, Stewart Machin and Jonathan Neesom will be at Cheltenham, while Gordon Brown will be hosting the coverage from Musselburgh.
"Tom Stanley and Dave Nevison will be in the studio, hosting The Full SP, which will normally air every Saturday but makes its debut on New Year's Day and will feature regular reporting from racecourses in an 'around the grounds' style with dedicated previews.
"The day will be action-packed with six fixtures, but we'll endeavour to show every race live. We'll also employ a second gallery to provide a fully produced, dedicated, second channel for the two Irish fixtures, available via Racing TV Extra."
Lower-key start on Sky
SSR will begin at 9am, when Alex Hammond, their lead presenter, will host the opening show alongside Jason Weaver.
Gina Bryce will head a Fakenham team featuring Martin Kelly and Josh Apiafi. Simon Mapletoft will be on duty at Southwell, while Sean Boyce works in the studio on an afternoon's coverage featuring 12 races.
Director of broadcasting Rob Dakin said: "We're very excited about the launch of Sky Sports Racing. We've made a commitment to have a presenter at every British meeting, which we think is a really important part of the coverage.
"The channel will be HD for the first time and there has been a significant investment in the production to bring it in line with other Sky Sports channels. There's plenty to look forward to on day one and we'll be introducing more innovation and enhancements throughout the year."
In terms of viewing figures and audience share on New Year's Day, however, both channels will be dwarfed by ITV, which broadcasts six races live from Cheltenham and Musselburgh.
---
Download the knowledge of more than 200 experts with our free mobile app - it lets you study the form, get the latest tips and place a bet on the go. Get the app here
---
The day will be action-packed with six fixtures, but we will endeavour to show every race live