Redkirk Warrior won his second-ever race at Ascot and now after 17 starts, three Group 1 victories and A$2.7 million in prize-money, the star sprinter is all set to return for Royal Ascot glory.
The seven-year-old gelding, under the care of training partners David and Ben Hayes and Tom Dabernig, will depart their Flemington stables and fly out of Melbourne late on Wednesday evening before touching down in London early on Thursday morning.
It's an exciting time for connections and Australian racing fans alike, and Ben Hayes said the team believes he is "rock-hard fit and ready to go".
"He's coming home in a way, he's originally from England," explained Hayes on Wednesday morning.
"He was trained out of Newmarket as a young horse, it's been a couple of years, but I'm sure he'll remember it, he'll know the tracks so he should settle in quite quickly.
"He'll arrive on Thursday early in the morning and he'll be floated up to Newmarket where he'll stay at Jane Chapple-Hyam's stable.
"She's got fantastic facilities, she has a walker and a treadmill and it's right near the gallops as well.
"He'll settle in and have a couple of easy days, and we'll look to canter him on the third or fourth day, and he'll complete his final gallop seven days out from his race.
"We are very confident he'll travel well, he's travelled from England to Hong Kong, to Australia so he is no stranger to planes.
"We've got our travelling foreman Dara O'Meachair, who is going to be travelling with the horse.
"Dara has been to Japan with Boom Time, Dubai and Brisbane in this year already for us, so he's well experienced."
Hayes says the team are confident in Redkirk Warrior running a bold race at Royal Ascot, given everything has gone smoothly and the horse is thriving.
"Since his last start winning the Newmarket Handicap, we've backed off him and he'd been in the paddock," said Hayes.
"We've since given him a strong jumpout at Werribee, where he won by eight lengths, he's had a course proper gallop on race day at Flemington and he had a strong hit-out here [at Flemington] on Monday morning.
"Fitness won't be beating him over there, he's rock-hard fit, he's ready to go and it will all be maintenance over there.
"His coat is glowing, he's moving well and he's eating so he's doing all the right things."
As for which race Redkirk Warrior is set to tackle, his trainers won't be deciding until the weather forecast is confirmed.
Hayes also admits to keeping a close eye on British racing results and in particular on likely competitors as they prepare for their respective races.
"It's all weather-dependent and we've said that from the start, if it's looking to be wet on Diamond Jubilee day and dry on King's Stand Stakes day then we'd go to King's Stand, but if it's going to be dry we are leaning to the Diamond Jubilee Stakes.
"I've seen Harry Angel win over there impressively [recently] and of course Merchant Navy, but it's always hard to judge international form and you only get a proper idea when it comes to race day.
"But normally when you can win a Newmarket Handicap and a Lightning Stakes [in the autumn] that's pretty good form for over in England so we are as confident as we can be, and I think it's the best chance we've ever had to win at Ascot."
---
Go to Racing.com for all the latest news from Australia and New Zealand
---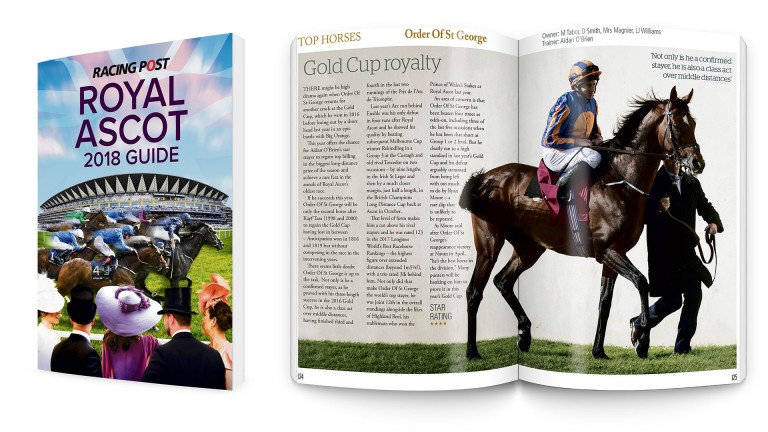 Don't miss the Racing Post Royal Ascot Guide 2018, the new 208-page book packed with all the information you need to get ready for the five-day summer spectacular. Order here or call 01933 304858
---