Which racehorses have won the most money in sporting history?
Lee Mottershead looks back at the world's biggest earners on the racecourse
There are some exceptionally wealthy racehorses out there, or at least there would be if they got to keep the cash.
While the horses compete purely for the love of sport, plus the promise of continued board and lodgings, those who race them have the potential to become extremely rich. The owners of the sport's top performers already tend to be extremely rich, but every little helps, and racing's highest-earning performers have certainly topped up the bank accounts of some decidedly content connections.
It is not necessarily the case the very best horses always earn the most money. Frankel, for example, amassed £2,998,302, a not inconsiderable amount but not even a quarter as much as all-time table topper Arrogate. For whereas Arrogate bagged the world's two richest races, the most valuable event captured by Frankel was the Qipco Champion Stakes, whose £737,230 winner's purse in 2012 trailed what was available elsewhere then and now.
What follows is a list of the world's highest-earning horses. None of them ever won the Great St Wilfrid. Nor, for that matter, did Europe's leading income generators. Note, as well, that conversion rates were those that applied at the time of competition.
---
No 1 in the world: ARROGATE – $17,422,600 (£13,622,542)
Born April 11, 2013
Pedigree Unbridled's Song – Dam Bubbler (Distorted Humor)
Owner Juddmonte Farms
Trainer Bob Baffert
Breeder Clearsky Farms
Runs/wins/places 11/7/2
Years on track 2
Country trained US
Biggest single prize 2017 Pegasus World Cup (£5,691,056.91)
The world's biggest prize-money winner is also, not surprisingly, the American record holder.
Step forward, Arrogate, also crowned the world's leading racehorse of 2016 and 2017. With jockey Mike Smith – sometimes referred to by his nickname "Big Money Mike" – sporting the Juddmonte Farms silks of Khalid Abdullah, Arrogate landed three of the planet's richest races within the space of four months. The Breeders' Cup Classic netted his camp £2.24 million, the Pegasus World Cup £5.69m and the Dubai World Cup £4.88m.
---
No 2 in the world: WINX - A$22,934,924 (£12,619,301)
Born September 14, 2011
Pedigree Street Cry – Vegas Showgirl (Al Akbar)
Owner Magic Bloodstock Racing, Richard Treweeke and Debbie Kepitis
Trainer Chris Waller
Breeder Fairway Thoroughbreds
Runs/wins/places 39/33/3
Years on track 5
Country trained Australia
Biggest single prize 2018 Ladbrokes Cox Plate (£1,763,005.78)
The most valuable race so far won by the sport's number-two earner was the 2018 Cox Plate, which netted Winx's entourage the equivalent of £1.76m.
That's nothing like as hefty as Arrogate's most valuable success, but whereas Arrogate was a fleeting flame, the wonder that is Winx has burned brilliantly for years. She is also a true superstar in Australia, whereas most Americans would never have heard of Arrogate. Last year's Cox Plate was not her first, second, or even her third – and that fourth win took her unbeaten tally to 29.
---
No 3 in the world: GUN RUNNER - $15,988,500 (£12,238,136)
Born March 8, 2013
Pedigree Candy Ride – Quiet Giant (Giant's Causeway)
Owner Winchell Thoroughbreds LLC & Three Chimneys Farm
Trainer Steve Asmussen
Breeder Besilu Stables
Runs/wins/places 18/11/5
Years on track 4
Country trained US
Biggest single prize 2018 Pegasus World Cup (£5,185,185)
Like Arrogate, this late bloomer's place on the list was secured thanks to victory in the Pegasus World Cup 12 months ago, netting a cool £5.19m for connections. A winner at two, his Classic season was solid if unspectacular, winning a hat-trick of Graded races and securing a number of valuable top-flight places before securing the first of six Grade 1 victories in his final outing that season.

A Breeders' Cup Classic victory in 2017 added a further £2.68m to his prize-money total, but ironically, despite three other Grade 1 wins, his next most valuable prize came when finishing second to Arrogate in the Dubai World Cup – £1.63m.
Best of the rest
Japanese runners are a frequent presence throughout the top ten earners' list, filling fourth, fifth, sixth, seventh and eighth place.
Back-to-back Japan Cups, the Dubai Sheema Classic and an Arima Kinen, combined with 5 further wins and numerous high-profile places, amassed a total of £12,224,036 for fourth-placed Gentildonna.
Orfevre, who came heartbreakingly close to winning Europe's richest race, the Prix de l'Arc de Triomphe, also took the lucrative Arima Kinen, one of six Grade 1 victories that included a Classic double for a total of £12,185,908.
Kitasan Black and Buena Vista (not the Cheltenham winner) won £11,454,079 and £10,262,876 apiece, while Gold Ship, winner of £9,757,292, completes the Japanese contingent.
California Chrome, whose near miss in the US Triple Crown (and his colourful owners) made news around the world, went on to become a consistent performer on the world stage, winning the £4m Dubai World Cup and claiming almost £700,000 for second behind Arrogate in the Breeders' Cup Classic.
Back-to-back victories in The Everest, the world's richest turf race, has ensured a place in the top ten for Redzel on £8,856,725 , just edging out former world record earner T M Opera O from, you guessed it, Japan.
---
No 1 in Europe: ENABLE – £8,007,026
Born February 12, 2014
Pedigree Nathaniel – Concentric (Sadler's Wells)
Owner Khalid Abdullah
Trainer John Gosden
Breeder Juddmonte Farms
Runs/wins/places 11/10/1
Years on track 3
Country trained Britain
Biggest single prize 2018 Qatar Prix de l'Arc de Triomphe (£2,528,318.58)
Khalid Abdullah owns not only the earnings world record holder but also the horse who leads the way in Europe.
Enable went to that particular top spot courtesy of her second success in the Arc. One should also point out had Enable not won a Newcastle maiden on debut her prize-money total would not be £8,007,026, but instead just £8,004,114.95.
---
No 2 in Europe: Highland Reel – £7,513,355
Born February 21, 2012
Pedigree Galileo – Hveger (Danehill)
Owner Derrick Smith, Sue Magnier and Michael Tabor
Trainer Aidan O'Brien
Breeder Hveger Syndicate
Runs/wins/places 27/10/9
Years on track 4
Country trained Ireland
Biggest single prize 2017 Longines Hong Kong Vase (£1,072,100.31)
The Ballydoyle stalwart won tons of cash and also earned his connections a fortune in frequent flyer reward miles. Highland Reel raced in America, Australia, Hong Kong, Dubai, France and Britain, as well as his native Ireland.
The globetrotter's career highlights included regaining the £1m Hong Kong Vase in 2017 and the £1.5m Breeders' Cup Turf in 2016.
---
No 3 in Europe: THUNDER SNOW - £6,813,532
Born March 24, 2014
Pedigree Helmet - Eastern Joy (Dubai Destination)
Owner Godolphin
Trainer Saeed Bin Suroor
Breeder Darley
Runs/wins/places 21/7/9
Years on track 3
Country trained Britain/Dubai
Biggest single prize 2018 Dubai World Cup (£4,444,44.44)
Thunder Snow is not the best horse Sheikh Mohammed has ever owned, the best horse Saeed Bin Suroor has ever trained or the best horse Christophe Soumillon has ever ridden, but he has ensured all three are a bit richer than they would otherwise have been.
There was a most unfortunate day at Churchill Downs when the Godolphin stalwart bucked his way out of the race rodeo-style, but Meydan missions have been extremely fruitful, with four victories there including the 2018 Dubai World Cup. His winters in Dubai do raise the question as to whether he was truly 'a European-trained horse', but in these divisive times let's not split horse hairs.
But what about off the track?
Looking at the list of top-earning sports players, it must be remembered their eyewatering sums include lucrative endorsements and investments. Michael Jordan added significantly to his coffers with the purchase and subsequent sale of the Charlotte Hornets basketball team, while Jack Nicklaus continues to bring in the big bucks via the golf course – nowadays by designing them, rather than winning on them.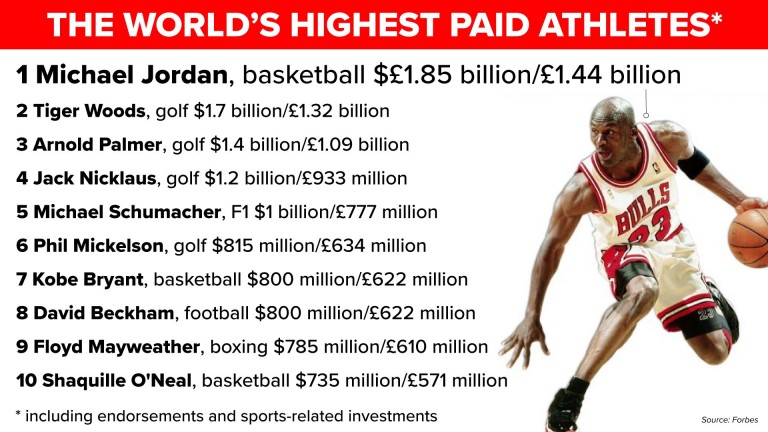 Horses, talented though they are, have little business acumen – nor are the likes of Gillette or Nike lining up for sponsorship deals. Nevertheless, a top colt's lifetime earnings at stud can significantly outweigh their on-course winnings. Arrogate's 2018 stud fee was set at $75,000, and with 143 mares lined up for his first book last year, he can be expected to surpass his prize-money tally this covering season.
For mares like Enable, their value is harder to quantify, possibly impossible if they go on to found a successful branch of the family, but in the immediate years following racecourse success, unless sold – Better Than Honour holds the broodmare world record at $14m – mares' earnings after racing will take some time to match their prize-money tally, if they do at all.
---
Read The Briefing from 8.30am daily on racingpost.com with all the day's latest going, weather, market moves and non-runner news
---
While the horses compete purely for the love of sport, those who race them have the potential to become extremely rich