Racing needs to invest in getting people engaged in the sport - Bazalgette
Racing needs to seize a window of opportunity to invest in engaging and converting casual racegoers into committed fans of the sport.
That was the view of Jockey Club group chief executive Simon Bazalgette as British racing's largest commercial body unveiled its financial results for 2017.
Bazalgette said he believed the Jockey Club was in "great shape", with revenues exceeding £200 million for the first time in 2017, but warned against thinking that just because the issue of the levy had been dealt with by the government last year that "the job's done" – especially with the results of the government's review of gambling imminent.
He said that while the Jockey Club and racing in general succeeds in getting people through the gates, the sport needed to get those who came just for a day out more engaged.
"We don't think that's going to happen by itself," Bazalgette said. "As a sport and as the Jockey Club we're going to have to focus on that, whether it's through providing exciting content that gets people engaged, finding ways for people to follow the sport, making it easier to bet – all of those things are going to be really important."
He added: "We have a period – depending on what government chooses it might be quite a small period – where we have more funds than we've had in the past.
"So it's important that while we use the majority of that to build the sport through prize-money, we don't forget there are some structural things we have got to achieve and grow, and that's going to take some investment."
Bazalgette highlighted ideas like City Racing and the new racecourse pool betting operation Britbet as ways of engaging new racing fans.
Britbet a 'huge opportunity'
Britbet is due to launch on July 13, although it has been caught in the crossfire of a media rights row between Arena Racing Company and Racecourse Media Group, and also faces increased investment in the Tote via the Alizeti consortium.
Bazalgette described Britbet as "a huge opportunity". He added: "All the partners in Britbet are committed to the project, committed in actions and words but also legally through our partnership agreement. The key thing is to make sure that launches in July and is as big a success as it can be."
Arc chief executive Martin Cruddace recently wrote to RMG racecourses who are shareholders in Britbet, saying they must end a new deal with SIS, which has caused the collapse of international media rights group GBI Racing, or face expulsion from the operation.
"We're always in discussions with Arc about how we can work better in future," Bazalgette said. "The letter was more about media rights than about Britbet."
Revenues rise
Revenues at the Jockey Club last year hit £201.1m, up 5.2 per cent on 2016, with the group's racecourse arm providing more than 95 per cent of that total.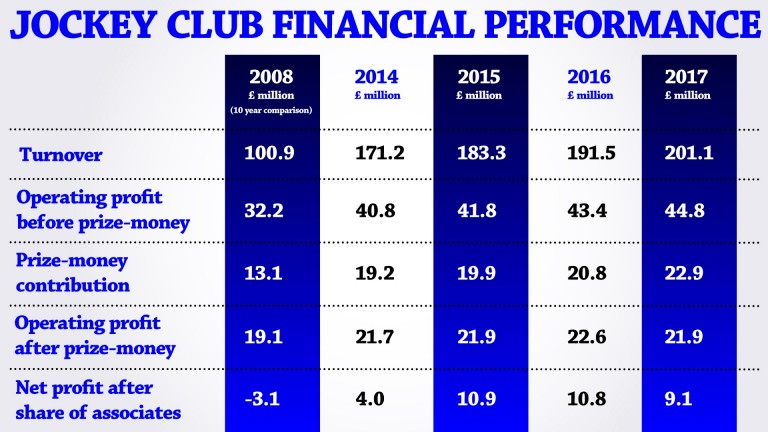 The figure was driven by increased revenues from general admissions, hospitality, media rights and partnerships.

As a result the Jockey Club generated a record operating profit before prize-money of £44.8m in 2017, up from the previous year's £43.4m, which meant the group increased its contribution to prize-money by £2.1m to £22.9m. That figure is due to increase to £27.1m this year, subject to cancellations.

The Jockey Club's net debt at year-end was £103.8m, up from £100.7m.

Wait goes on for Kempton verdict

Bazalgette said there was no update on the Jockey Club's controversial proposal to sell Kempton for housing.

"I don't think the council has given anybody any idea so we're in the same position as everybody and waiting to hear," he said.

"When you look at the underlying trends, ITV is performing really well, the Grand National has performed well and I've no doubt they will continue to perform well," he said.

---
Members can read the latest exclusive interviews, news analysis and comment available from 6pm daily on racingpost.com
---
We have a period - depending on what government chooses it might be quite a small period - where we have more funds than we have had in the past