Racing faces uncertainty amid reports England faces fresh lockdown
The racing and betting industries faced increased uncertainty on Saturday following newspaper reports that a two-week circuit-breaker lockdown could be introduced in England after Christmas to combat the rise of the Omicron coronavirus variant.
The Times reported that, following the advice of scientific advisers, government officials had prepared draft regulations that would reintroduce restrictions similar to those in step two of the country's roadmap out of lockdown last spring.
Step two restrictions ran between April 12 and May 17, during which time racing was kept behind closed doors in England, with only two owners permitted to attend for each runner.
Spectators returned in limited numbers in step three from May 17 and their numbers have not been capped in England since July 19.
Betting shops, however, were permitted to open at step two in England and Wales.
A BHA spokesperson said on Saturday: "The BHA announced recently how the latest government guidelines are being observed by British racing, with our protocols exceeding minimum requirements in places.
"We'll continue to monitor and await guidance from the various governments regarding any further developments."
The Racecourse Association refused to comment on the speculation when approached on Saturday but the move, which could reportedly be implemented from December 27, would be another hammer blow for tracks.
Cheltenham had a capacity of 28,876 for its New Year's Day fixture in 2020, while big fixtures at Newbury, Uttoxeter and Warwick also attracted crowds of more than 7,500 in the final days of 2019.
According to The Times, Boris Johnson has yet to approve the plans, wishing to assess the impact of measures imposed over the last week, but the prime minister is coming under increasing pressure after Friday's total of 93,045 Covid-19 cases marked the third successive day the record throughout the pandemic was broken.
A further 90,418 cases were reported across the UK on Saturday, with London mayor Sadiq Khan declaring a major incident in the city.
In Wales, first minister Mark Drakeford will confirm plans for sport over the festive period on Monday. Chepstow is due to stage the Coral Welsh Grand National on December 27, for which about 6,000 tickets have been sold.
On Friday evening further restrictions were announced in Ireland, with a 5,000 or 50 per cent capacity cap placed on meetings from Monday until January 30, including the busy festive period headlined by the big fixtures at Leopardstown and Limerick.
Sandown, Bath and Chelmsford are playing their part in the drive to provide booster jabs over the weekend, featuring among 2,900 centres for the vaccination programme.
---
Read more:
Chepstow 'geared up for any eventuality' with Covid measures looming on Monday
Leopardstown to reassess Christmas plans after government caps crowds at 5,000
---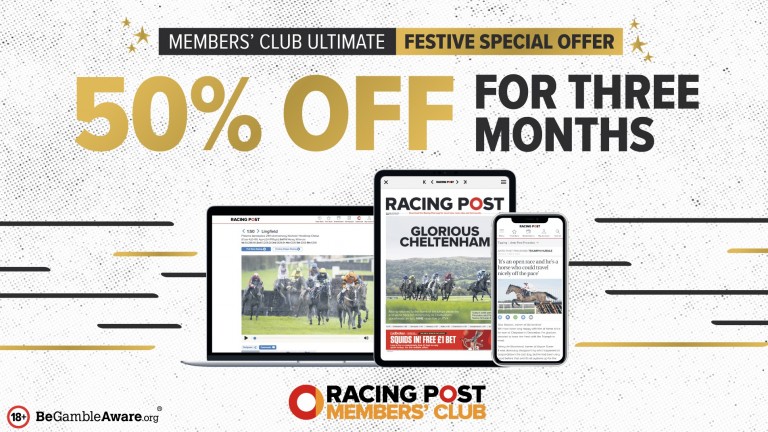 FESTIVE OFFER: Racing Post Members' Club 50% off for three months!
'Tis the season to be jolly, and the perfect time to celebrate with a subscription to Racing Post Members' Club!

Featuring award-winning journalism, expert tips and renowned form study tools, this is the only racing subscription you need to stay ahead of the field.

Throughout the festive season you can get 50% off your first THREE months of Members' Club Ultimate. That's just £17.48 per month* to unlock all premium features.

Head to the offer page here to find out more!

*T&Cs apply
---
We'll continue to monitor and await guidance from the various governments regarding any further developments