'She was just deadly' - perfect ten for Honeysuckle in Irish Champion Hurdle
The jury can stand down. The case being brought against Honeysuckle for not achieving enough to warrant superstar status was settled once and for all in the Chanelle Pharma Irish Champion Hurdle as she provided a vital piece of evidence which declared the case null and void.
These two days at Leopardstown are jump racing's version of Ireland's Got Talent and Honeysuckle scored the perfect ten, an audition so good it earned her the golden buzzer straight to the Champion Hurdle next month. She is now disputing favouritism with Epatante at around 9-4 and rightly so.
The Cheltenham chat can wait, first we need to give her second Irish Champion Hurdle win the words it warrants.
This was a Honeysuckle we had never seen before; a slicker, sharper, speedier version to the one who scraped home in the Hatton's Grace at Fairyhouse in November. That was workmanlike, this was wonderful.
---
Watch: Honeysuckle wins the Irish Champion Hurdle for a second straight year with a brilliant display
---
There are not too many positives to be taken out of empty enclosures and eerie silences in this modern Covid world of racing behind closed doors, but being able to hear the first thing a jockey says to a trainer after disembarking is most certainly one.
"That's the sharpest she's ever been, Henry. She was so sharp the whole way," reported Blackmore to the winning trainer.
There have been times when Honeysuckle has looked a little slow. Just two of her previous nine victories coming here had been over the minimum trip so the main concern going into this was that she would be tapped for toe.
Not only did that not happen, but the pace she showed leaving the back straight got speedy types like Sharjah, Saint Roi and Abacadabras out of their comfort zone and at a much earlier stage than they are used to.
This was over long before they got to the final flight and the run-in was a glorified lap of honour for the wonder women of Irish racing.
Blackmore elaborated on the dazzling display, saying: "She was just deadly and Henry has just done an unbelievable job with her. She was a lot sharper today than she was the last day. She was class. She's got plenty of pace and you do whatever you want with her now.
"Today she was taking me there as opposed to me forcing her there. That's every jockey's dream when you can just sit against them and they are jumping from hurdle to hurdle."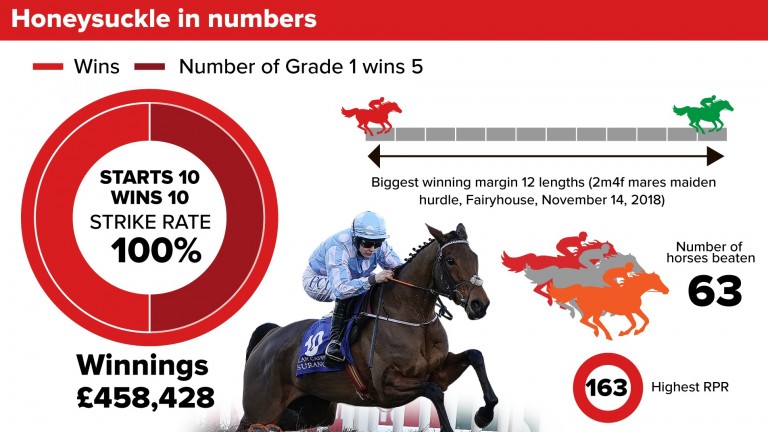 For De Bromhead, the self-confessed pessimist, the over-riding feeling afterwards was one of relief.
We have been throwing bouquets at Honeysuckle and Blackmore for years now, but the man masterminding this incredible journey deserves to be showered with superlatives too. For any trainer to get any horse to win ten races in a row is remarkable, but the last five of these have been Grade 1s so it is an ever more fantastic feat.
"There is a lot of relief after that and I don't feel as sick as I did ten minutes ago," admitted De Bromhead afterwards.
"She was brilliant. It was what we hoped she'd do and she did it. Rachael was brilliant on her and she's just class. It's lovely the way she picked up. She's not slow either, and you could see the speed of her there. She jumped great and she just let her fiddle the last. I'm very lucky to have Rachael. She's just brilliant to have on the team."
So, then, we can't put the Cheltenham chat off any longer, Henry.
"We'll enjoy today. We've won an Irish Champion Hurdle which is amazing and we need to appreciate that first," he replied.
"I'll have to speak to [owners] Kenny [Alexander] and Peter [Molony], but you'd have to feel that we'd be leaning towards the Champion Hurdle after what she did out there. On ratings it would have been her best performance. The Hatton's Grace last season was pretty good as well. She's put in a few real good ones, but that has to be up there.
"I'm very lucky that she's normally on her game, but I felt I'd left her a little bit short for Fairyhouse in December and we didn't want to do that again here."
Abacadabras, who won the Morgiana in November, showed more spark here than he did over Christmas where he was later found to have mucus in his lungs. He was the only one able to go after Honeysuckle from the second-last but, alas, it was all in vain.
The Mullins representatives all underperformed, opening the door for something else to hog the headlines for once. Honeysuckle and Blackmore didn't need to be asked twice to enter.
The scepticism can stop. Honeysuckle is a superstar. There is not a jury in the land who would disagree.
---
More great stories from the Dublin Racing Festival
Big-race reaction: 'There should be no doubt over Honeysuckle's next target'
'Few can live with him at his peak and the Champion Chase is his for the taking'
'What's rare is beautiful' - Townend hails special Chacun Pour Soi
'It's fantasy racing!' - Mullins and Townend bag treble with electric Energumene
---
Did you know you can bet with your online bookmaker without leaving the Racing Post website? Simply sign in to your existing bookmaker account via the accounts button and tap the odds buttons on a racecard to place bets. Update or download the latest app here
---
---
That's the sharpest she's ever been, Henry. She was so sharp the whole way