'He's just a beast' - Baaeed holds off Palace Pier in epic QEII battle
Much was promised, much more was delivered as Baaeed launched himself into the realms of equine superstardom with victory over Palace Pier in a pulsating Queen Elizabeth II Stakes at Ascot.
It was a performance of brilliance from an unbeaten three-year-old who had not set foot on a racecourse until after the Derby was all done and dusted. It was a performance that almost proved too much for those closest to him to fully take on board.
"What can you say? I'm still shaking a bit," said William Haggas as he fumbled for words to describe what he had witnessed from a horse bred by the late Hamdan Al Maktoum, but one the owner had never been given the chance to see race following his death in March.
In the winner's enclosure Sheikh Hamdan's friends and advisors greeted each other with open jaws, expressing to one another how they had been rendered speechless by the outstanding scene that had played out in front of them, and by the absence of the person they wanted to share it with the most.
"You know me, I tend to get a bit emotional," said Angus Gold, Sheikh Hamdan's longstanding racing manager, whose composure soon deserted him as he welled up with tears.
"In the last 50 yards I thought how much Sheikh Hamdan would have loved this," he continued. "It's a huge day for the team, for his family and for his legacy in the year he died."
Many equine greats have carried the blue and white silks of Sheikh Hamdan, but while Baaeed had become the latest to capture a Group 1 when triumphing in the Prix du Moulin, it was in the cauldron of Champions Day and against the formidable Palace Pier that his mettle was expected to be truly tested.
Tucked in behind Palace Pier, Baaeed travelled with zest and enthusiasm with his rider Jim Crowley looking serenely calm as Frankie Dettori peeked under his arm to check how well the rising star was going.
Too well, was the answer. Crowley unleashed Baaeed's frightening turn of foot with a quarter of the race to go to sprint past one of the quickest milers around, with the pair forging on to get well on top in the closing stages.
Crowley celebrated, Ascot celebrated and those at Champions Day were able to bask in a race of the highest calibre between horses worthy of competing on such a grandly-titled occasion.
Baaeed's win formed part of a treble for Crowley, who said: "I think Baaeed could be a world champion. He's just a beast, he keeps getting better.
"It was magical. I think people forget he's come such a long way in a short space of time. It's a great buzz to ride a horse that good."
Haggas was more surprised by how Baaeed had managed to so decisively defeat Palace Pier on ground that Crowley had deemed far from ideal.
"Jim said he coped with the ground rather than loved it and he's beaten the best miler in Europe," Haggas said. "I was watching the race and walking around a good bit. I've been trying to get up to 10,000 steps, but I've far exceeded that today."
While a "substantial" number of Shadwell-owned horses are set to sell through the autumn, Gold reiterated the operation would remain "fairly sizeable" with Baaeed the likely flagship for next year.
"The plan always was to [see him run again next year]," he said. "He hasn't had a hard life so far and he has done what has been asked of him the whole way through and I can't see why he wouldn't go on next year. Sheikh Hamdan's family are very keen to take it on — Sheikha Hissa is very keen.
"We'll hope to keep the best ones and we'll have some yearlings to come into training next year. Compared to most owners, it would be fairly sizeable."
---
QEII result, analysis and replay
---
Baaeed is unlikely to face Palace Pier in 2022 with joint-trainer John Gosden, who was frustrated with how the race was run, expecting the four-year-old to be retired to stud.
"Frankie said the pace was slow – it was too slow," he said. "He regrets not committing earlier.
"There was too much looking around – and he knows that. The strongest likelihood is Palace Pier will now go to stud."
Retirement also beckons for Lady Bowthorpe after her third-placed finish, and trainer William Jarvis said: "I think that was a career-best performance. The first and second are probably the two best milers in the world, so we're the third best. We're going to miss her."
---
Read more Champions Day reports:
'It was a disgrace' - Frankie Dettori fumes at rival rider as Trueshan reigns
Aldaary strikes at Ascot again as Jim Crowley completes 229-1 treble
Creative Force breaks Appleby's Champions Day duck with sublime sprint success
---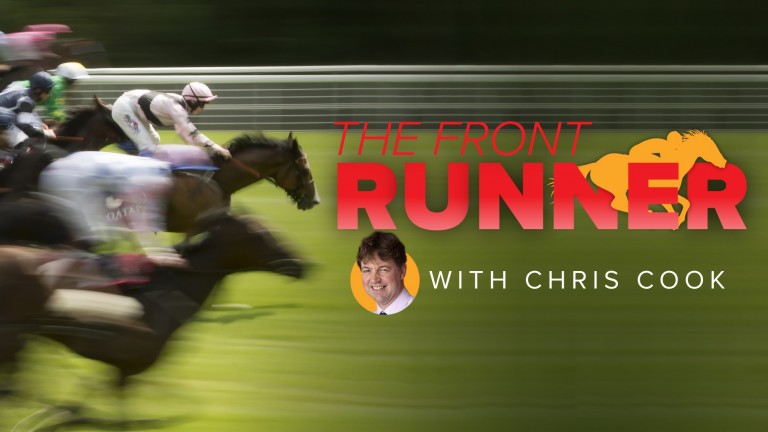 The Front Runner is our latest email newsletter available exclusively to Members' Club Ultimate subscribers. Chris Cook, a three-time Racing Reporter of the Year award winner, provides his take on the day's biggest stories and tips for the upcoming racing every morning from Monday to Friday
---
I think Baaeed could be a world champion. He keeps getting better