'He is part of his story - it's a tragedy he won't be able to ride him'
Saturday: 2.05 Ascot
Chanelle Pharma 1965 Chase (Grade 2) | 2m5f | 4yo+ | ITV/Sky
There are any number of horses who have been given the underrated tag in their careers and it's less than a week since the latest, Sharjah, won his second Morgiana at Punchestown after which Patrick Mullins argued "he doesn't get the credit he deserves." I actually think he does.
Everyone knows Sharjah is very good, but let's not pretend he's a great. He gets kicked out of the way when he races a proper one – Honeysuckle has beaten him four times, for example – and there is another horse with stronger claims to the title of the most underrated in training.
Step forward Dashel Drasher. He has won eight of his last ten completed starts and has a career-high Racing Post Rating that is 1lb higher than Sharjah's, yet, if you took a Family Fortunes-style poll of 100 people and asked who was better, I'd bet most would say Sharjah.
So, would they be right? Some argue that the Grade 1 Ascot Chase which Dashel Drasher won last season fell apart. Cyrname downed tools and Master Tommytucker didn't relish the fight.
That is true, but it shouldn't detract from Dashel Drasher's effort. His RPR of 169 is close to the par (171) for Grade 1 chases in Britain and Ireland in recent seasons and a Topspeed figure of 150, and Raceform speed figure of 118, shows the time was fast.
It therefore passes the duck test: "If it looks like a duck, swims like a duck, and quacks like a duck, then it probably is a duck."
Dashel Drasher isn't the only Grade 1 horse in the race, though. Defi Du Seuil has won seven of them, but you have to go back 22 months to find the last and he returns after wind surgery.
However, that would be a red flag rather than a green one. Hobbs is just 1-24 (four per cent) with runners having their first run after an op since they were reported (-£18.50 to £1 stake).
Master Tommytucker might be the only realistic danger to Dashel Drasher and that tells you all you need to know.
Dashel Drasher beat him in the Ascot Chase and let's hope he does it again. At least then the British will have one true Grade 1 horse to go to war with this season.
Race analysis by Graeme Rodway
---
'He's ridden him in nearly all his races'
Jeremy Scott is hoping to kick off Dashel Drasher's season on Saturday as long as the ground doesn't get too quick, although he won't be the only onlooker thinking of the horse's regular partner Matt Griffiths, who remains in hospital after a serious car crash in October and is reported to be making steady progress from a brain injury.
Rex Dingle takes over on Dashel Drasher, who has been ridden by Griffiths for all but three of his 17 races.
"That will be the real sadness, that Matt won't be there riding the horse," said Scott. "He did all the breaking in and has ridden him in nearly all his races. He is part of the horse's story and it's a real tragedy that he won't be able to ride him."
Dashel Drasher has an umblemished record of four wins at Ascot, including three consecutive victories in 2020-21 culminating last February in a first Grade 1 success.
"We did have a racecourse gallop the other day, which I hope might have put him in a better place than we would normally have him," said Scott, who admitted the eight-year-old has traditionally needed his first start.
"I'd be more concerned about the ground. I'll wait and see what they think of it today [Friday] because if it was edging towards the fast side of good, we probably wouldn't run him.
"The opposition is the opposition but I don't think you'd be too frightened of them if he ran the way he did last year. They've all got questions to answer."
---
What they say
Paul Nicholls, trainer of Master Tommytucker
He's had lots of practice over fences since he ran at Wetherby. That run would have taken the freshness out of him, he always needs a run and that will put him just right. The trip and ground are perfect so hopefully he'll run very well. He ran well there in February in the Ascot Chase. Sam gets on well with him, he's won on him two or three times.
Dan Skelton, trainer of Bennys King
Bennys King gets weight off horses, which is great. He's good around Ascot. It's a shame there isn't any rain because if there was some, I would start fancying him even more. But he's in good form, he's had a run, which he always needs, and I'm looking forward to it.
Philip Hobbs, trainer of Defi Du Seuil
He seems in very good form and we're happy with him; he should run well. I don't think the ground would be a problem, as long as it's on the easy side of good. He's run well around Ascot before. He seems in great nick at home, we'll look forward to seeing him back.
Joe Tizzard, assistant trainer of Lostintranslation
We absolutely still have 100 per cent belief in this fellow. When you see him schooling like he has been, taking off outside the wing of the fence and flying over it, it's very exciting. We now have to see him do that on the track.
Nicky Henderson, trainer of Pistol Whipped
He's a progressive sort who goes well fresh and likes fast ground and small fields. He'll get both here but it looks a tough race.
Reporting by Scott Burton
---
Read more previews here:
12.00 Gowran Park: Darragh O'Keeffe thrilled to get 'unbelievable opportunity' on Bob Olinger
1.50 Haydock: Bravemansgame takes next step on chasing ladder to possible stardom
2.25 Haydock: The Shunter part two? Emmet Mullins sends exciting sort on handicap mission
2.40 Ascot: is Cesarewitch winner Buzz able to follow up in Ascot Grade 2?
3.00 Haydock: Bristol De Mai '100 per cent' as he seeks record-equalling fourth Betfair Chase
3.15 Ascot: 'He was exciting to watch last time' – key trainer quotes for big handicap prize
---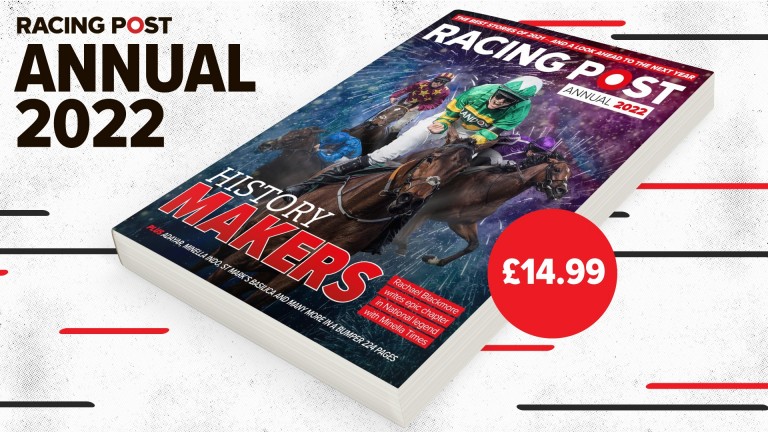 The Racing Post Annual 2022 is here! Look back on a star-studded year in this fabulous 224-page book packed with the best stories and pictures. The perfect gift at £14.99. Order from racingpost.com/shop or call 01933 304858 now!
---
The opposition is the opposition but I don't think you'd be too frightened of them if he ran the way he did last year