Pony racing helps British jockeys catch up with the Irish
There is no doubt that the balance of power is changing within weighing rooms up and down the country. Even at the top, where Irish jockeys have been omnipresent over the last two decades, British jump jockeys are now making much more of an impact.
The latest young prodigy to emerge from the shadows is James Bowen, the 16-year-old who was acclaimed as a champion in waiting after his Coral Welsh Grand National triumph aboard Raz De Maree. To get there Bowen will have to out-do his older brother Sean, who has already been described in such terms.
The two Bowen boyos share one thing in common: they are both graduates of the British pony-racing circuit. More than the point-to-point field, the pony racing circuit is now the prime source of talented young jump jockeys in Britain. That is not entirely surprising. Pony racing in Ireland has turned out a succession of top-class riders over the last three decades, among them Norman Williamson and Adrian Maguire. What is surprising, however, is the speed with which the British equivalent has caught up.
The British Pony Racing Authority was only established in 2007, yet two of the top ten jump jockeys this season hail from its ranks. Sean Bowen, 20, and Harry Cobden, 19, have shown maturity well beyond their years. Each is adamant the experience they gained from pony racing afforded them a platform of maturity they would otherwise have taken years to establish.
The emergence of Bowen and Cobden mean that six of this season's top ten jockeys are British. Snapshots from ten and 20 years ago tell a different story: the balance was 7-3 in favour of Irish jockeys in 2007-08, and 6-4 in 1997-98. Rather than bringing over promising young conditionals from Ireland, British trainers now have a talented collection of home-grown youngsters.
This is not so much a nationality issue as the erosion of the significant advantage young Irish jockeys gained from pony racing. Conversely, however, the rapid strides made by pony racing in Britain makes it much more likely that teenage riding talent will emerge from racing's existing and inter-related ranks, rather than from beyond. This is not necessarily a good thing.
The Bowen boys are sons of trainer Peter and his wife Karen, herself an accomplished point-to-point rider. Cobden's father farms ten minutes away from Paul Nicholls, for whom the jockey had ridden out for since he was 13 years old. The same is true of most successful graduates of pony racing, among them Hollie Doyle (both of whose parents were jockeys) and Bryony Frost (daughter of ex-jockey Jimmy).
The reasons for this are plain. To grow up within a horse environment is to gain a much earlier understanding of the nature of the beast. Essential and expensive bits of tack – saddles, bridles, boots and breeches – are part of the household furniture. So are stables, pastures in which to turn horses out, and most of all, the horses themselves. Any non-horsey parent whose children want their own pony will attest to the sheer expense of putting the requisite framework together. And should their children eventually prove proficient at pony racing, they will require a mount that is competitive.
This is the most expensive accessory of all. Perhaps because they are themselves competitive by nature, trainers spend lavish sums on ponies for their children. So while the Pony Racing Authority provides raceday ponies for pony-less young riders, they are unlikely to be a match for the best.
All of which makes it harder for teenagers with no racing background to flourish than in the days before pony racing gave those born to the sport an extra edge. Does this matter? Yes and no. It doesn't matter because this has pretty much always been the way of it in racing. Growing up in a horse environment confers a decided advantage, since those outside the game have so much more to learn from a young age.
Conversely, it matters because the world is becoming a more inclusive place. Racing has proved unable to attract the ethnic mixes that attend virtually every other sport. Its base is therefore smaller, less diverse, and seemingly preordained to those already within its embrace.
Jockeys represent the most visible face of racing. It would do wonders for the sport's profile if champions like Willie Carson, the son of a warehouse foreman, came along more frequently. So while pony racing enables young British jockeys to compete with their Irish counterparts on an equal footing, it also serves to accentuate the advantage inherent in those born to the game. Ah well, you can't have it all.
Dirt track an attractive option for Southwell
One of the best ideas to emerge in a long time is trainer Michael Appleby's suggestion that Southwell should install a dirt track to replace the Fibresand surface when the latter wears out. It could be a game-changer for the Nottinghamshire venue.
Tapeta and Polytrack both have their virtues but the former has been laid at nearby Wolverhampton and Newcastle. Variety is a good thing. To install a US-style dirt surface would also maintain Southwell's unique selling point, which is that it alone races on Fibresand. But there are other potential benefits.
We have come to recognise that certain horses show better form on a particular synthetic surface. Equally, we have learned from the Dubai Carnival that horses who could not catch a cold running on turf are completely transformed when they encounter a dirt surface.
A dirt track at Southwell would nurture this type of horse, which is not catered for in Britain. The majority of young horses imported from the US are sons and daughters of dirt sires or grandsires. In the event that they fail to shine on turf, they could become the nucleus around which dirt racing at Southwell evolves.
Southwell is already popular with trainers of horses who display an affinity for Fibresand. That will remain the case should they replace like with like, but a dirt surface offers the enticing possibility that top-class horses with designs on Breeders' Cup dirt races will have a spin – maybe two or three – around Southwell before heading out west. There was certainly plenty of interest when Aidan O'Brien took a team of horses, among them Galileo, to gallop at Southwell ahead of the 2001 Breeders' Cup.
The day may even dawn when Southwell actually stages dirt races for horses of above-average ability. Yet even if they went there just to gallop, it would offer a golden opportunity for the track to break out of its humdrum daily existence.
Several obstacles stand in the way. Cost is obviously a big factor, both in terms of installation and long-term maintenance. So too is the attritional nature, perceived or otherwise, of racing on dirt, which was the fulcrum of the argument that US tracks should tear up dirt tracks in favour of synthetic surfaces around a decade ago.
That debate has now subsided, however. Dirt racing is also thriving in Dubai; it's almost certainly the case that the rate of attrition was both overstated and exaggerated. There is plenty of room for dirt racing to flourish in Britain and Southwell is well placed to grasp the nettle.
Age not the issue
As successful as the veterans' series for chasers has been, the clamour for their inclusion at the Cheltenham Festival goes a step too far. Don't forget that these horses have already had their chance. Sentiment should not be confused with quality, which is what Cheltenham is all about.
It is true that older, exposed chasers are unlikely to win open handicaps at the festival, but that applies equally to much younger horses. When it comes to handicaps at Cheltenham, every horse that has spent more than one season running over fences is vulnerable to lightly-raced novices and recent French imports which race off marks that can only amount to guesswork on the handicapper's part. It is not a question of age.
---
If you are interested in this, you might also like:
Pony-riding tearaway to level-headed pro: the continuous rise of James Bowen
Teenage kicks as Raz De Maree wins the Welsh Grand National
---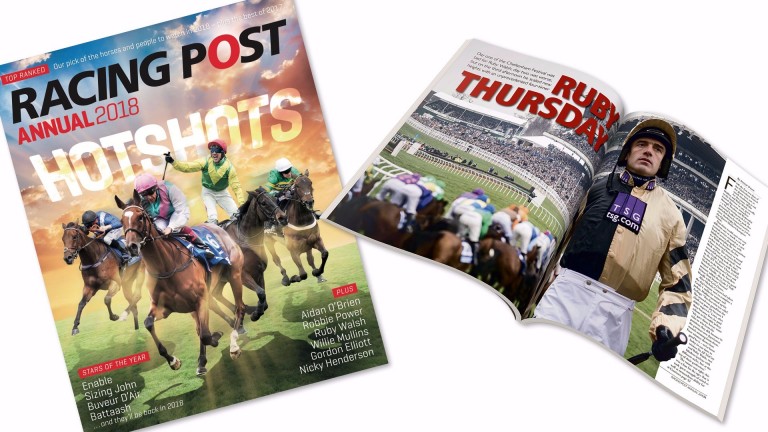 ---
Look back on the best jumps action of the year in the new edition of the Racing Post Annual. Order now at racingpost.com/shop or call 01933 304858
---
The emergence of Bowen and Cobden means that six of this season's top ten jockeys are British