Poll reveals majority of British public against politicians imposing bet limits
A new opinion poll has revealed that 51 per cent of people in Britain are opposed to being told by politicians how much they can spend on gambling.
That is the headline finding of a YouGov survey commissioned by the Betting and Gaming Council, which found only 27 per cent in support of limits being imposed.
The findings will add to pressure to drop the controversial proposals, which the racing industry fears could cost the sport up to £100 million per year in lost media rights and levy income.
The Gambling Commission – which regulates the betting sector – received more than 13,000 public submissions on the subject of affordability checks and is currently considering the evidence amassed before deciding on its next steps.
The most controversial proposal under consideration is to introduce a £100 monthly limit on the amount online punters are allowed to lose before having to undergo invasive auditing of their finances to determine whether an individual can support their betting activity.
The poll of 1,683 adults found that a clear majority are opposed to limits being brought in, with 22 per cent of people responding 'don't know' when asked for their view.
When YouGov asked the same panel of voters whether they believed excessive limits would lead to punters making increased use of unregulated black market operators, 59 per cent agreed, while a mere ten per cent did not believe that would be the case.
A recent report compiled by PwC estimated the volume of bets placed through illegal sites in the UK – evading levy and taxation – had doubled in the last year from £1.4bn to £2.8bn.
"My view is that limits are good, which is why people betting are now strongly encouraged to set their own limits on how much they spend," said Michael Dugher, chief executive of the BGC.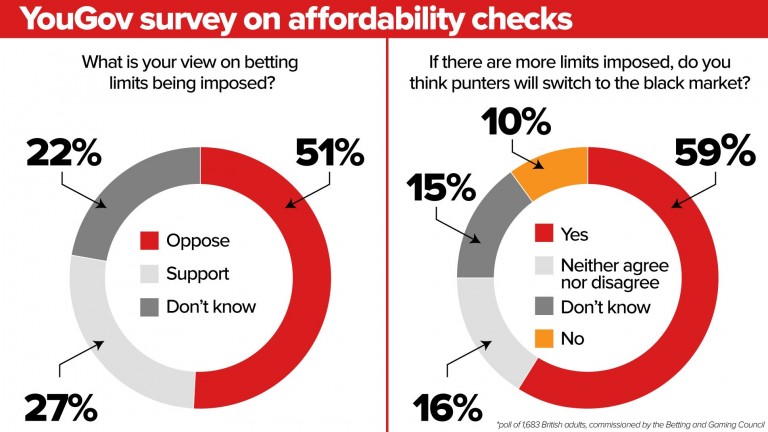 "Affordability checks are also a good thing. But technology enables betting companies to see where customers are starting to display what we call 'markers of harm'.
"In this way, potential problem gamblers and others who may be more at risk could be subject to enhanced affordability checks.
"Such a move [on those less at risk] would potentially have serious ramifications for horseracing in particular, which relies heavily on the money it receives from the betting levy."
In a separate study the BGC also commissioned the public policy and research group Public First to host a series of 20 focus groups to examine perceptions of betting and the culture that surrounds it.
Many of the groups were held across the so-called Red Wall constituencies of the Midlands and the north of England, areas which flipped from Labour to Conservative control at the December 2019 general election and helped deliver Boris Johnson a comfortable 80-seat majority.
A common theme to emerge from the focus group sessions is that gambling is considered a normal social activity by a great many people in Britain.
And with the Department for Digital, Culture, Media and Sport also carrying out its own review of the 2005 Gambling Act, many of the respondents across the groups expressed fears that the government might seek to further control their lives following the public health restrictions placed on them during the coronavirus pandemic.
Dugher said: "I hope politicians will also take heed of the findings and listen to voters in northern and Midlands marginal seats – who will be key to the result of the next election – who are wary of being told by Westminster how to live their lives, especially in the wake of the Covid pandemic.
"The BGC fully supports the Gambling Review and we want to see big changes, but it's important that ministers get those changes right."
The 20 focus groups were conducted between November and February and covered many Westminster seats that changed hands in 2019.
Public backing for the government's handling of the pandemic has began to recover recently, with the rapid progress of the vaccination programme and the publication of a roadmap for easing lockdown.
But an Opinium survey conducted in late February gave the government just a three per cent bump in its performance with regard to the crisis – up to 36 per cent approval – while 49 per cent disapproved.
---
If you want more on this subject . . .
Spend limits considered as gambling review is launched by government
'What gives them the right to decide just how much I can spend on gambling?'
Why a review of gambling laws is badly needed – Flutter chief executive
---
Join Members' Club Ultimate and read tipping from the likes of Pricewise and Paul Kealy, all the big interviews and features, daily comment and news analysis – plus our Ultimate Daily newsletter. Click here to sign up.
---
I hope politicians will listen to voters in Northern and Midlands marginal seats who are wary of being told by Westminster how to live their lives