'Everyone in the weighing room wanted to be like Pat Smullen'
On Tuesday evening Pat Smullen died in hospital from pancreatic cancer at the age of 43. Following the news of his death, many of racing's leading figures have paid tribute to the nine-time Irish champion jockey and 12-time European classic winner.
---
Smullen's friend and former weighing room colleague Johnny Murtagh was among those who handed out the highest of praise for his attitude on and off course.
Murtagh, now a Group 1-winning trainer, said: "It's very sad news and the world of racing really lost one of the true legends of the game. You can see the esteem he was held in by people across the world in their tributes to him. He's one of those special people.
"After our big win on Saturday at Leopardstown he texted me to say well done, he was a class act. Everyone in the weighing room wanted to be like Pat Smullen.
"We knew what he was like in racing but through his fundraising efforts in recent times, I think the wider public got to see the man he was. Determined, mentally and physically strong.
"You couldn't intimidate him on the track. He had a great will to win, and that was every day. It wasn't just a Saturday, he was on his 'A' game every single day. Our thoughts are with his family."
Trainer John Oxx, who Smullen was second rider to in the late 1990s, said: "He was one of the top jockeys in Europe, but what put him apart from other people was that he was such a decent human being.
"He was a very straightforward, honourable person to deal with, an example and inspiration to other jockeys, particularly young riders. He was always very diligent and hardworking right from the early days.
"He was second jockey to me behind Johnny Murtagh in 1997 and 1998 – everyone could see then that he would be a champion jockey of the future.
"It's just such a shame that having worked so hard and moved himself up the ladder to the point where he was one of the most sought after jockeys in Europe that he's been struck down like this, when his career would have been at its height."
Hannah Smullen, daughter of the world-renowned jockey, paid a touching tribute on social media.
My hero. pic.twitter.com/aUT0VPvfxb

— Hannah Smullen (@hannah_smullen) September 16, 2020
Cancer Trials Ireland remembered a great friend and benefactor of the leading research organisation.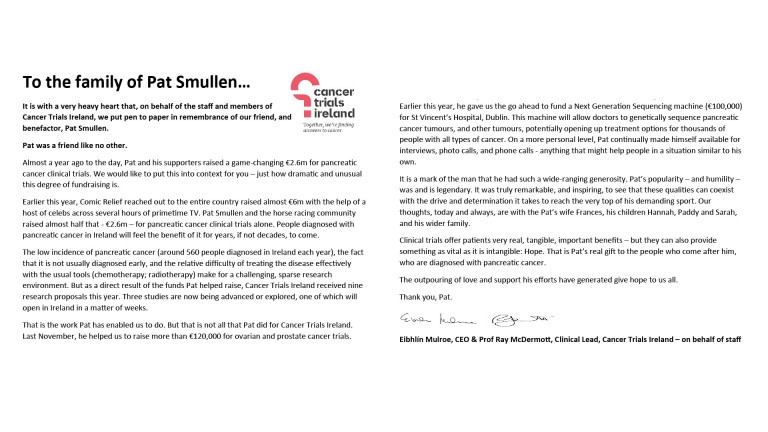 British champion jockey Oisin Murphy expressed the positive impact Smullen had on Irish racing and the sport as a whole.
God rest you. What you meant to the people most close to you and the people of Ireland. Not to mind the rest of the world. A truly fitting statement. Thoughts with your family and friends. https://t.co/gVOqNr016f

— Oisín Murphy (@oismurphy) September 15, 2020
Neil Callan, Jessica Harrington and Kevin Blake highlighted what a class act Smullen was in and out of the saddle.
I have not felt this sad in a very long time ! Sleep well my good friend. There is too many words to describe how good a man u are, you will never be forgotten. #Pat #Champion #Legend #inspiration pic.twitter.com/idAo3huEXx

— Neil Callan (@neilcallan78) September 16, 2020
Rest in peace Pat a true gentleman and an inspirational person sleep well. Thoughts and prayers with the whole family and friends. pic.twitter.com/PUzeweZfu6

— Jessica Harrington (@Jessica_Racing) September 15, 2020
Floored by this. A world-class jockey, but more importantly a world-class man. The selflessness and bravery he showed during his illness was remarkable and inspired so many. So sorry for Frances, his children Hannah, Paddy, Sarah and all his family/friends. RIP Pat. https://t.co/rZrqYKGb6F

— Kevin Blake (@kevinblake2011) September 15, 2020
The president of Ireland extended his condolences to Smullen's family.
President Higgins has expressed his deep sadness at the untimely death of champion jockey Pat Smullen, saying his remarkable performances at home and abroad brought joy to so many.
The President conveys his sincere condolences to his family, wife and children.

— President of Ireland (@PresidentIRL) September 15, 2020
Gordon Elliott paid tribute to Smullen's talent and personality.
So sad to hear of Pats passing. One of the greatest jockeys we've ever seen and above all a true gentleman who I was fortunate enough to know. Condolences to Frances,Hannah,Paddy,Sarah and all his family. May he rest in peace pic.twitter.com/Zypol3kP55

— Gordon Elliott (@gelliott_racing) September 15, 2020
Truly heartbreaking news about Pat Smullen. He was great jockey and even better man. My thoughts are with his family at this time.

— Jonjo O'Neill (@JonjoONeill) September 15, 2020
Former England footballer Michael Owen extended his condolences, as did trainer Peter Chapple-Hyam and jockey Andrea Atzeni.
RIP Pat. A true gentleman. https://t.co/EeDBHWiPj5

— michael owen (@themichaelowen) September 16, 2020
Heartbroken to hear the passing of Pat Smullen,he was a gent,we had fun together especially on Sundays in Hong Kong,of to Stanley for the day what a laugh. My condolences to Frances and their family,I couldn't be a brave or as strong as Pat, see you pal

— Peter Chapple-Hyam (@ChappleHyam) September 16, 2020
R.I.P Champ https://t.co/4P2qvPkfUF

— Andrea Atzeni (@Atzenijockey) September 15, 2020
You can see the esteem he was held in by people across the world in their tributes to him. He's one of those special people