No pot of gold as jockey falls off to scupper $500,000 Rainbow win
A life-changing sum of money slipped from the grasp of an unlucky punter at Gulfstream Park on Thursday when the jockey fell off yards from the winning post in the decisive final leg of the track's equivalent of the Scoop6.
As the bet's name suggests, the Florida track's Rainbow 6 promises a pot of gold to punters who can select the winners of the last six races on the card, otherwise it rolls over each day if there is not a single winner.
On Thursday, with the jackpot standing at $571,744, there was one ticket holder still in business after five legs. Everything was riding on 8-1 shot Cryogenic, trained by Mark Casse, the final selection in race ten, a mile maiden claimer on turf for two-year-olds.
Cryogenic, under jockey Emisael Jaramillo, raced midfield through the first half-mile but moved into contention on the final turn and then pushed his way to the front and into a clear lead in the stretch.
Spotting the move, track announcer Pete Aiello said: "Cryogenic's the one to recognise. He's loaded but he's got no place to go under Jaramillo." Once the horse got through, he added: "Cryogenic is clear to the finish."
The horse and his backer looked home and dry – until 50 yards from the winning post when disaster struck.
"It's Cryogenic and Emisael Jara – millllllo," Aiello exclaimed as he watched in disbelief as the unthinkable happened.
Cryogenic was two lengths clear when the jockey gave him one crack of the whip, causing the horse to take a jink to its left, with the rider losing his balance and being unseated.
Aiello had only one word to sum up what he had witnessed. "Wow," he said. The outcome sparked a mixed reaction on Twitter.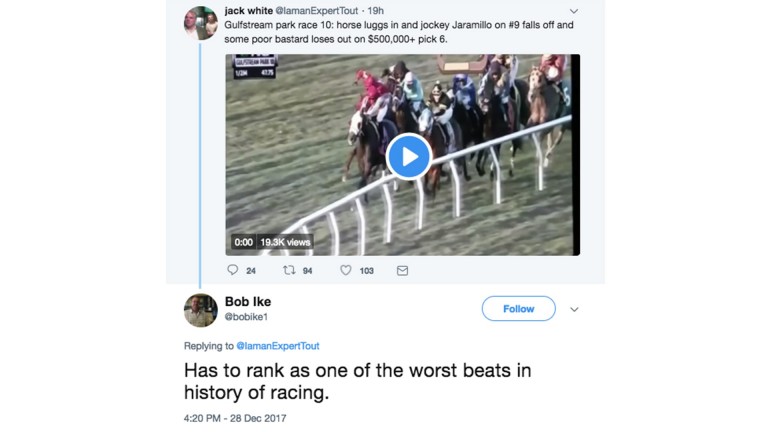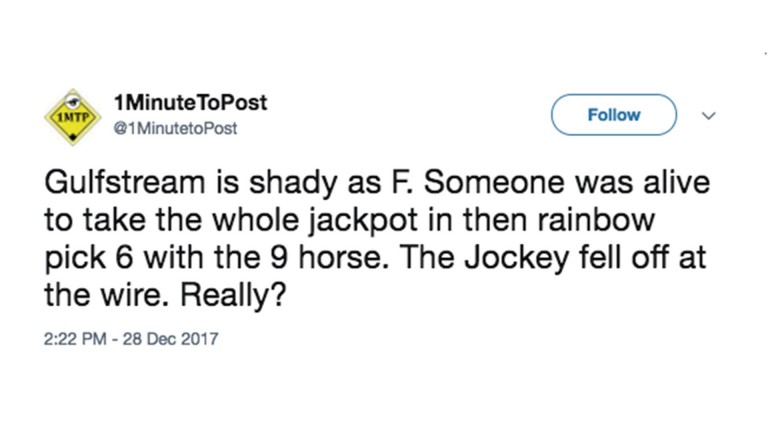 Others expressed concern for Jaramillo, who was trodden on by a pursuing horse and taken to hospital with chest pain. He was due to be released on Friday but is not expected to ride for another week. The Rainbow 6 rolled over.
---
Visit racingpost.com for the best international coverage
---
It's Cryogenic and Emisael Jara – millllllo