Grand National winning trainer David Barons dies at age of 81
David Barons, trainer of the 1991 Grand National winner Seagram, has died in New Zealand aged 81.
Barons became one of the biggest trainers in the West Country in the late 1960s and early 1970s, helping Bob Davies to become champion jockey.
"I started riding for him in spring 1968 and we were kings of the West Country back then," said Davies, who shared the title with Terry Biddlecombe in the 1968-69 season before claiming it outright in two of the next three years.
"When I started riding for him he had about 30 horses in training and by the time I finished with him, he was up to 70-odd. The norm back then, even for the big trainers like Fred Rimell or Ryan Price, was a maximum of 50.
"When I started riding for him he bought a lot from the horses-in- training sales. He had a very good horse called Solomon II who went through his novice hurdles and I won an Imperial Cup on him, before he finished fourth in the Champion Hurdle."
Barons' career took on a new dimension in the 1980s when he became one of the first trainers to import New Zealand-bred jumping stock with great success.
Among the notable winners he sent out during that period were the Hennessy Gold Cup winners of 1986 and 87, Broadheath and Playschool – and the dual Whitbread (now bet365) Gold Cup winner of 1992 and 1993, Topsham Bay.
Playschool also landed the 1987 Coral Welsh National and the Irish Gold Cup at Leopardstown, before starting favourite for that season's Gold Cup only to be pulled up, a result which Barons would later put down to foul play.
Many of Barons' biggest successes came in partnership with Paul Nicholls, who later became assistant trainer to Barons at his stable in Kingsbridge, Devon, before setting up in his own right.
"He was a big farmer as well and he ran the two businesses hand in hand with great success. He was a clever chap and he had some good owners in Sir Eric Parker and Michael Marsh."
Hywel Davies was aboard Topsham Bay for the first of the two Whitbreads and was a big part of Barons' success in two spells either side of Nicholls riding as stable jockey.
"In his results Topsham Bay would be the best but King Or Country was equally good, though Paul Leech got the best of him," said Davies.
"The horses had phenomenal stamina thanks to all that slow cantering and David was a very good trainer. [His ex-wfe] Jeni deserves a lot of credit because she would always be the one taking a pull when he wanted to run. They met in the middle and they were a formidable team."
Barons will forever be associated with Parker's diminutive Seagram, who stormed to Aintree success at the age of 11 in 1991 under Nigel Hawke at the expense of that year's Gold Cup winner, Garrison Savannah.
Barons sent out the winners of more than 900 races in a career that began in 1963 and ended in 1994 when he decided to return to farming and concentrate on importing New Zealand-bred horses.
---
DAVID BARONS CV
Full name David Hawken Barons
Born December 6, 1936
Stables Wotton/Hendham Farm, Woodleigh, near Kingsbridge, Devon 1961-94
First winner Legend Prince, selling chase, Plumpton, March 19, 1962
Grand National winner Seagram (1991)
Cheltenham Festival winners Kastrup (1974 Joe Coral Golden Hurdle Final), King Or Country (1978 Mildmay of Flete Chase), Topsham Bay (1990 National Hunt Chase), Seagram (1991 NH Handicap Chase)
Vincent O'Brien Irish Gold Cup winner Playschool (1988)
Hennessy Cognac Gold Cup winners Broadheath (1986), Playschool (1987)
Welsh National winner Playschool (1987)
Whitbread Gold Cup winner Topsham Bay (1992 & 1993)
Black & White Whisky Hurdle winner Greater (1973)
Schweppes Gold Trophy winner Bootlaces (1980)
Imperial Cup winner Solomon (1970)
Other notable winners Volant (15 wins in 8 months, March - November 1963), Solomon (1970 Kingwell Hurdle), Kelanne (1970 Ansells Brewery Hurdle), Prophecy (1972 Cottage Rake Chase, 1974 Sandown Open Chase), Perambulate (1973 Greenham Group Hurdle), Somethings Missing (1975 Badger Beer Chase), Bootlaces (1978 Yellow Pages Hurdle), King Or Country (1978, 1979 & 1983 Sporting Chronicle/Tim Brookshaw Memorial Chase), Chuckles Hansel (1979 Badger Beer Chase), Playschool (1986 Hopeful Chase, 1987 Aynsley China Cup Chase), Seagram (1989 Charisma Gold Cup Chase, The Rip Chase, 1991 ASW Chase), Topsham Bay (1992 Golden Miller Chase)
Last winner over jumps in Britain Mine's An Ace, Exeter, May 19, 1994
Last winner in Britain Northern Bailiwick, Leicester, May 23, 1994
Highest position in trainers' championship 7th in 1969-70 & 1972-73
Most wins in a season 86 in 1971-72 (2nd to Arthur Stephenson in numerical table)
Total wins in Britain 954 (942 over jumps, 12 on Flat)
Compiled by John Randall
---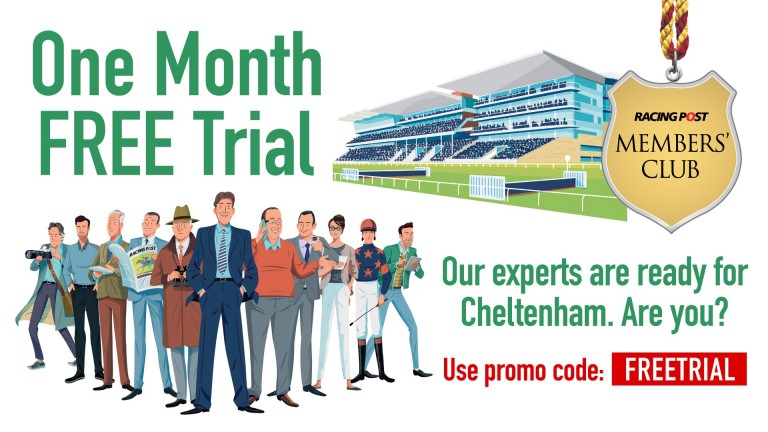 Read exclusive tipping, interviews and comment when you join Members' Club Ultimate. Enjoy your first month free when you subscribe using promo code FREETRIAL. Find out more here
---
We were kings of the West Country back then