McLernon living the dream after being crowned Employee of the Year
Jessica McLernon says she eats, breathes and sleeps horseracing and was rewarded for her efforts on Monday night when crowned Employee of the Year at the 2018 Godolphin Stud and Stable Staff Awards.
McLernon, assistant trainer to Richard Fahey, received her trophy from special guest presenter Michael Owen and the event's compere Ed Chamberlin at a ceremony held at the Jumeirah Carlton Tower Hotel in London
She collected a cheque for £40,000, of which £20,000 will be shared among staff at Fahey's stable in Malton, North Yorkshire.
McLernon, 25, also captured the Leadership Award on the night in recognition of her rapid progress having only joined the Fahey team in May 2011.
"It's overwhelming really," she said. "I'm so proud for the yard, and I'm proud for the north and I'm proud for Malton.
"We've got a close knit team and we all work so hard together. For me the team make my job a lot easier and this is for them as much as it is for me."
McLernon, who named Ribchester as her favourite horse so far, said working in the sport was a real passion for her.
She added: "I eat, breathe and sleep horseracing and I am passionate about it. I love every second of my job and I am just so grateful for the opportunities Richard and Robin [O'Ryan] have given me. To get this award I feel like I have repaid them somehow."
McLernon paid tribute to her family – her brother is jump jockey Richie McLernon – and boyfriend Jason Hart for their support and also to trainer Eugene O'Sullivan with whom she started out in County Cork.
"He is definitely someone who has taught me a huge amount and I thank him so much for getting me on the ladder and wanting me to progress and achieve my goals," she said.
McLernon added: "It's a fantastic way of life, it's so rewarding and it's not just about the everyday tasks, there is so much more to it. There is going racing, there is further education, there is so much more than the everyday tasks we carry out.
"Anybody who wants to get into the industry, it's just living the dream."
An emotional Fahey said McLernon was a huge part of his team at Musley Bank.
He added: "There's always a little shining light and Jess always had that shining light. We always knew she'd go far.
"When we were at the sales at the backend of the season we trained about 48 winners but to be fair Jess McLernon trained 48 winners.
"As somebody said earlier, wherever we are in the world we know the job's being done right."
In all £120,000 in prize-money was awarded on the evening by sponsors Godolphin.
Petra Sebestikova, of Luca Cumani's stable, won the Rider/Groom category and had to accept her award in a wheelchair following an injury which she said was "getting better slowly".
She added: "I would never believe in my dreams this was going to happen. The best thing is you are doing a job that you love – it's your hobby and it's your job, and makes your life happy."
William Reddy, who had been nominated at this event on several occasions in the past, won the Dedication to Racing Award for his 48 years of service to the Johnson Houghton family, having been associated with horses like Rose Bowl and IIe de Bourbon.
He said: "It's amazing to be recognised like this. I've had some great days and looked after some great horses. If you don't love the horse you don't do the job, simple as."
The Rory MacDonald Community Award went to Jackie and John Porter for their work at Lambourn's Oaksey House.
John Porter said: "We have been privileged to have been in the first chapter of it. It's now moving on and it's going onwards and upwards – we're so proud of it."
A shocked Sarah Taylor of Mickley Stud won the Stud Staff Award.
Michael Owen paid tribute to her saying: "They bred Brown Panther for me, so I've got a lot to thank them for and I've seen first hand the work that Sarah does. She literally runs the place."
---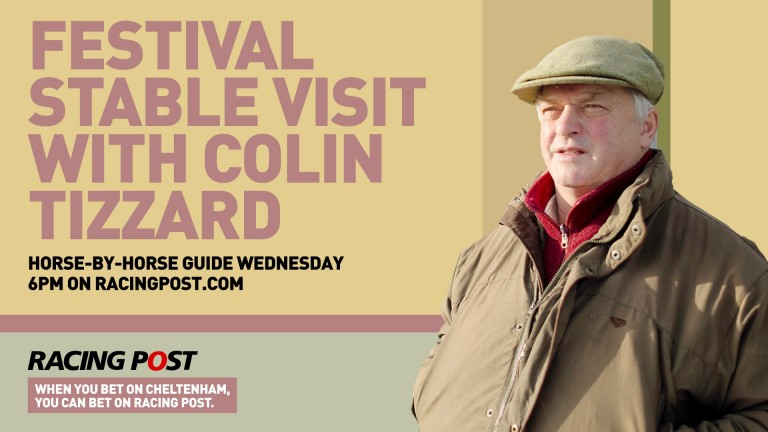 Members' Club Ultimate subscribers can read our guide to Colin Tizzard's festival team exclusively online the night before publication in the paper. Not a member? Enjoy your first month free when you subscribe using promo code FREETRIAL. Find out more here
---
We've got a close knit team and we all work so hard together. For me the team make my job a lot easier and this is for them as much as it is for me