Lure of Everest gives Royal Ascot a mountain to climb to attract the Aussies
Royal Ascot has expressed concern about its ability to attract Australian-trained horses to the meeting in the face of the nation's increasingly powerful sprint programme.
King's Stand Stakes outsider Houtzen is the only runner set to represent Australia, which won the King's Stand four times between 2003 and 2009, at the five-day extravaganza starting on June 18.
Connections of top sprinter Santa Ana Lane have opted not to travel over because of the allure of the Everest, which is now worth A$14 million (£7.71m/€8.7m), just as high-class compatriot Winx stayed at home last year.
Ascot chief executive Guy Henderson has vowed to ensure prize- money remains internationally competitive, but the purses for the three Group 1 sprints at the meeting are dwarfed by the riches on offer in Australia. The King's Stand and Commonwealth Cup are both worth £500,000 while the Diamond Jubilee, which Black Caviar won in 2012, is worth £600,000.
Horses from at least nine countries will compete at Royal Ascot and the track's director of racing and communications Nick Smith said: "The only thing that genuinely concerns me is the increased programme in Australia and how we work to attract Australian horses back in numbers.
---
Houtzen 'flying' in preparation for King's Stand at Royal Ascot
Ascot aiming to improve prize-money to compete with international rivals
---
"It continues to be challenging in Australia because of the incredible programme they put in place on almost a weekly basis. We hope we can reverse that trend going forward but we're realistic about the opportunities that are available at home.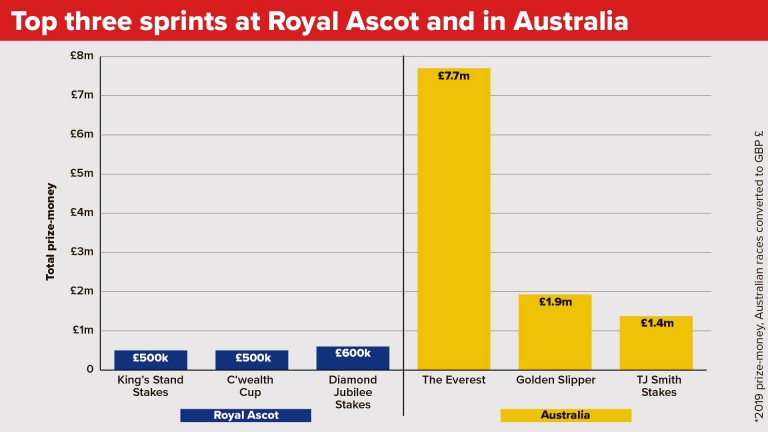 "The Australians' top sprinters have not been coming over the last couple of years – Houtzen is training beautifully and confidence in her is very high but we lost Santa Ana Lane just before entries because they decided that they wanted to prioritise the Everest. They are very positive about coming next year and that would be fantastic."
---
King's Stand Stakes card and betting
---
Smith travels annually to Australia to promote Royal Ascot and said: "There is still huge interest and a lot of owners there and in Hong Kong have enjoyed the experience so much they've started investing in bloodstock in Britain, which is a huge positive in itself."
Smith also believes the stiffer competition nowadays makes Royal Ascot a less attractive proposition for some.
"Back in the day the Australians thought it was an absolute free gift here so plenty of them turned up," he said.
"But we reinvented our own sprinting programme after being exposed for our lack of sprinting stars, with something like one in four horses from Australia winning at Royal Ascot, and since we created the Commonwealth Cup and a series of races that go in to it the standard of sprinting in Europe has gone through the roof. This in itself was a very important project that needed to be done.
Enzo's Lad (from New Zealand) and Lim's Cruiser (Singapore) are also set to run in sprints later this month while Japanese mare Deirdre bids for the Prince of Wales's Stakes and Smith said: "We're very pleased with the range of entries – at the moment we've got nine nations represented and there may be more when the five-day entries come in.
"We're particularly pleased we have a top-class Japanese horse running, there's nothing like the engagement you see from an overseas audience like you see with a Japanese horse."
King's Stand Stakes hope Imprimis and Wesley Ward's eight-strong squad make up a US team shorn of its biggest names.
"It's been a case of extreme bad luck for connections with the Americans," Smith said. "At entries we had three intended runners who had won Breeders' Cup races in Bulletin, Newspaperofrecord and Stormy Liberal. But Newspaperofrecord didn't satisfy her trainer in her prep race and Bulletin and Stormy Liberal have had setbacks.
"We judge the programme by the entries – anything that happens afterwards is good or bad luck. If we had those three Breeders' Cup winners we'd be saying it was pretty much a vintage year for internationals."
---
Background: Australians at Royal Ascot
Choisir paved the way for Australian runners at Royal Ascot when becoming the first to win at the meeting in the 2003 King's Stand Stakes, a success he remarkably followed up with another in the Golden Jubilee four days later.
That historic double set the template for regular tilts at Royal Ascot's sprints by Australian runners, which have yielded six victories in total, including three of the four runnings of the King's Stand Stakes between 2006 and 2009 with Takeover Target, Miss Andretti and Scenic Blast.
However, it was the legendary Black Caviar's victory in the 2012 Diamond Jubilee that provided Australia with its greatest Royal Ascot moment.
An estimated 6,000 Australians packed the Ascot grandstand to watch their beloved wonder mare – who had 21 victories at home under her belt – take on the best Europe had to offer and, despite a heart-stopping few seconds when jockey Luke Nolen prematurely eased her inside the final furlong, she scrambled home in a dramatic finish to send the visiting fans into raptures.
The success rate has dropped off in recent years, with Brazen Beau's close second to American runner Undrafted in the 2015 Diamond Jubilee the best effort from the nine Australian horses who have run at Royal Ascot since Black Caviar's famous victory.
---
Analysis: stronger Australian sprint programme a major problem for Ascot
Nick Smith pointed to the strong Australian programme as a reason why only two runners have made the journey from Australia to Ascot in the last three years, but really the issue is far more specific than that.
Given 15 of the 17 Australian-trained runners at the royal meeting since 2009 have run in either the King's Stand (7) or the Golden/Diamond Jubilee (8), the strength of the Australian sprint programme is the clear problem.
It is a programme which was dramatically altered by the birth of the Everest in 2017, a six-furlong sprint run at Royal Randwick for $13 million in October. Australia's richest race undoubtedly turns the heads of connections who may otherwise have tried their luck at Royal Ascot, which appears to be the case with Santa Ana Lane this year.
There are also four Group 1 sprints run in May over six or six and a half furlongs, with the programme rejigged and strengthened in 2017.
The Kingsford-Smith Cup went up half a furlong to six and a half and was moved back to late May, taking place on May 25 this year, while the Doomben 10,000 was reduced from 1,350 metres (nearly seven furlongs) to 1,200 metres (six furlongs) and brought forward slightly in the calendar. As such, there is an even clearer path for Australian sprinters, emphasised by The Bostonian winning both races last month.
Matt Butler
---
Get exclusive insight from the track and live tipping with Raceday Live - our up-to-the-minute service on racingpost.com and the Racing Post mobile app
---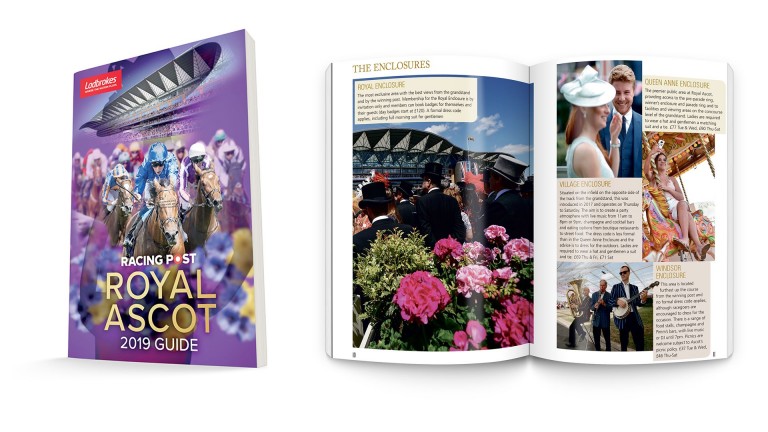 The Racing Post Royal Ascot 2019 Guide, featuring the must-have info for the biggest five days in the Flat racing calendar, is available to buy now! The 208-page book contains profiles of the leading big-race contenders plus key trainer and jockey lowdowns, punting pointers and in-depth guides to all 30 races. Buy your copy, priced at £12.99, from the Racing Post Shop here
---
Back in the day the Australians thought it was an absolute free gift here so plenty of them turned up