US Navy Flag crowned champion two-year-old as O'Brien dominates
US Navy Flag, the first horse since Diesis in 1982 to complete the Middle Park and Dewhurst Stakes double, has been confirmed European champion two-year-old for 2017 with a rating of 122, making it three years in succession – and ten times in total – that trainer Aidan O'Brien has been responsible for the season's leading juvenile.
O'Brien, who swept all before him in 2017, broke the record for most top-level wins in a calendar year with Saxon Warrior's Racing Post Trophy success, and the ante-post 2,000 Guineas and Derby favourite is the second highest-rated on the list with a mark of 119.
In total O'Brien is represented by a staggering 15 of the 45 juveniles who are rated 110 or higher and therefore feature in the classifications, including Clemmie (115), who was crowned champion two-year-old filly and is no bigger than 3-1 for the 1,000 Guineas.
US Navy Flag – whose rating of 122 matches that achieved by 2016 champion Churchill during his two-year-old season – put up his best performance in the Dewhurst, which was the penultimate outing of an 11-race campaign that started in May and concluded six months later with an ambitious tilt at the Breeders' Cup Juvenile.
---
Key numbers
122 Champion colt US Navy Flag's highest rating
115 Champion filly Clemmie's highest rating
45 Number of juveniles rated 110 or higher
15 Number of Aidan O'Brien-trained juveniles rated 110 or higher
---
Irish Horseracing Regulatory Board handicapper Mark Bird said: "The redoubtable US Navy Flag saw the most racecourse action as a two-year-old of any of the 44 previous European juvenile champions, dating back to 1978.
"Although he ranks towards the lower end of the scale in terms of previous champions, there was no shortage of quality in some of his efforts and he emerged to put in the season's defining juvenile performance in landing his second Group 1, the Dewhurst, in record time."
Only four champion two-year-olds achieved a lower figure than US Navy Flag, while a total of 45 juveniles reaching the landmark rating of 110 is the second lowest in the last decade with the average sitting at 50.
Clemmie expected to shine
Having raced so frequently, US Navy Flag would appear open to less improvement than a typical champion. However, Graeme Smith, the BHA handicapper responsible for two-year-olds, points out US Navy Flag's sister Roly Poly defied expectations at three to rack up a Group 1 hat-trick.
Only twice has the champion filly been rated lower than Clemmie but Smith is in no doubt the sister to Churchill will continue to progress and might have rated even higher had she tackled a suitable trip.
He said: "Clemmie rather broke the mould in becoming Galileo's first Group 1 winner at six furlongs from his 13 crops of racing age. She headed a slightly substandard group of fillies with a figure of 115, but she's a sister to the 2016 champion two year old and 2017 2,000 Guineas winner, Churchill, and both her pedigree and performances suggest she'll improve further when given her chance at the Guineas trip."
A potential opponent for Clemmie at Newmarket is Freddy Head's Polydream (111), who is one of seven French-trained juveniles – headed by Olmedo (113) – to make the list, while Germany is represented in the classifications for just the second time in the last six years with Erasmus (112), a wide-margin winner in Cologne.
John Gosden's Roaring Lion, runner-up to Saxon Warrior in the Racing Post Trophy, is the highest-rated British representative – and third overall – with a rating of 118.
---
COMMENT
US Navy Flag will not be remembered as an outstanding champion, but he is a deserving one.
He achieved a noteworthy feat when becoming the first horse to complete the Middle Park/Dewhurst double in 35 years and he showed champion qualities in handling such an arduous workload, racing a remarkable 11 times in total during a highly successful season.
However, such matters do not come into consideration when crowning the European champion – only the best one-off performance is of significance.
But even then it is difficult to argue that another juvenile put up a better single performance than the one US Navy Flag posted in the Dewhurst.
Horses achieve lofty ratings by beating good horses by wide margins, and US Navy Flag did just that, streaking two and a quarter lengths clear to register an emphatic win.
The flop of odds-on favourite Expert Eye allied with a suspicion that US Navy Flag benefited from racing along the stand side rail raised concerns about the strength of the form, but those fears were allayed by the fast time of the victory and subsequent Breeders' Cup success of the well-beaten runner-up Mendelssohn.
Others would probably have achieved more than US Navy Flag had they been campaigned as aggressively, but they weren't. And while there's a suspicion US Navy Flag may never better what he produced in the Dewhurst, that does not diminish his achievement.
Tony McFadden
---
If you are interested in this, you might also like:
Peerless O'Brien on top of the world as Saxon Warrior seals Group 1 record
US Navy Flag leads home stunning clean sweep for O'Brien in Dewhurst
Guineas favourite Churchill takes top honours for O'Brien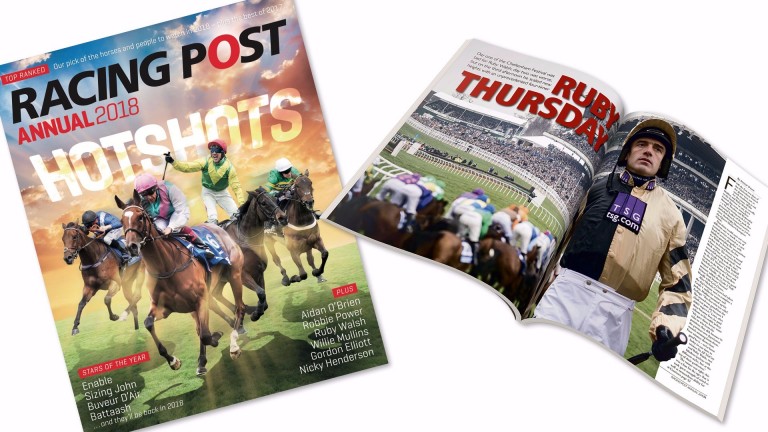 ---
Look back on the best Flat action of the year in the new edition of the Racing Post Annual. Order now at racingpost.com/shop
---
US Navy Flag emerged to put in the season's defining juvenile performance in landing his second Group 1, the Dewhurst, in record time