Launch of new tracking system to provide Royal Ascot sectionals
The next generation of in-race tracking technology that will make sectionals, race positioning and distance travelled all available – in real time – from meetings including Royal Ascot has been launched.
The Longines Postioning System (LPS) and the slightly less accurate GPS equivalent (GNSS) – designed specifically for Ascot and Chantilly due to complications with the implementation of LPS at both tracks –will give racegoers a unique insight into each race.
They will allow individuals to move their view of the the race to any angle, track specific horses and take a jockeys' eye view, while afterwards the race can be replayed and further information – such as sectionals and distance covered – can be compared on graphs.
The system, which is already installed at 14 courses around the world, will be made available to Longines partners and is expected to be in use at Royal Ascot, Arc weekend and Hong Kong's International races, although contracts with all four courses have yet to be finalised.
The system also features a new photo-finish camera, which captures 10,000 images a second – double that of current cameras – in a bid to make dead-heats a thing of the past.
Juan Carlos Capelli, vice-president of Longines, said: "We're really proud of the new system. We have a long history with horseracing. It was the first sport we timed in 1878, so when this new technology appeared we decided to start with horseracing.
"Two years ago we launched it in Sydney. I was there last week and they are so happy with the technology. So then we decided to create this new application to offer our partners a unique package that includes timekeeping, the photo-finish system, two types of tracking and the second screen application.
"When my children watch sport they watch it live, but they always have a second screen for more information and in five years I believe everyone will use a second screen."
Capelli added: "Ascot, Longchamp, Hong Kong and Chantilly will hopefully all receive the new system.
"To put it in place can be very fast, but we learned when we launched in Sydney that we need to have a lot of tests, especially at big events, because when 50,000 people turn up with mobiles, plus all the additional security and the emergency services, it affects the frequencies we can use, so we need to test in these environments before we can launch it for the public.
"We'll have the system in place much before it will be announced to the public."
He added: "The system is working and is already in place at 14 racecourses around the world and working very well. We prefer to do it in shadow, be very sure about the quality and then offer the public a very accurate system.
"We're not a sponsor, we're a partner of the sport, and we want to help develop the sport. Many more people will get the photo-finish system than the new tracking system."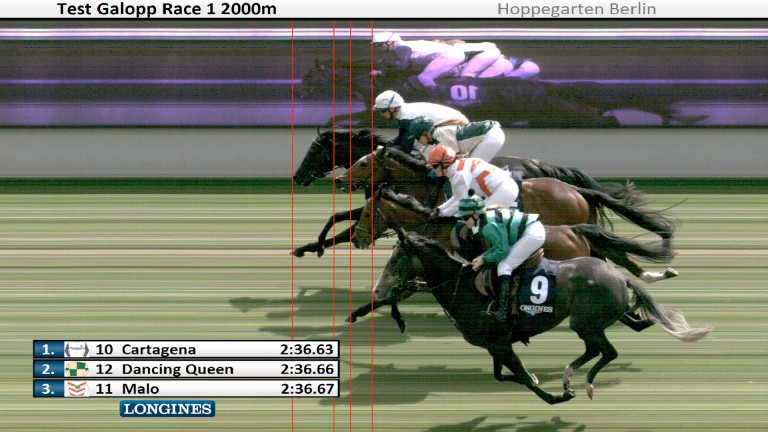 Ascot spokesman Nick Smith said: "It was a thoroughly professional presentation and it was very interesting to see how far developed the system is. It's a tremendous use of new technology and sectional timing technology is important with the future in mind."
Hoppegarten's owner Gerhard Schoningh already has the system in place at his track, where a lot of the testing has been undertaken due to its relative proximity to Longines' technological base in Leipzig.
He said: "It's a fantastic piece of kit and we're thrilled to have it. Anything we can do to provide more information to racing professionals and racegoers is of great benefit to the sport."
Ascot, Longchamp, Hong Kong and Chantilly, will hopefully all receive the new system