Towcester could host point-to-points as management issues plea for a fixture
The spectacle of hardy warriors slogging up Towcester's attritional hill could be revived under plans held by the venue's new management. While the site is currently being used only for greyhound racing, the hope is that horses can return to the Northamptonshire track, initially for point-to-point racing if a suitable fixture can be identified.
Kevin Boothby, the Henlow stadium promoter who holds a ten-year lease over the site, told the Racing Post's Front Runner newsletter this week: "If there's anybody out there wanting to stage some point-to-point racing, just get in touch, because we're mad keen. We've got a beautiful venue and I'm sure it would make a good spectacle.
"It's so important we get horseracing back and I'm sure it would work. Northamptonshire is a massive horseracing county."
Boothby's long-term plan is to restore racing under rules to the venue but he sees pointing as a logical first step and his ambition has been welcomed by the Point-To-Point Authority.
The authority's communications executive Adam Hurley said: "Towcester is a great venue with a rich history. I think we all miss it and if we could get a point-to-point there and it met all the requirements, we'd all support it. It would be nice for point-to-pointing to be associated with a track like that.
"We all remember Sir Anthony McCoy and his 4,000th winner there. There always used to be a very good atmosphere, by all accounts. Point-to-points live or die by the atmosphere and most of them do have a very friendly, day-out type of atmosphere. I think Towcester would readily lend itself to that.
"But the racecourse can't just put on a fixture. We've no shortage of point-to-point venues, I think there are about 100 in use at the moment. Towcester would need to find a local hunt or club or committee who don't have a venue and then they could transfer their fixture to Towcester racecourse.
"There's a fixture where I believe negotiations are going on with the landowner, but that's all conjecture and hearsay at this stage. But there are always point-to-point racecourses that fall away. Permission from landowners can come and go over the years as people come and go, so there are times when a committee all of a sudden needs to find a venue and, if there's one of those around the Midlands, then Towcester would be a great option."
After not being used for several years, the track would be required to pass a BHA inspection. "We maintain the track and it's in good nick," Boothby said. "The groundsman who was here before still works for me and it's his pride and joy. It's a beautiful racecourse, we've still got the fences up."
Hurley noted that pointing fences are smaller than regulation fences, so Towcester's might require some adaptation. He said it might still be possible for the track to stage a fixture next season, as the fixture list would not be finalised until next month at the earliest.
But he dismissed the idea of Towcester staging multiple point fixtures in the near future.
"Even our busiest venue, Larkhill, only has seven fixtures and that's from years of building up various clubs and committees and different hunts that want to put a fixture on. One or two fixtures would be the best they could hope for and then it could maybe be built up over the years," said Hurley.
---
Read more of the day's top stories:
One-year ban for Near Kettering owners over lay bets placed against their horse
Martyn Meade eager to get Derby prep run into 'serious horse' Gloucestershire
Confirmed runners and riders for the Irish 2,000 Guineas – plus an early tip
---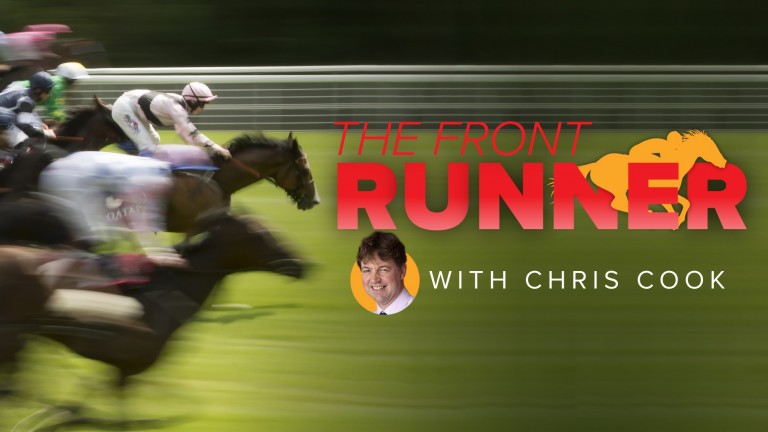 The Front Runner is our latest email newsletter available exclusively to Members' Club Ultimate subscribers. Chris Cook, a three-time Racing Reporter of the Year award winner, provides his take on the day's biggest stories and tips for the upcoming racing every morning from Monday to Friday
---
If there's anybody out there wanting to stage some point-to-point racing, just get in touch, because we're mad keen