Top claimer Charlie Todd not ruling out title bid as he recovers from injury
Jump jockey Charlie Todd has not given up hope of challenging for the conditional jockeys' championship this season despite spending the last month on the sidelines with a knee injury.
Attached to the powerful yard of Ian Williams, Todd enjoyed a career-best 29 winners in Britain last term and was off to a flyer for the current campaign before injury struck at Market Rasen on August 14.
"The recovery is going well," said Todd, who was initially unscathed after a heavy fall but was kicked in his left leg when he was on the ground. "I thought it was just badly bruised, but I got an MRI scan and it turned out there was a fracture just below my kneecap.
"It was a bad enough fracture, but there's been no operation. I've been working hard at Oaksey House and I will get back as soon as I can."
Todd, 20, will put his recovering knee under more strain when he rides out for the first time since his injury on Monday, and hopes a return to race-riding will not be far behind.
"I'll see how it goes on Monday and if all's okay I'll crack on with the work in the gym and hopefully you will see me back on October 1," said the 3lb claimer. "I feel good and Oaksey House has been very good to me."
Not ruling out a tilt at the conditionals' title despite sitting 12 winners behind early leader Liam Harrison, who is on 17, Todd said: "Ian and I had a good season last year and we thought going into this season we'd have a good chance at the title. We flew at the start of summer, but then I picked up the injury.
"Hopefully we can get the ball rolling again, and I wouldn't necessarily say my title aspirations have gone. Ian has got some nice horses this season and hopefully I can get on them. If I'm in the hunt, it would be silly not to go for it, but I think every other conditional in the country is going for it as well."
---
---
Read more here
'A brilliant and brave jockey' - tributes paid to retired rider Danny Cook
'It's incredible' - flying Fergal O'Brien reaches 50 winners for the season
'We fancied him very much' - 100-1 stunner no surprise to overjoyed trainer
---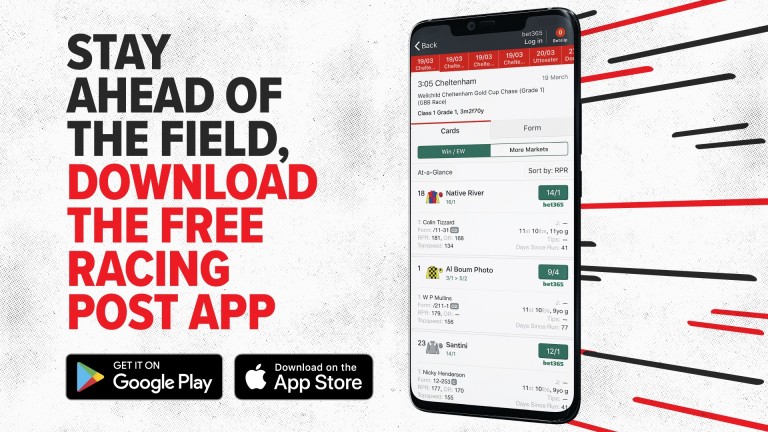 Download the free Racing Post app for cards, form, tips, in-app betting and to watch live races. Download for free at racingpost.com/mobile or search Racing Post app
Hopefully we can get the ball rolling again and I wouldn't necessarily say my title aspirations have gone