'Sundays are a big opportunity' - Savill says weekend is key area of improvement
Former BHB chairman Peter Savill believes Sundays can play a big role in changing the fortunes of the racing industry in Britain and has urged the BHA to show leadership as the sport attempts to implement a new set of core principles for the future.
In July, Savill led a group of industry heavyweights who approached the BHA with a series of proposals which it hoped would be taken up as part of the sport's strategy review, and last week presented those proposals to a group of senior figures within racing at what was billed as a pivotal industry strategy meeting.
The two-day meeting ended on Wednesday with unanimity from the attendees about the need for "serious and radical change" to enable long-term improvements to British racing.
While Savill does not necessarily agree with the popular notion that a reduction of fixtures should be the first step, improving field sizes is key to his plans and he sees the streamlining of the sport's top races as a way of doing that. He also believes more terrestrial televised Sundays will create more funding for the sport.
"The expansion of terrestrial televised racing is the big opportunity," said Savill. "When racing is on television, the betting turnover can be as much as four times what it is when it's not on terrestrial television."
While acknowledging the space for terrestrial coverage on Saturday was close to capacity, Savill thinks Sundays are being underutilised.
"Sundays are a big opportunity," he added. "They've done the Sunday Series, which is six Sundays, and we'd like to see that expand to 20 or even more if possible.
"I don't believe we should have more fixtures. I think you can cut down on some of the Sunday meetings, and the important thing is to have premier racing and the quality racing on a Sunday, Saturday and the big midweek festivals.
"Ireland, France and other countries race on Sundays – that's when people can go racing – and we haven't taken advantage of that. Sunday has been 'bouncy castle day' so far."
When it comes to plummeting field sizes in Britain, Savill outlined plans for a race programme that better represents the racehorse population in Britain. He suggests more races at the 0-70 level and a reduction at the top end and in the 75-100 range.
Speaking on Luck on Sunday, he added: "People don't want to bet on four-runner handicaps, they want to bet on decent field sizes. If you get those right you get greater betting turnover from the bookmakers. More people bet on good racing and in particular televised racing. Field sizes are a massive factor in whether people go and watch racing."
Chairman of the BHB between 1998 and 2004, Savill revealed that he has been working on his plans for three years in conjunction with horsemen, racecourses and betting companies, coming up with an 80-page dossier to present to the BHA.
Poor prize-money has seen him reduce his own interest as an owner in Britain to nothing, and believes it is "critical" owners can cover their training costs through prize-money, and only then will they be inclined not to sell to overseas buyers.
The group of senior figures who met in London last week said in a statement there was "an appetite for fundamental change" to the way in which racing is "structured, presented and promoted" from 2024. Key to that, according to Savill, is a governance structure which allows the BHA to govern.
"I'm a total believer that the whole race programme and fixture list should be operated by the BHA," he said. "I don't know how we're going to actually get to the point where we get the right field sizes and the right money into those races without a much greater centralisation of race programming in particular.
"When you look at it, you don't have to get rid of fixtures, you have to actually reorganise the race programme to get the races in the right place and get the field sizes in the right place. That hasn't happened because racecourses have had too much influence on what race programmes are run."
He added: "I think they [the current BHA management] need to show leadership. Certainly over the last ten or 15 years there has been a lack of central leadership for all sorts of reasons."
BHA chief executive Julie Harrington said the overriding message from the individuals at last week's strategy meeting was that the governing body should be the one "holding the pen" when it comes to implementing change and that a new governance structure, set to be in place by the end of October, will be key.
"The work we've been doing behind the scenes on the sport's governance has to be in place to make this work," she said. "We need that centrally led way of organising ourselves for growth in the future."
The sport's current tripartite governance system – consisting of the Thoroughbred Group, racecourses and the BHA – is close to reform, with leaders from Arc, the Jockey Club, the Racehorse Owners Association and the National Trainers Federation all on board, according to Harrington, who said the changes will mean the BHA board will become the "ultimate decision-making authority" in the sport.
---
Read these next
Strategy talks end with agreement on need for radical changes in British racing
Industry heavyweights approach BHA with radical proposals to shake up sport
---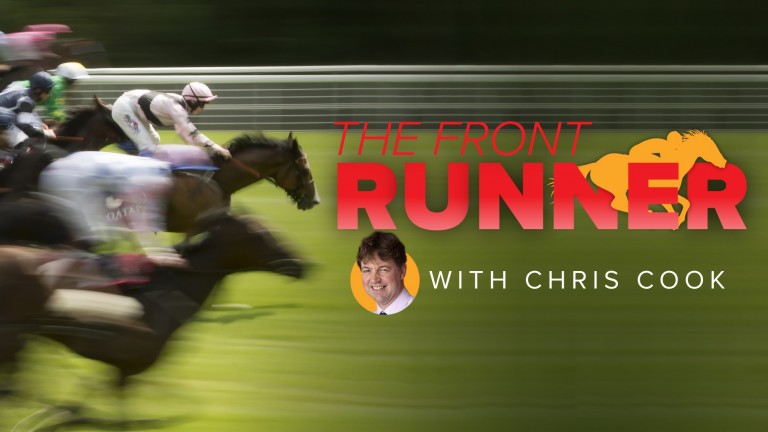 The Front Runner is our latest email newsletter available exclusively to Members' Club Ultimate subscribers. Chris Cook, a four-time Racing Reporter of the Year award winner, provides his take on the day's biggest stories and tips for the upcoming racing every morning from Monday to Friday. Not a Members' Club Ultimate subscriber? Click here to join today and also receive our Ultimate Daily emails plus our full range of fantastic website and newspaper content
---
When racing is on television, the betting turnover can be as much as four times what it is when it's not on terrestrial television