Suits, socks and sandals: Royal Ascot dress code and what you need to know
Royal Ascot was run behind closed doors for the first time in its 300-year history in 2020 and, after reduced attendances in 2021 too, we can expect the full roar of a joyous and packed crowd at Ascot on Tuesday when the meeting gets under way.
Dress codes have been a regular news fixture this year, with trainers and (a lack of) socks constantly making headlines on our site and on social media.
To settle any confusion, we've put together a definitive list of clothing dos and don'ts ahead of next week's pageantry. We can assure you, however, socks will be required and trainers will certainly be banned.
---
Windsor enclosure
While there is no official dress code for the Windsor enclosure, ladies are encouraged to dress in smart daywear and are recommended to wear smart attire with a hat or fascinator.
Gentlemen are recommended to wear a jacket, collared shirt and full-length trousers.
---
Queen Anne enclosure
Within the Queen Anne enclosure, ladies are required to dress in a matter that befits a formal occasion. That means a hat, headpiece or fascinator should be worn at all times, while strapless and sheer dresses and tops are not permitted.
If you are opting for a trouser suit, they must be full length and jumpsuits should fall below the knee. Girls aged 17 or under should dress for a formal occasion too, but hats, headpieces and fascinators are not compulsory.
Gentlemen are required to wear a full-length suit with a collared shirt and tie, with jackets and trousers being a matching colour and pattern. A tie should be worn at all times, although bow ties and cravats are not permitted.
Yes, socks must be worn and cover the ankle, while jeans, chinos and trainers are obviously banned. Boys aged 10-17 should also wear a suit or jacket with a shirt and tie.
Overseas visitors are welcome to wear the formal national dress of their country or service dress, while serving military personnel are welcome to wear the equivalent. This applies to all four enclosures.
---
Village enclosure
The Village enclosure has the same dress code rules as the Queen Anne enclosure, but it is set on a grassed area, and Ascot reminds those attending to consider their hat size and shoes accordingly.
---
Royal enclosure
There is a much more stringent dress code in the Royal enclosure, which goes as follows for ladies:
Dresses, skirts and tops: should be of a modest length defined as falling just above the knee or longer, dresses and tops should have straps of one inch or greater. Dresses and tops with sheer straps and sleeves are not permitted.
Jackets/pashminas: may be worn, but tops and dresses should still comply with the overall rules and midriffs must be covered.
Trouser suits: welcome, but they must be of full length and of matching material and colour. Jumpsuits should fall below the knee, with regulations matching that for dresses.
Hats: must be worn, however, a headpiece that has a solid four-inch or more diameter base is acceptable as an alternative. Fascinators are not permitted.
Girls: those aged 10-17 should dress in accordance with the ladies' dress code, although they are able to wear a headpiece or fascinator without any size restriction.
For the gentlemen, the dress code is as follows:
Dress code: it is a requirement to wear either black, grey or navy morning dress that must include a waistcoat and tie, a black or grey top hat, and black shoes with socks.
Top hats: they are required, but can be removed within a restaurant, private box, private club or a facility's terrace, balcony or garden.
Patterns: novelty waistcoats and ties are not permitted, but discreet patterns, including those of a patriotic nature, are acceptable.
Boys: those aged 10-17 should either dress in accordance with the above dress code, or alternatively, may wear a dark-coloured lounge suit with a shirt and tie.
---
Read more on Royal Ascot . . .
Frankie Dettori at Royal Ascot: which big names might the superstar jockey ride?
'She's maturing all the time and 12-1 is much too big' – Royal Ascot eyecatchers
---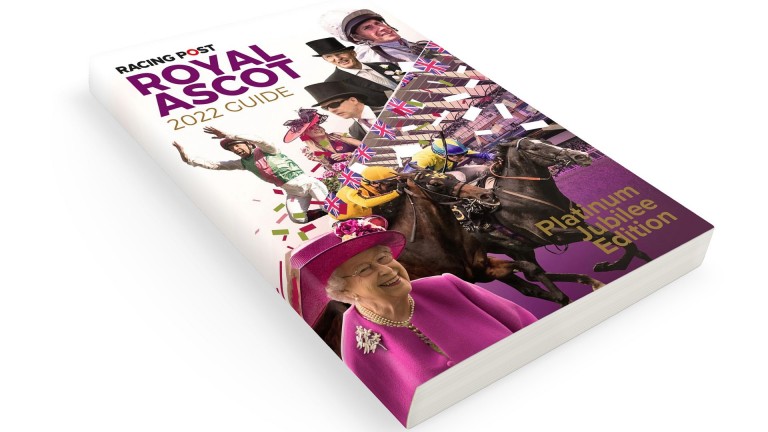 Don't miss the Racing Post Royal Ascot Guide 2022. Only £14.99, the 192-page guide is packed with tips and information for the five-day festival of top-class Flat racing, including profiles of the leading horses and the lowdown on the top trainers and jockeys. Order your copy here or call 01933 304858. Use the code ASCOTJUBILEE to get £2 off for a limited period only.
---
Yes, socks must be worn and cover the ankle, while jeans, chinos and trainers are obviously banned