Brigadier Gerard's jockey and 'top-class person' Joe Mercer dies aged 86
Joe Mercer, the legendary rider who was crowned champion jockey in 1979 and partnered Brigadier Gerard throughout his career, died on Monday aged 86.
Mercer was also memorably involved in the epic 1975 King George VI and Queen Elizabeth Stakes between Grundy and Bustino, finishing runner-up.
A prolific jockey who recorded his first success in 1950, Mercer went on to ride 2,810 winners in 36 seasons in Britain and captured eight British Classics, including the 2,000 Guineas in 1971 on Brigadier Gerard, his horse of a lifetime.

He also won the King George on Dick Hern's champion, while he had spells as stable jockey for that trainer, Sir Henry Cecil and Peter Walwyn.

Champion apprentice in 1953, Mercer partnered his last winner in 1985 after a magnificent career and was made an OBE in 1980 for his services to the sport.
Bruce Raymond, Mercer's great friend and contemporary, was one of the first to pay tribute.
"He was my best friend and he used to call me every Saturday at 9am on the dot. He was always very punctual all the way through his life and when he was riding he was the first to put his cap on, first to leave the weighing room, first into the gate and often first home," he said.
"He was not only a great jockey but an even nicer man and he even found a nice side to not very nice people. I suppose he was best known for being associated with Brigadier Gerard but I remember beating him in the City and Suburban Handicap at Epsom when I was an apprentice, which was a great day.
"When he was managing for Sheikh Maktoum he appointed me as a much-valued second jockey to Pat Eddery and later Walter Swinburn, and after I had a fall in Germany and broke my neck in 1996 he offered me a job helping him out.
"When Joe retired he put me in for the job and I've worked in a similar role ever since, which is now 25 years. I'm sorry he's gone but I'm pleased he went quick as he didn't do illness very well."
---
Joe Mercer: all-time great whose classical style made him a perfect role model
---
Jimmy Lindley, who rode alongside Mercer and later became a BBC racing pundit, said: "It's so unexpected as I was talking to Joe only yesterday and we'd arranged to meet up for a coffee on Thursday. When I heard the news this morning I couldn't believe it.
"He was a great little lad who had a wonderful life and was a man with a lot of talent. We started life in racing together at 13 years old. Joe began at Major Sneyd's when I was there and I remember it was the bad winter of 1947. We grew up and rode together as 7lb claimers and went right the way through.
"All through his life he was a great ambassador for the game and did everything correct on a horse. He was a natural. His golden era was for Jack Colling and Dick Hern. I'll never forget when he won the Oaks on Ambiguity in 1953. He was only a boy then really but he rode her with perfection and like an old hand. You'd have thought he'd been riding for years."
Lester Piggott, another from the golden generation of jockeys born in the mid-1930s, said: "Joe was a top-class person and was straight down the line."
'He was one of the best jockeys out there'
Philip Robinson, who joined the weighing room in the late 1970s when Mercer was in his pomp, said: "He was one of the best jockeys out there. He was beautifully balanced and rode some great horses.
"He was also one of the nicest people in the weighing room and was always there for the younger jockeys if they needed advice. We used to call him 'Uncle Joe' and you could always rely on him. No matter how busy he was, he always had time for you."
Julie Cecil, whose then husband Sir Henry Cecil employed Mercer as stable jockey from 1977 to 1980, said: "It's sad news. What I remember most about Joe was that he was the most beautiful stylist on a horse.
"He was stable jockey at Warren Place when he was champion jockey. He had been used to riding out on downland and when he came to us and rode on heathland he couldn't believe how fast we went.
"He rode the likes of Light Cavalry to win the St Leger, which was particularly nice for me as I rode him out. He also did a fantastic job with Kris, particularly in the Sussex Stakes at Goodwood, of which I have a lovely photograph."
My Dad took me to Ascot to see the 1975 King George VI and Queen Elizabeth Stakes between Grundy and Bustino. I was 9 years old.
I fell in love with the game that day.
My thoughts are with Joe's family and friends.

— Paul Smith (@PaulSmith0094) May 17, 2021
Champion trainer John Gosden, whose father Towser trained at Lewes in Sussex, said: "I first met Joe when I was six and he came down to ride work at Lewes together with Stan Clayton and Jimmy Lindley.
"He was the most wonderful jockey with beautiful hands on a horse. He was a most consummate horseman, just like his brother Manny. 'Smokin Joe', as we used call him, had a wonderful sense of humour and knew the square root of everything."
Sir Michael Stoute, the ten-time champion trainer, said: "My association with Joe began when he was racing manager for Sheikh Maktoum Al Maktoum, which was a very successful and enjoyable time. What struck me was his passion and love of the horse, and his energy level was prodigious for a man of his age."
---
Brigadier Gerard, Bustino and Kris: the top-class horses ridden by Joe Mercer
---
Born in Bradford, Mercer served his apprenticeship near Lambourn with Fred Sneyd and had his first ride in 1948, while his first notable winner came four years later thanks to Polar Jest in the Spring Cup at Newbury.
His breakthrough Classic winner came in 1953 aboard Ambiguity in the Oaks, while he also landed the 1,000 Guineas in 1974 on the Queen's Highclere, a filly he steered to victory in the Prix de Diane as well.

Mercer triumphed in that year's St Leger on Bustino, whom he was also aboard when the pair finished second to Grundy in 1975 in a pulsating King George, labelled the race of the century by many.
He was revered for his style and reliability in the saddle and as the perfect role model for aspiring jockeys.
Brigadier Gerard, who won 17 of his 18 starts, was easily the best horse he rode and they enjoyed many wonderful moments, which also included successes in the St James's Palace Stakes, Eclipse, Sussex Stakes, Queen Elizabeth II Stakes and the Champion Stakes.
---
The remarkable facts and figures behind Joe Mercer's achievements
---
The Brigadier's dazzling dismissal of future Derby and Arc hero Mill Reef in the 2,000 Guineas helped seal his – and Mercer's – place in racing folklore; no Flat runner was rated higher when in 2005 the Racing Post produced a book on the 100 most popular horses to race in Britain and Ireland.
In it, Mercer said of his great equine ally: "He was a freak horse with tremendous enthusiasm and speed and the class to win beyond his distance. He was a horse you never thought about getting beat on."
---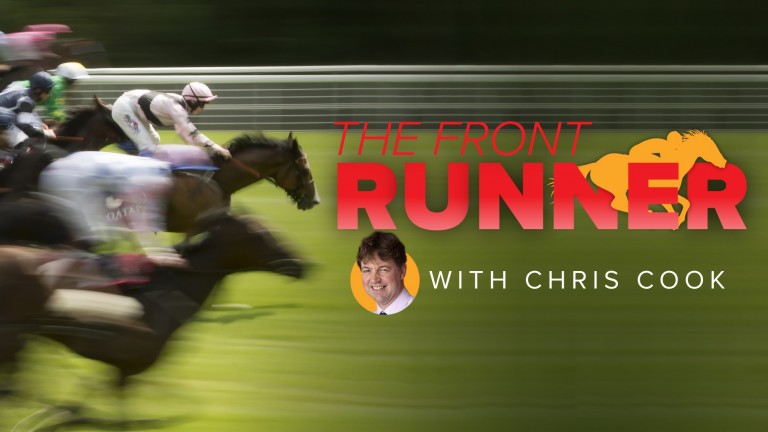 The Front Runner is our latest email newsletter available exclusively to Members' Club Ultimate subscribers. Chris Cook, a three-time Racing Reporter of the Year award winner, provides his take on the day's biggest stories and tips for the upcoming racing every morning from Monday to Friday
---
He was not only a great jockey but an even nicer man