O'Leary labels RTV coverage 'betting shop fodder' and calls for second channel
Eddie O'Leary has accused Horse Racing Ireland boss Brian Kavanagh of defending the indefensible in relation to Racing TV's coverage of Irish racing.
Kavanagh rejected claims made by O'Leary that Irish racing has been treated like a second-class citizen on its new platform, telling The Irish Field "there was no reason to feel insecure about Irish racing".
Those comments have irked Gigginstown racing manager O'Leary, who believes more pressure should be put on the broadcaster to deliver a second TV channel, not just an additional digital platform, to deal with the volume of racing.
He said: "I was very disappointed to hear Brian Kavanagh say he was happy with the service Racing TV were providing, because I believe it is mediocre at best, and we deserve more than mediocre.
"If Brian is happy with the service, he's in a minority of one. Nobody else is happy with this. I believe the UK viewers of Racing TV aren't happy either as their television screens are being jammed up with Irish racing.
"We need to insist there's an RTV1 and RTV2 in order to show Irish racing properly. What's wrong with that? Can we not have [channels] 426 and 427? That way we can actually hear all the presenters, hear all the interviews and make a story. It's just betting shop fodder at the moment."
Kavanagh said HRI had been in regular contact with RTV and made the channel aware of its displeasure when a bumper at Gowran Park was omitted from the coverage a fortnight ago. However, he believes it is too early to manoeuvre for a second channel, stating that scheduling was always going to be an issue.
He said: "Scheduling is a big challenge and there's little difference in the number of tracks covered by either of the racing channels. Racing TV has 795 UK fixtures and Sky Sports Racing has 716. Scheduling is a challenge in any circumstance.
"We'll talk to Racing TV and look at things like split screens and red button options, but that's premature – any assessment seven weeks into a five-year contract would always be premature."
He added: "I think it's important to look at it in context. We knew from the start there'd be certain Saturdays that would be challenging – but there's no doubt omitting a race at Gowran Park was not acceptable, and Racing TV would say that themselves."
O'Leary is predicting dire consequences if the situation is left unchallenged and warns the Irish racing product could decrease in value.
He said: "We cannot get away from the fact Racing TV is owned by British racecourses. I'm a bit concerned with the carry-on of the Arc racecourses in Britain and squeezing of prize-money.
"Unless we're careful I can see our pictures in five years' time being worth very little. Then suddenly prize-money here is being squeezed as well. I'd be concerned about that. We need to stand up for ourselves now, insist on a second channel on Racing TV. That way Irish viewers are happier, and so too are the British ones."
---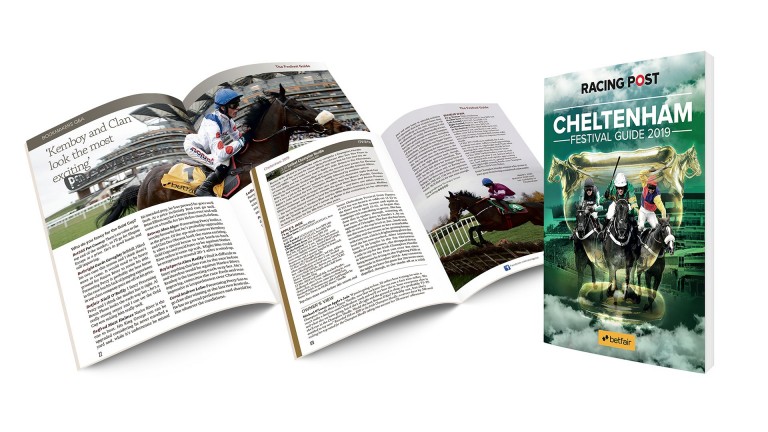 Don't miss the Racing Post Cheltenham Festival Guide 2019 – 208 pages featuring Paul Kealy's race-by-race guide, Racing Post Ratings, top tipsters, bookmaker Q&A, trainer analysis and more. Order now at racingpost.com/shop or call 01933 304858
---
If Brian is happy with the service he is in a minority of one. Nobody else is happy with this