Longer winter break for senior Flat jockeys in Ireland
Longer winter break for senior Flat jockeys in Ireland
Senior Flat jockeys have successfully lobbied for an extended four-week winter break, with Horse Racing Ireland revealing the rest period will begin on December 22 and end on January 18.
December 22 is a blank Wednesday, so the rest period will, in effect, begin after Dundalk's Friday evening meeting on December 17.
The three fixtures slated during the break, on January 5, 7 and 14, will now be restricted to apprentices who claim between 5lb and 10lb, and riders who rode fewer than 20 winners during the 2021 turf season.
Jason Morris, HRI's director of racing, said: "In 2021 HRI extended the break for our leading jump jockeys from 12 to 24 days during June, which was very well received. The changes announced today, which were proposed by the Irish Jockeys Association, will mean that we will likewise have doubled the break period for the leading Flat jockeys from 14 to 28 days, while at the same time increasing opportunities for other riders at the start of the year."

Jennifer Pugh, the IHRB's senior medical officer, added: "Following on from the extended break for National Hunt jockeys in June of this year, it is encouraging to see HRI take a similar approach for Flat jockeys. With a busy all-weather season now in place, in what was typically the off-season for Flat jockeys, they now remain busy for 12 months of the year, with no time for rest and recuperation while racing continues.
"The mental health issues and high level of burnout faced by jockeys have been well documented by the Irish Jockey Research Group, so it is welcome to see the findings and recommendations of these studies come to fruition to further enhance jockey wellbeing."
---
Death of point-to-point figure Jason Warner
Jason Warner, a leading point-to-point figure as a trainer and owner, has died at the age of 59 after a short illness.
The Gloucestershire farmer, a former point-to-point jockey, achieved his lifetime ambition of being crowned champion point-to-point owner in 2020-21 when providing his nephew and two-time Foxhunters' winner James King with the ammunition to help him towards the leading rider title.
The Gloucestershire farmer leaves his partner Sue and daughters Marita and Rhonnda. Funeral arrangements will be announced in due course.
---
Ownership experience with classy Joseph O'Brien-trained colt in charity auction
The chance to experience a season as the owner of a talented Joseph O'Brien-trained colt is being auctioned online in aid of international charity GOAL.
Visualisation, a 105-rated three-year-old owned by Annemarie O'Brien, will run in the winning bidder's colours for the 2022 Flat season, having won in Listed company and finished second in a Royal Ascot handicap last season.
VIP ownership access will be provided and, while prize-money is not included as part of the lot, ten per cent of the horse's winnings during the campaign will be donated to GOAL.
According to GOAL's auction site: "Visualisation is a gorgeous big bay horse with a lovely temperament and will enjoy visits by his new owner for the coming year. He loves carrots so be sure to bring some when you visit."
GOAL is an international humanitarian response agency established in Ireland over 40 years ago, working with the most vulnerable communities to help them respond to and recover from crises.
Key fundraising efforts were impacted due to the rise in cases of Covid-19 in Ireland, leaving a major gap in the organisation's targets for the year. To bridge this deficit, several unique items are being auctioned, including sought-after art pieces, once in a lifetime sporting experiences and luxury travel opportunities.
All proceeds go directly to GOAL's work and details on registration for the auction can be found here.
---
McNally fails in appeal against handicapping of seven-race maiden
Ronan McNally has failed in his appeal against the handicapping of seven-race maiden Miss Polly Shelby after senior Flat handicapper Garry O'Gorman cited minimum performance requirements required to obtain a rating.
McNally had protested he was unable to obtain a handicap mark for the four-year-old filly despite her running seven times, beaten an average of 83 lengths in those starts.
However, O'Gorman outlined that IHRB rule 67(i)(d) states "a horse shall not be allotted an initial handicap rating where in the opinion of the handicapper, its performance would justify a rating below 45".
O'Gorman felt Miss Polly Shelby's best performance had come at Galway "when she could be deemed to have run to a rating of 42 although other factors including the very steady early pace in the race and sectional timings could also suggest that she ran below a rating of 42 on this occasion".
He added that she had failed to meet the minimum performance rating threshold of 45 and therefore did not qualify for a rating.
Separately, a 22lb rise was handed to McNally's All Class for her Punchestown handicap chase victory on Tuesday, promoting her to a mark of 107 over fences.
---
Matthew Smith fined over stable inspection
Trainer Matthew Smith has been handed three fines totalling €1,160 by the IHRB following an inspection of his stables in November 2019.
Smith was found in breach of regulations relating to his failure to return five horses out of training, not keeping his medicines register up to date, not displaying a copy of the annual trainer/employee agreement and failing to return a termination of employment form and racing establishment employee cards to two former employees.
---
Royal Marsden the big winner at Thurloe annual dinner
Nicky Henderson and Willie Mullins joined forces with jockey Oisin Murphy at the annual dinner of Thurloe Thoroughbreds on Tuesday evening to present a cheque for £54,102 to the Royal Marsden Cancer Charity.
The three were joined at the event in central London by fellow Thurloe trainers Richard Hannon, Andrew Balding, Hughie Morrison and Ed Walker to celebrate the handover of funds to help the Royal Marsden Hospital's new state-of-the-art treatment and research centre, the Oak Cancer Centre, in Sutton.
The funds are generated from a levy of 25 per cent of the owners' prize and sponsorship money and 20 per cent of the sale proceeds of the syndicate horses to November 1, 2021. At the outset, 30 shareholders came on board including racing industry figures and past Royal Marsden cancer patients.
The most notable contributor was the Henderson-trained Buzz, who returned from a six-month layoff and two years off the Flat to win the Cesarewitch in October, and returned to hurdles with a win in the Grade 2 Coral Hurdle last weekend. Through the prize-money won on Saturday, Buzz has already contributed £7,625 for next year's donation to the charity.
James Stafford, manager of Thurloe Thoroughbreds, said: "We set up the syndicate to aim to give something back to a place very close to our hearts. We never imagined in our wildest dreams we would be handing over a cheque for this amount.
"The horses have exceeded our expectations and it's a thrill that we can give the syndicate so much to enjoy on the racetrack while donating funds to such a worthwhile cause."
Nicky Browne, director of transformation at the Royal Marsden, said: "On behalf of everyone at the Royal Marsden, I am absolutely thrilled to receive such a generous gift. The syndicate has raised a huge amount of awareness as well as funds for the Oak Cancer Centre.
"Our public appeal is helping to raise the final millions needed to bring the centre to life. The Oak Cancer Centre will provide a calm, welcoming space for patients and will bring together world leading researchers under one roof."
---
ITV to show four straight days of action over Christmas
ITV will broadcast four straight days of big-race coverage over the Christmas period after adding Leopardstown's Savills Chase day on December 28 to its schedule.
Four races from Leopardstown and two apiece from Catterick and Leicester will be televised on ITV4, following on from King George VI Chase day at Kempton on December 26 and Welsh National day at Chepstow, alongside day two at Kempton, on December 27.
The Challow Novices' Hurdle at Newbury is among the features on the fourth and final day on December 29.
ITV has also added Friday week to its schedule on ITV4, with four races from Sandown, including the Grade 2 Winter Novices' Hurdle, and three from Exeter to be televised.
---
BHA development programme opens its applications for 2022
The British Horseracing Development Programme, aimed at establishing career opportunities for people wishing to enter the racing industry, has opened its applications for 2022.
The programme will be in its 32nd year of operation, during which time more than 450 people have completed the course en route to entering careers across the industry, including the media, bookmakers, racecourse management, bloodstock and the BHA.
Originally created to target candidates with degrees, the programme now welcomes those with higher apprenticeships or equivalent skills. Of the 17 enrolled in last year's placement scheme, two were from non-degree backgrounds.
Michelle Douglas, the BHA careers marketing and recruitment adviser, said: "The programme has a long and proud track record of attracting talent to the industry and we're delighted so many people working in the sport were given the opportunity to do so by the programme.
"We hear often from alumni from down the years about the impact the programme had not only on their careers but their lives and we're looking forward to another memorable year in 2022."
---
RMG agrees long-term partnership with Flutter
Racecourse Media Group (RMG), the parent company of Racing TV, has agreed a long-term strategic partnership with Flutter Entertainment, owner of Paddy Power, Betfair and Sky Bet.
The deal, which will run to 2028, involves streaming rights and RMG, owned by 34 racecourse shareholders and pays its operating profit back to racecourses, will boost its marketing reach by working with the betting giant.
Martin Stevenson, CEO of RMG, said: "This agreement will have far-reaching benefits for RMG's racecourses and the industry itself. We are delighted to collaborate with Britain and Ireland's largest betting company, Flutter Entertainment, which gives both companies the opportunity to work together to promote RMG's racecourses and the sport.
"We will be able to call on the considerable marketing reach of both companies in terms of working together via sponsorships and advertising, to expand the appeal of our horseracing both domestically and overseas."

---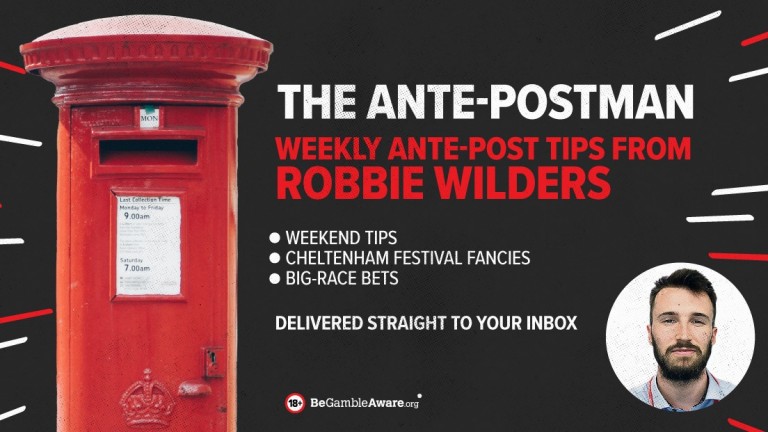 Sign up to receive The Ante-Postman, Robbie Wilders' new weekly newsletter. Get weekend tips, Cheltenham Festival fancies and big-race selections delivered straight to your inbox.
---