No luck for Newton Abbot as torrential rain forces another costly cancellation
Newton Abbot boss Pat Masterson admitted the course was "not having much luck", after a torrential downpour on Tuesday afternoon forced the cancellation of Wednesday's meeting, which had been due to form part of ITV Racing's coverage.
Nearly an inch of rain fell at Newton Abbot in less than an hour on Tuesday leaving standing water and areas of unsafe ground, heaping more misfortune on the course which lost a number of fixtures last year during the coronavirus lockdown because of its primarily summer programme of jump racing.
Nevertheless, Masterson, managing director at Newton Abbot, was keen to contextualise the impact of the storms which hit parts of Britain on Tuesday. He said: "We're not having much luck, put it that way, but it's part of the territory and we had to abandon. You have to accept that the weather is the weather.
RACING ABANDONED - Weds 12 May 2021

Today's racing @NewtonAbbotRace has been abandoned for the safety of all involved.

Take a look at this torrential downpour that we were hit with yesterday afternoon with almost 19mm of rain in just one hour. #RainRainGoAway pic.twitter.com/fsIC6Zm6hZ

— Newton Abbot Races (@NewtonAbbotRace) May 12, 2021
"As I said to my staff this morning, it puts everything into context when you see the news of that poor nine-year-old boy who was killed by lightning in Blackpool. It was strange weather across the country yesterday and there's nothing we can do about it."
Wednesday's meeting at Newton Abbot had been due to form part of ITV Racing's coverage on ITV4 prior to its cancellation, building on the course's exposure on the channel the previous week during the Chester May meeting.
The loss of mainstream coverage was particularly frustrating for Masterson, who added: "It's not nice to lose meetings and we're having a tough time of it, as is everyone in racing at the moment, but we have to just get on now.
"What is disappointing is we seldom get the chance to be on ITV and you don't know when it'll happen again. We had them here last week and it's really helpful in raising your profile."

Read more of the day's top stories:
Quarantine nightmare for Cieren Fallon as The Lir Jet misses French Guineas
'Very talented rider' Tyrone Williams remembered following death aged 54
'I wouldn't swap her' – Kevin Prendergast chasing more Classic glory aged 88
---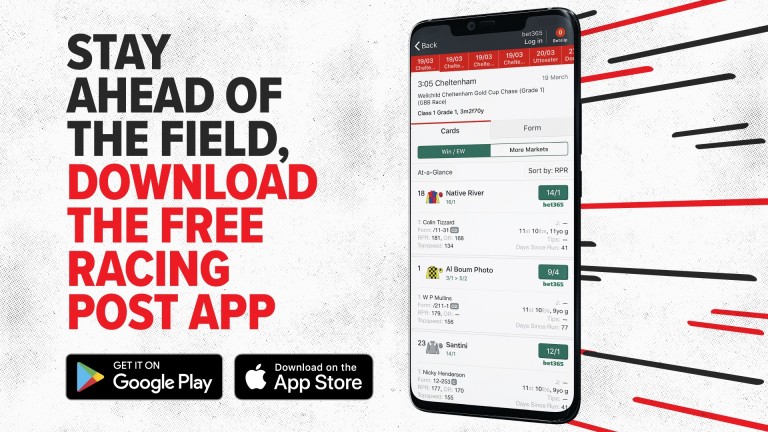 Download the free Racing Post app for cards, form, tips, in-app betting and to watch live races. Download for free at racingpost.com/mobile or search Racing Post app
---
What is disappointing is we seldom get the chance to be on ITV and you don?t know when it?ll happen again