'You have to be realistic' - Nicholls reflects on riding career after retirement
Megan Nicholls will embark on a new chapter in her life after calling it a day in the saddle, following a nine-year career which clocked up more than a century of winners.
The 25-year-old, daughter of 13-time champion jumps trainer Paul Nicholls, announced her retirement before riding Oleg into fifth at Kempton on Wednesday.
It was a fitting way for Nicholls to bow out as she brought down the curtain on her riding career, which began in 2013, on a horse her father trains.
"I wanted it to end on one of Dad's horses because he's obviously supported me from the start. It's sunk in because I know that it's been coming for a while and it's not just something I've thought about overnight," said Nicholls.
"I haven't been riding a lot; it's been few and far between my rides recently. I've had amazing times, but once I lost my claim things naturally became harder. You can put hours and hours of work in and receive little back."
Nicholls, who made her debut as a 16-year-old, won the Silk Series - which had the aim of promoting and celebrating women jockeys - for three years on the spin but recent times have been tougher.
"I felt my riding career had hit a point where I was going back down. Unfortunately, not everyone is blessed with natural talent and you can work as hard as you want, but when you have people ahead of you it's hard," she said.
"If I was an owner, I wouldn't want to pay the same amount of money to use me when you can have Hollie Doyle, Ryan Moore or William Buick.
"You have to be realistic and Dad has always told me to look forward and to use my riding career as a stepping stone to something else."
She added: "I value Dad's support and he has been huge, but I wanted to do things my own way. It's very easy for people to say 'you only got here because of your Dad,' so I wanted to prove to them that it wasn't true.
"It was something I was able to do and, don't get me wrong, he had some runners and he's always been on the phone, but I wanted to make a name for myself."
During her career she rode 110 winners, her last success coming on the John Berry-trained Dereham at Pontefract in April.
Arguably, though, her biggest accomplishment came on Knappers Hill in the Grade 2 bumper at Aintree's Grand National meeting in 2021.
"When I was coming out of my claim, I was having a good season and Dad was happy for me to ride some of the bumper horses. Harry [Cobden] and Bryony [Frost], at the time, were not always going to be available for bumper races, so it fell into place quite nicely.
"To win a Listed race at Ascot and then a Grade 2 on Grand National day was awesome, even though it wasn't my sphere."
Nicholls has been a regular fixture as a pundit on ITV's racing coverage and Racing TV, and that's likely to continue.
She said: "I very much wanted to explore that and it's something I am enjoying. I pushed in my riding career and hopefully I can do the same this way.
"Training horses is not something I am interested in at the moment, and who knows what is down the line, but I have got good opportunities on the television."
---
Read these next . . .
'You need a stable and I don't have one' – De Sousa leaving for Hong Kong
On-course bookie warns punters being turned off after 'worst day' in 15 years
'It'll be something to tell my children' - Shergar Cup excites top-level jockey
---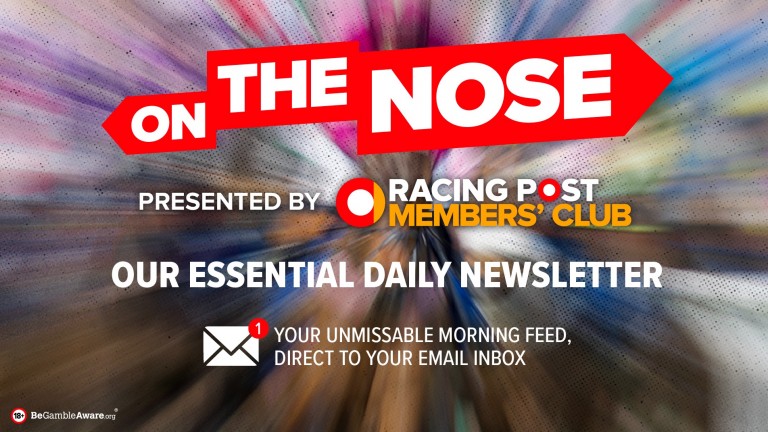 Sign up to receive On The Nose, our essential daily newsletter, from the Racing Post. Your unmissable morning feed, direct to your email inbox every morning.
---
If I was an owner, I wouldn't want to pay the same amount of money to use me when you can have Hollie Doyle, Ryan Moore or William Buick