'It gave him a real lift' - Pat Smullen's memoir Champion hits the shelves
Frances Crowley said that writing his memoir Champion with Donn McClean gave her late husband Pat Smullen a real lift during the latter stages of his battle with pancreatic cancer as it allowed him to relive his life again.
The eagerly awaited recollection of Smullen's life is now available to purchase from all major bookstores and writer and broadcaster Brough Scott hailed the memoir "inspiring, heartbreaking and unforgettable".
Speaking ahead of Friday's launch, Crowley said: "From the word go I urged Pat to do it. He would keep saying to me 'why would I do that?' and 'who'd want to read about me, sure I'm boring?' But I always encouraged him as I thought it would be a lovely thing for the kids and all his family to have.
---
Champion by Pat Smullen is available here
---
"The best part of the book was him going through everything with Donn. Actually doing it was the best part. He was reliving his whole life all over again and I think that gave him a real lift. Even if nobody ever bought a copy of the book that made it worth it."
Crowley thinks the book will be a worthwhile read for any young jockeys who need guidance too.
She said: "As he got older, Pat's phone was constantly ringing with people looking for advice. People listened to him. They wanted to hear what he had to say. There are a lot of nuggets in there, especially for any young jockey starting out."
Sir Anthony McCoy said of the memoir: "Pat tells his story with the same honesty and humility that defined him as a person. He was a remarkable man and his is a compelling story."
Ruby Walsh added: "From incredible highs to devastating lows, the championship battles and mental turmoil, the Derby winners and cancer heartbreak, Pat has left more than a legacy. Read this and you will agree with me – he is iconic".
---
Read more on Pat Smullen:
'One of the greats': AP McCoy and Mick Kinane on Pat Smullen's emotional death
'You always did your best. Always' - Crowley's eulogy to heroic Pat Smullen
In adversity, Pat Smullen went from a racing icon to a national treasure
Pat Smullen: a racing great whose legacy will endure both on and off the track
'It wasn't all about coming back to ride horses – it was just about coming back'
In pictures: some memorable images from Pat Smullen's dazzling career
Smullen in the saddle: six of the best rides from a master of his trade
Frances Crowley: 'We still feel Pat's here and that's been a big help'
---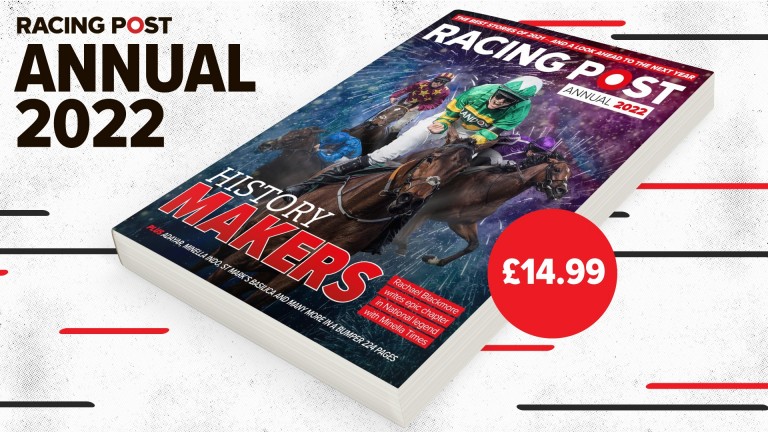 The Racing Post Annual 2022 is here! Look back on a star-studded year in this fabulous 224-page book packed with the best stories and pictures. The perfect gift at £14.99. Order from racingpost.com/shop or call 01933 304858 now!
---
Even if nobody ever bought a copy of the book that made it worth it