'He bolted up the day he won the Grand National' - Monty's Pass dies aged 29
The 2003 Grand National hero Monty's Pass has died just a few weeks shy of his 30th birthday, with Barry Geraghty hailing him a gorgeous horse in every sense of the word.
Up until his passing, Monty's Pass was the oldest living Grand National winner at the age of 29 and he was cared for right up until his last breath by Jimmy and Mary Mangan. He was part of their family in the Cork village of Conna.
Jimmy told the Racing Post: "He was a terrific age and lived a long and happy life. He brought us all over Ireland and England, days we will never ever forget.
"Even now, everyone I meet around Fermoy or in the locality would mention him all these years later. Everyone in the place seemed to back him the day he won the National. They said they have never seen such a queue outside Paddy Power's. Some of them had to wait for days to be paid as they didn't have enough cash to pay them!
"He absolutely bolted up the day he won the Grand National. He went back the following year and finished fourth. I asked Barry afterwards whether it was the weight that beat him and he said 'no, they've overwatered the ground'. He still ran a cracker and we were delighted with him."
Mangan said Monty's Pass also had a unique personality, and never wavered from his evening routine.
He said: "He was an unbelievable character. Every single night, no matter whether it were summer or winter, he would come to the gate and look to be put into his stable. He never spent a single night of his life outside.
"He was like the godfather to all the young foals that came into the yard. They would always gather around him out in the field. He was such a character and brilliant to have him around the place. We will miss him dearly, but he was a great age."
Monty's Pass won eight of his 57 races and was placed on no fewer than 23 other occasions. He won the Kerry National at Listowel in 2002 under Geraghty, but their finest day together arrived the following year when the pair ran out one of the most impressive winners of the Grand National this century.
Having been the subject of a significant plunge from odds of 66-1 in January into an SP of 16-1, Monty's Pass romped home by a dozen lengths under Geraghty, who could afford to celebrate a long way from the line.
"He was magic for me," Geraghty said while working for RTE at Navan on Sunday.
"I rode him for the first time when I was 21. I took over from JT [McNamara] and he was just an amazing horse, gorgeous in every sense of the word. He improved with every run. I loved riding him, loved riding for Jimmy [Mangan] and loved riding for the syndicate [Dee Racing] who owned him. They were a brilliant bunch of owners.
"He really was such a gorgeous horse, so clever and so nimble. He was so honest, too. You'd never know he had a heart condition or there was an issue with him when you rode him. He was an absolute star."
Recalling the famous Aintree triumph of 19 years ago, Geraghty added: "He jumped 90 fences around Aintree and all he made was one small mistake, that was it. A hundred yards from the line I had it in the bag and I could salute the crowd. I was nearly running out of celebrations before the line I had it in the bag so early."
Jimmy Mangan's daughter Jane, now a pundit with RTE and Racing TV, said of her family's most treasured thoroughbred: "The day was always going to come, it was always going to be sad, but rather than it be sad, we are grateful to have had him and to prove that fairytales do come true for ordinary people."
---
Monty's Pass in numbers
57 runs
8 wins
23 placings
12 lengths winning distance in Grand National
29 age when he died
---
Read this next:
'We knew we had a National horse' - Monty's Pass and a monster Aintree gamble (Members' Club subscribers)
---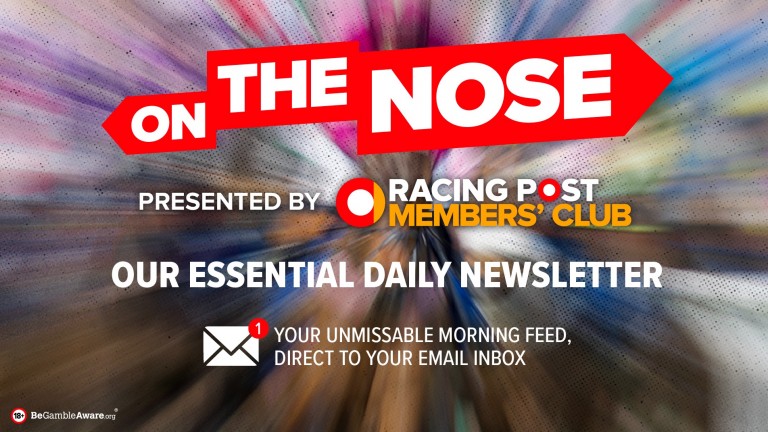 Sign up to receive On The Nose, our essential daily newsletter, from the Racing Post. Your unmissable morning feed, direct to your email inbox every morning.
---
Even now, everyone I meet around Fermoy or in the locality would mention him all these years later