Rust urges tracks to take £40m government support package
BHA chief executive Nick Rust said it was in the sport's interest to "unlock as much of this money as we can" after the government announced £40 million in loans was available to English racing.
The money, part of the government's £300m winter survival package for sport, is primarily designed to help racecourses, which have had no paying customers since mid-March.
Rust acknowledged the exact details on how the money would be accessed and by whom has yet to be revealed, but told the Racing Post that the package – the second-largest tranche of money offered to any one sport after rugby union – was urgently needed.
Speaking in the House of Commons, the sports minister Nigel Huddleston outlined the plans to provide a blend of low-interest loans and grants to major spectator sports designed to keep clubs and businesses afloat until the Covid-19 situation in Britain allows sustainable levels of spectators to be welcomed back.
Rust said: "This will help us to get through the winter. We've got £40m available in loans. It will allow us to continue and plug some of the holes where our funding gaps exist.
"This money will be used to help prop up racecourses and prize-money that helps employ so many people in the sport.
"Ostensibly it's to support racecourses but we were at great lengths – myself, [Racecourse Association chief executive] David Armstrong and the others involved in discussing matters with the minister – to explain the flow of money through racing and the fact that racecourses had been supported through their own loans recently and through Levy Board money, so the immediate prospect was not an imminent closure of racecourses.
"We don't yet know whether it is only racecourses that can apply or whether other organisations within the sport can."
Rust added: "Of course some parties in the sport may be concerned about taking on additional debt but it is in the interests of the sport, particularly if these loans are on favourable terms and those terms include a reasonably long period to repay, then it is in our interests to unlock as much of the money as we can.
"There will probably have to be some pretty quick and agile discussions once we get the details, to understand how best to unlock the money and to make sure that it goes to where it is most needed."
---
How racing's winter survival package compares with other sports
£135m Rugby Union (£44m to RFU, £59m to Premiership clubs)
£40m Horseracing
£28m Football (English Football League and women's football)
£12m Rugby League
£6m Motorsport
£5m Tennis
£4m Each for netball, basketball and ice hockey
£2m Badminton
£1m Greyhound racing
Government ministers continued to make positive noises about future pilot schemes to get spectators back and Rust confirmed that remains the BHA's number-one priority.
"Racecourses have said they believe they will have lost £300m this year in terms of income," said Rust. "It's not far off the target amount that we would have asked for if we could have waved a magic wand.
"We would have loved it to be grants but loans, assuming the terms are favourable with a long repayment period, are very helpful to get us through this period.
"However, 70 per cent of spectator-related income is from the period between April to August and the key thing for us is to make sure we have a roadmap with spectator pilots to help us get to a stage when we can start to bring spectators back safely. That's absolutely key."
During questions in the Commons Huddleston said: "In terms of the money going out within weeks, some of it is to be dispersed before Christmas.
"In terms of the mix of loans and grants it will be driven by need and ability to pay. [Of] the package of £300m we estimate that £250m will be in loans and £50m will be grants.
"But the loans will be on preferential terms and will therefore have the features of grants in the early stages in terms of payment holidays for example, so immediate repayment will not necessarily be expected."
Asked by a number of MPs representing constituencies in Scotland, Wales and Northern Ireland, Huddleston reiterated that sport and its funding is a devolved matter.
While shadow sports minister Alison McGovern criticised the speed of the government's response, St Helens North MP Conor McGinn, the Labour co-chair of the All-Party Racing Committee, described the £40m injection as "significant financial support".
McGinn said: "This is a huge achievement and will come as a relief for everyone in our sport. The sum involved recognises the uniquely important role of British racing to the economy and wider society, and I know the effort that DCMS ministers have made to successfully convince their Treasury colleagues of that.
"I congratulate the BHA, racecourses and horsemen for the huge amount of work they've put in. It's testament to their efforts and the hard graft many individuals put in – often away from the public gaze and media commentary – that racing has secured such significant financial support."
---
Read more
Racing set to receive major financial support as hopes rise for return of crowds
Special report: Could canny Fred Done's ante-post punt on William Hill pay off twice over?
Bruce Millington: Vaccine offers hope that sport will open its doors and is something to celebrate
Racing warned to avoid horse movement in first two weeks of 2021 due to Brexit concerns
---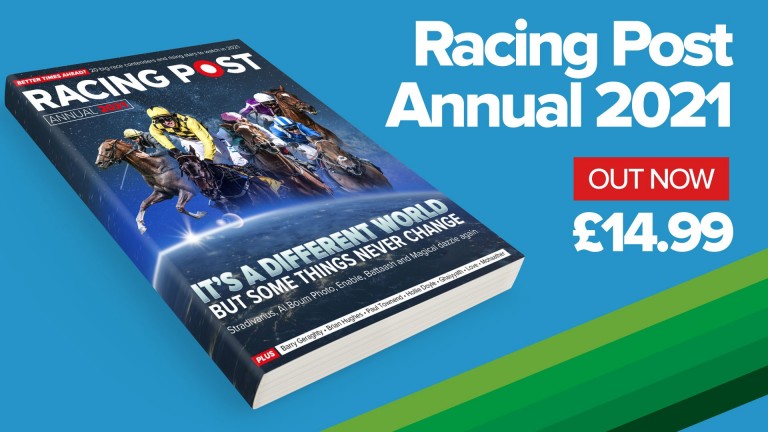 Look back on a year like no other with the Racing Post Annual 2021, the perfect gift for every racing fan. Only £14.99, our 224-page review of the year - illustrated with stunning pictures - features all the best moments from an incredible 12 months. Order your copy here
---
It's not far off the target amount that we would have asked for if we could have waved a magic wand