Barrier trials return to Dundalk on Monday
The Irish EBF barrier trials return to Dundalk on Monday and the action will be broadcast live on YouTube.
Results and videos will also be available on the Irish Thoroughbred Marketing website afterwards. The cards for the trials can be viewed at https://www.itm.ie/ITM/media/ITMMediaLibrary/documents/Irish-EBF-Barrier-Trials-28-June-2021-Runners.pdf.
---
RaceTech chairman Phillips steps down
Tom Phillips will step down as RaceTech chairman in September with Bevan Gibson taking over the role at the start of October.
Phillips, who had been in the role for six years and had previously worked at the Tote, said it had been a "privilege" to work at RaceTech, the leading provider of outside broadcast and integrity services to British racecourses, as well as offering stalls handling, photo finish and PA services to tracks.
He said: "It has been such a privilege being chairman of RaceTech. We have achieved much as a team these past years and I've enjoyed working with such talented and professional colleagues.
"I wish everyone at RaceTech well under the future leadership of Bevan. He is someone I've worked closely with these past five years and I have no doubt RaceTech will continue to thrive under his leadership."
Gibson, who has been a non-executive director at RaceTech since 2016 and has held senior roles at the likes of Sky and ITN, said: "I'm delighted to be taking up this position of chairman following Tom's superb leadership of RaceTech.
"It's an incredibly exciting time to be leading such a prestigious organisation within the racing industry, and I'm very much looking forward to the challenges that lay ahead."

---
Former Sheikh Fahad-owned Longholes Stud sold
Longholes Stud in Newmarket has been sold to a partnership of Tweenhills Stud, Baker McVeigh veterinarians and Hasenacher Stud.
Formerly owned by Sheikh Fahad Al Thani, who bought the 217-acre property in 2013 before putting it back on the market last year due to him spending more time in America with his wife Sheikha Melissa, Longholes Stud was listed with a guide price of £5.5 million.
Hasenacher Stud owner Barbara Keller has raced the likes of Group 1 winners Odeliz and Blond Me, while Baker McVeigh, which has a number of practices in Britain and internationally, works with several leading trainers in Newmarket.
Confirming the sale, Tweenhills owner David Redvers said: "It's all been sold to a partnership of Tweenhills, Baker McVeigh and Hasenacher Stud."

---
Racing Welfare launches new wellbeing programme
Racing Welfare has launched a new workforce wellbeing programme that contains a range of services which aid the physical and mental health of racing's workers.
Previously funded by a grant from the Racing Foundation, the new programme can be accessed via a weekly contribution of £1.20 per employee by employers.
The contribution will allow their staff to use the charity's 24-hour support line, mental health advice, counselling, legal advice and wellbeing tips. Employees can also access sleep and addiction services.
The programme is designed to provide benefits to employees and employers alike, while the importance of physical health in aiding people at work is highlighted in the latest episode of Racing Welfare's acclaimed On Track, Off Course podcast in which ITV Racing's lead presenter Ed Chamberlin discusses his "harrowing" experience of living with cancer.

---
Four UAE trainers given year-long bans for cobalt breaches
Four trainers, including Group 1-winning handler Ali Rashid Al Rayhi, have been suspended for 12 months by the Emirates Racing Authority (ERA) after their horses tested positive for cobalt.
Al Rayhi, whose top performers include 2010 Dubai Duty Free winner Al Shemali and Ertijaal, Mahmood Hussain, Sulaiman Al Ghunaimi and Saleha Al Ghurair were found in breach of the rules by ERA stewards after horses returned pre-race samples containing the banned substance.
Trainers Salem bin Ghadayer, Ahmed Al Shemaili, Helal Alalawi, Mohamed Ramadan and Mohammed Al Shamsi were also fined by the ERA for medication infringements.

---
Prize-money increased to €300,000 for Irish EBF Ballyhane Stakes
The Ballyhane Stakes, run for the first time in 2020 at Naas, will become the richest two-year-old race in the Irish calendar after it was announced the purse had received a cash injection to take the overall prize fund to €300,000 from €200,000.
The second running of the race, run over six furlongs, will take place at Naas on Monday, August 2.
Not only will the winner of the €300,000 prize bag €150,000, but there is also prize-money down to 12th position.
To accommodate the large number of entries, the Silver Irish EBF Ballyhane Stakes will again be added to the Naas card and will be run for a prize fund of €50,000 with prize-money paid down to sixth place.
Joe Foley, owner of Ballyhane Stud, said: "We are thrilled to again be in a position to reward the owners and trainers who supported the race by increasing prize-money in the main race and staging the extra race, this will positively benefit a wide range of connections.
"We are looking forward to seeing the build-up to the race from now until August 2 and if our €50,000 bonus will be claimed this year by a Ballyhane-sired two-year-old."
---
Rain-hit Windsor fails inspection for Monday's evening fixture
Monday's evening fixture at Windsor has been cancelled due to waterlogging following an 8am inspection.
The track has been hit by more than 63mm of rain since Wednesday evening and was found to be unfit for racing on Monday morning.
Clerk of the course Sophie Candy said: "It wasn't an easy call, but we're very wet and the track simply will not take much more rain. It was raining during the time of the inspection and more is forecast through the day."
---
---
Windsor is next due to race on Saturday and the forecast looks promising for a meeting featuring the Listed Midsummer Stakes.
"We've got good weather for the next few days and hopefully it will dry out nicely for the weekend," said Candy.
In the absence of Windsor, Monday's action comes from Southwell, Newton Abbot and Chepstow in the afternoon and Ballinrobe and Wolverhampton in the evening.
---
Former Racing Welfare chief executive Sir John Kemball dies aged 82
Sir John Kemball, the former chief executive of Racing Welfare who has been described as the "architect" of the charity, has died. He was 82.
Kemball, who headed the charity which supports the workforce of British horseracing between 1995 and 2004, had previously had a distinguished career in the armed forces, retiring from the Royal Air Force in 1993.
Racing Welfare chairman of trustees William Barlow said: "Racing Welfare is deeply saddened to learn of the passing of Sir John Kemball.
"Following an esteemed career in the forces, he joined Racing Welfare as chief executive in 1995, and we will forever be grateful for his dedication to help us support racing's people and develop the organisation.
"While Sir John Kemball pre-dates almost all of those working at Racing Welfare, his legacy is still felt to this day. Back in 1995 we were known as the Stable Lads Welfare Trust before becoming Racing Welfare in 2000. In that respect he is regarded as the architect of Racing Welfare as it stands today."
Air Marshal Sir John Kemball's career in the RAF began in 1957 and he rose to be chief of staff and deputy commander-in-chief at the British Joint Force Headquarters during the First Gulf War.
---
Liam Treadwell remembered at Worcester meeting
Worcester has dedicated Wednesday's fixture to pay tribute and celebrate the life of Liam Treadwell to mark the one-year anniversary of his death.
2009 Grand National-winning jockey Treadwell died age 34 last June and all race titles on the jumps card feature names which highlight his career, and reflect the personality which made him so popular with his weighing room colleagues.
Race titles vary from the 'In Memory Of Liam Treadwell Novices' Chase' to 'BBQ's, Beer, Sliders And White Socks Handicap Chase' and a minute's clapping has also been planned.
Treadwell's family will also be in attendance while Mon Mome, the horse who gave Treadwell that shock 100-1 success at Aintree, will parade.
---
Read more:
Racing Welfare leading sport's campaign during Mental Health Awareness Week
Racing Welfare launches mental health online survey
'It's a crisis we've never seen before' – Racing Welfare riding to the rescue
'We want to help' – Racing Welfare urges those in difficulty to seek support
---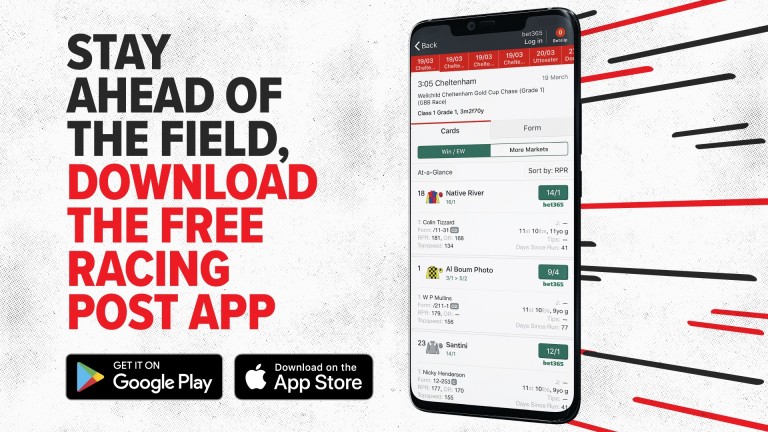 Download the free Racing Post app for cards, form, tips, in-app betting and to watch live races. Download for free at racingpost.com/mobile or search Racing Post app
---