'Everything I know I owe it to him' - apprentice pays tribute to Appleby veteran
Apprentice Erika Parkinson has paid an emotional tribute to It Must Be Faith, the horse she credits with teaching her everything she knows.
Parkinson rode the Mick Appleby-trained 11-year-old in 26 of his 101 starts, recording four wins including her first, and was on board when he suffered a fatal heart attack before racing at Wolverhampton on Wednesday evening.
On Thursday morning a heartbroken Parkinson said: "We struck up quite a bond. He taught me race-riding and everything I know I owe it to him. We had some good races and some bad races, and I'd see him every day at home. He was like my horse.
"I rode him every day at home, he's been my ride since I've had my licence. We had four wins together, he was my first winner, I really cared for the horse. There aren't many horses quite like him.
"He was an old boy, so he knew the game and taught all the female jockeys who have come through Mick's. He was always their first ride. He liked the softer touch, he liked to be in charge. It was more a case of I steered him and he did the rest."
Parkinson credited It Must Be Faith as a grand schoolmaster and added: "Sometimes he was horrible. He was keen, he was awkward, he pulled my arms out every day. But he was safe and sound, just keen and wanting to get on with the job. He knew what he was doing and taught you to just go with it.
"I was glad I was there with him last night. I'm really lucky he did it when he did and not during the race. As sad as it is that it happened, at least it happened safely."
Heart broken that It Must Be Faith has suffered a fatal heart attack prior to our race this evening. I owe it to him that he kept me safe this evening. Till then end he knew he was the best boy and have so many amazing memories. My first winner. #love #RIP #Nelson #forever pic.twitter.com/riNx8rJplb

— Erika Parkinson (@ErikaParkinso14) November 23, 2021
Appleby affectionately joked the horse resembled a giraffe but said he would be much missed by his whole team at home, while Parkinson said: "He was quite an ugly horse but I loved him. I thought he was handsome."
It Must Be Faith reached a career-high mark of 87 as a five-year-old and won £77,085 in prize-money.
---
Read this next:
Stroke victim Aidan Macdonald 'fitter than ever' and raring to ride out again
'I feel he's not quite there' – Shishkin ruled out of Tingle Creek comeback
Cheekpieces for Paisley Park as top stayer bids for another Long Distance Hurdle
'It would be rude not to!' – Kerry Lee to fire Demachine at Ladbrokes Trophy
---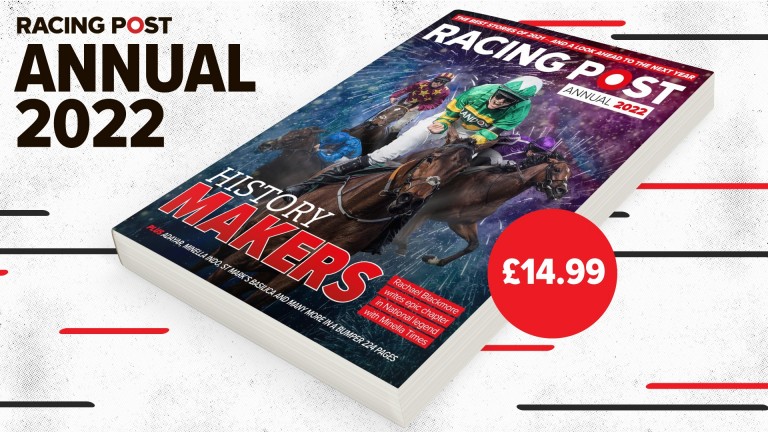 The Racing Post Annual 2022 is here! Look back on a star-studded year in this fabulous 224-page book packed with the best stories and pictures. The perfect gift at £14.99. Order from racingpost.com/shop or call 01933 304858 now!
---
I was glad I was there with him last night. I'm really lucky he did it when he did and not during the race