Dan Skelton fuming after Marracudja is raised 11lb for Clarence House third
Dan Skelton has been left frustrated and perplexed after Clarence House third Marracudja was given an 11lb rise in the ratings following his run in the Grade 1 at Ascot last weekend.
The 66-1 outsider of the five-strong field, Marracudja came through after the second-last to take third, beaten seven and a half lengths by winner Defi Du Seuil and nearly five lengths by runner-up Un De Sceaux.
It was a performance that earned Marracudja an RPR of 155, his highest to date, having gone into the race rated 143. That was 10lb inferior to the next lowest-rated runner in the Clarence House, Capeland, who had beaten him readily in a handicap chase at Ascot in November.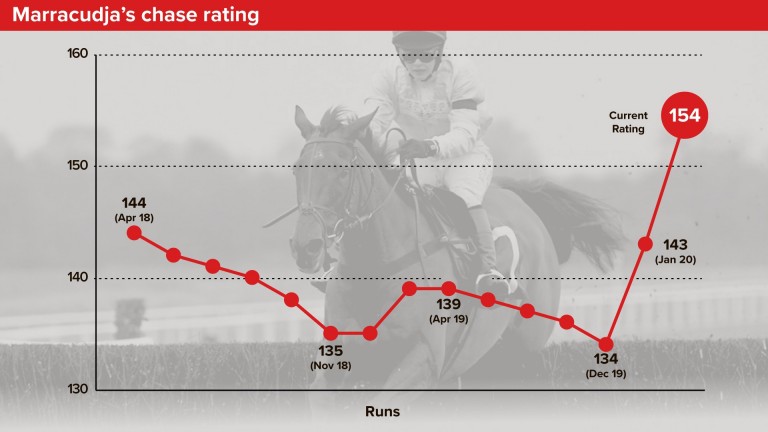 Now Marracudja is rated 1lb superior to Capeland, with the handicapper giving the nine-year-old an 11lb rise to a mark of 154, an increase Skelton finds difficult to fathom.
Speaking on Tuesday, the trainer said: "He was third and any time you run in any race the handicapper can look at it. However, the reality of the situation as opposed to the theory is that he didn't win for 12 runs. He then won at Wetherby and the handicapper put him up 9lb to a mark that was higher than he'd ever won off before anyway. His highest winning mark was 140 and he won at Wetherby off 134.
"I decided the Clarence House was going to cut up and a slowly run race would suit him. It was a slowly run race and the two horses he's beaten have got involved in the race early and paid the price from Swinley Bottom to two out.
"We've picked up the pieces because we've ridden him cold. We were 66-1 with no chance and we did our best to do our best. We've got an 11lb hike for participating in a race that has plenty of prize-money on offer and have given ourselves absolutely no chance whatsoever of winning going forward."
While acknowledging Marracudja's connections, Foxtrot Racing, received a healthy £16,050 for finishing third on Saturday, Skelton believes the new mark compromises the horse's future chances of winning and that the handicapper should react accordingly should this prove to be the case.
If Marracudja has really run his race why isn't he now rated 165? We felt if the others tried to take on the front 2 they might not finish their race. That's exactly what happened. Great ride, good tactics and clever placing & brilliant day for a syndicate with a cheap horse 1/2

— Foxtrot Racing (@Foxtrot_Racing) January 21, 2020
"If I run him in a handicap and he goes and gets beaten 25 lengths, I want the 11lb back," Skelton added. "If it's proved to be incorrect at the first time of asking, I want them all back.
"If the handicapper's opinion is he has to protect the public and the herd from a horse who might have improved, no problem. But the second he doesn't run to it, I want them all back to make it fair again.
"If his assessment is correct he's already made it 9lb harder than it was at Wetherby in a handicap so why not stick to your guns? If that was your opinion when he put in a winning performance, not a placed performance, stick to it. In my opinion they've panicked and thought Marracudja has improved 20lb since Wetherby, which is just nonsense."
2/2..... then you get to Tuesday and wonder if it's stupid to be clever.

— Foxtrot Racing (@Foxtrot_Racing) January 21, 2020
Races like the Grade 2 Game Spirit Chase at Newbury or a handicap at Chepstow later in February could be next for Marracudja, and Skelton also said incidents like this illustrate why small-field races are prevalent, especially in higher grades.
"The court of public opinion will finally see why participants do not run horses in Grade 1s, out of their depth, because this happens," he said. "It's nothing to do with the players and connections – it's everything to do with what has just happened. That horse is now factually uncompetitive."
In response, a BHA spokesperson said: "Marracudja's mark was due to be revised to 146 following his win at Wetherby as the horse who had finished second to him, Hawk High, had subsequently run to a higher rating.
Don't think we'll be supporting any small field races again pic.twitter.com/JTAzJd45p5

— Foxtrot Racing (@Foxtrot_Racing) January 21, 2020
"In relation to the race at Ascot, the handicapper assessed Defi Du Seuil to have run to a bare figure of 167, Un De Sceaux to 164 and Marracudja to 159. Given the easy manner of Defi Du Seuil's victory, his revised his mark was put up to 170.
"Marracudja's defeat of Janika, rated 165, and Capeland, rated 153, left the handicapper with the view that Marracudja should as a minimum be rated higher than Capeland should the two meet again on handicap terms.
"As such, it was felt the appropriate rating for the horse was 154. Mr Skelton does have the opportunity to appeal the horse's handicap rating to an independent panel should he so wish."
More to read for members: Ridiculous rise for Marracudja is symptomatic of a broken handicapping system
---
Read The Lowdown from 8.30am daily on racingpost.com and the Racing Post mobile app with all the day's latest going, weather, market moves and non-runner news
---
If I run him in a handicap and he goes and gets beaten 25 lengths, I want the 11lb back