'I suppose I can run two' - Henderson pits Constitution Hill against Epatante
The lure of a Grade 1 prize and the fact ground conditions are proving so unpredictable were enough to persuade Nicky Henderson on Wednesday to pitch two of his stable stars against each other in an explosive clash in Saturday's Betfair Fighting Fifth Hurdle (2.10).
After withdrawing Champion Hurdle favourite Constitution Hill from his intended reappearance in the Grade 2 Coral Hurdle at Ascot last Saturday due to drying ground, Henderson has taken the tricky decision to line up last season's wildly impressive Supreme Novices' Hurdle winner for a showdown with two-time Fighting Fifth winner Epatante at Newcastle.
Having tried his hardest to keep the star duo apart at the start of the season, Henderson concurred with Constitution Hill's owner Michael Buckley that Saturday was the right time to unleash arguably the most exciting jumps horse in training, despite the fact it makes Epatante's chance of winning the race for a third consecutive time considerably harder.
"We're not running scared of each other," said the seven-time Fighting Fifth-winning trainer. "I was trying to avoid it and that was the whole point of Ascot. It was a lovely race and great prize-money. It seemed a perfectly good way of splitting them up and nobody losing out but that wasn't to be.
"I don't think it's worth waiting for the International Hurdle at Cheltenham and, while it's a pity to do it from my point of view, it's two different owners, so if they were in two different yards they'd be meeting and I'm afraid that's the way it is.
"You'd prefer to keep them apart, it seems the right thing to do for the owner's benefit as much as mine, but when you're lucky enough to have two Grade 1 hurdlers, we've really got to run in Grade 1 races. Willie Mullins doesn't mind running five so I suppose I can run two."
Last Saturday's card at Ascot was decimated due to non-runners relating to the drying ground, with just 30 horses taking part and one race reduced to a walkover.
The most high-profile absentee was undoubtedly Constitution Hill and, while he has no regrets about his call not to run, Henderson revealed that some of the criticism aimed in his direction following that decision had left a sour taste.
He added: "It was pretty unpleasant last weekend I have to say. Luckily I found a few allies later on in the day that said it was the perfectly sensible thing to do and I have no regrets about what we did. Obviously it's a great pity for the people and public who went there but don't forget there were 17 other non-runners, so I wasn't responsible for the whole day being a disaster on my own.
"Michael Buckley and I have discussed options ever since the weekend and it was really a toss-up of coming to Newcastle or waiting for the International Hurdle at Cheltenham next month and Michael quite rightly decided he'd like to go to Newcastle.
"The horse is fit and well and if we wait another fortnight anything could happen. Bear in mind the weather could stay like it has done down south, so there is a risk that Cheltenham could stay as it was for the last meeting. We can't risk that and we've decided we've got to get on and go."
Sponsors Betfair make Constitution Hill the 1-4 favourite for Saturday's race on the firm's sportsbook, with Epatante next best at 3-1 and Not So Sleepy rated a 10-1 shot. Gordon Elliott said on Wednesday that Constitution Hill's presence meant Pied Piper, available at 16-1, would not be lining up at Newcastle.
Henderson had positive words to say about both his contenders during a press call arranged by Newcastle, but while he fancies that Epatante is ahead of where she was going into last year's Fighting Fifth when she dead-heated for first with Not So Sleepy, he was tingling at the prospect of Constitution Hill reappearing.
"He schooled this morning and was just electric," said the 71-year-old. "I don't know why we did it – I think Nico de Boinville felt like having a morning's excitement! He hasn't had an away day but I feel he doesn't need to. He started the season very heavy but we weighed him this morning and he's tightened up. He looks pretty slick now.
"Epatante has won it twice, won three Grade 1s last season and was second in the Champion Hurdle. She got as close to Honeysuckle as any horse did last year and has every right to be at the top of a Grade 1 race.
"The trouble is we just don't know what this Constitution Hill is, to be honest. It was a freakish performance on all three occasions last season and the Supreme was ridiculous. That he could do that to Jonbon, who I thought was seriously top-class, was so freakish that you wondered whether he'd train on and do it again.
"But everything that's been going on at home has given us the same vibe that he's exactly the same as he was last year. The best part about him is his brain. He's so solid and nothing fazes him."
Buckley said: "It's bad luck for Nicky to have two horses in the same race but unfortunately the weather has played its part and it is what it is.
"Epatante has won the Newcastle race for the last two years, was second in last season's Champion Hurdle and has won that race before, so no doubt about it, she's a good horse."
---
Betfair Fighting Fifth Hurdle (2.10 Newcastle, Saturday)
Betfair: 1-4 Constitution Hill, 3-1 Epatante, 10 Not So Sleepy, 16 Pied Piper, Tommy's Oscar, 100 Voix Du Reve
---
Read these next:
The Facile Vega profile: the 'real deal' bumper star entered for hurdling debut
Nicky Henderson: 'There was no way I was going to run on that ground'
---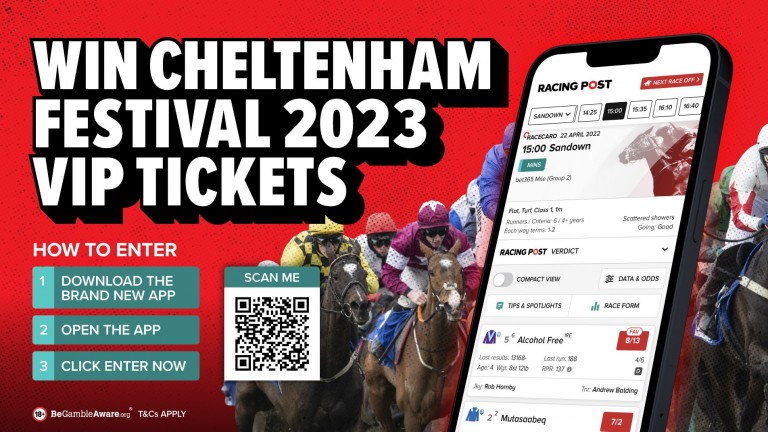 WIN hospitality for four on Gold Cup day at the Cheltenham Festival 2023! It's simple and free to enter – all you need to do is download our brand-new app, open the home screen and wait for the pop-up to make your entry. Download here.
---
When you're lucky enough to have two Grade 1 hurdlers, we've really got to run in Grade 1 races