A top on-course bookie on the horses he's out to get on day one at Royal Ascot
On-course bookmaker John Hughes will be standing on the number one rails pitch at Ascot next week. With no ante-post liabilities to cover he'll be out to get some of the shorties. Here he marks your card for Tuesday as to which horses are keeping him awake, and which he'll be laying, as well as a red-hot favourite he thinks he can get beaten later in the week.
---
For me, as a bookmaker, there are two make-or-break weeks in a year, Cheltenham and Royal Ascot. Losing at either can mean a losing year. So first of all, we have to hold money, secondly we have to win it.
This year is totally different from any other with a 12,000 crowd limit. So there will be great value in the betting ring, bookmakers can be greedy.
We start the week with the Queen Anne Stakes. On the high street it's currently 4-9 Palace Pier. It might be my imagination but is the Gosden stable firing on all cylinders? By now they've usually won a couple of Classics. We'll definitely take this on at odds-on.
In the Coventry Stakes I think between Britain and Ireland we can find something to take on Wesley Ward's Kaufymaker at 7-2.
I have always found day one a hard day to win, but I will be siding with Battaash in the King's Stand Stakes. If he doesn't win I hope it will be a 100-1 shot as the next four or five in the betting after Battaash will be big losers for me.
On to the St James's Palace Stakes. Now this is the best race on the day, the first three in the betting will all be losers in my book. Poetic Flare will be my worst result, but I think one of Aidan's or Joseph's outsiders could come to the rescue.
I hate handicaps at Ascot. Inevitably, you end up having a bad race and then you discover you have laid 20 monkeys each-way the horse who gets the verdict for fourth in a photo. In this race I give Arcadian Sunrise a chance, I think John Queally is a shrewd trainer.
The Wolverton Stakes is a good open race, plenty of horses fancied. We will take everything on, although I think Patrick Sarsfield is a bit better class than the rest, and he will be a loser in my book.
The Copper Horse Stakes is another handicap and, as I say, I hate these races, which means they must be good for the punters. Willie Mullins is a genius at Ascot but I think with Ryan Moore jocked up, M C Muldoon might go off a falsely short price and give me a chance to get out. I will definitely lay this and hope something nabs him on the line.
On Thursday, Stradivarius, will be my lay of the week. I have to lay him at even money . . . which is probably why I can't afford to retire.
---
If you want more on Royal Ascot . . .
'He shouldn't be overlooked at 16-1' – five dark horses to note at Royal Ascot
'We couldn't be happier with him' – Foley eyeing first Royal Ascot win with Vega
'The track is in lovely condition' – latest going for Royal Ascot
Love in line for Royal Ascot return alongside Armory as O'Brien readies squad
'A Royal Ascot hottie' – top bookmakers reveal their biggest liabilities
---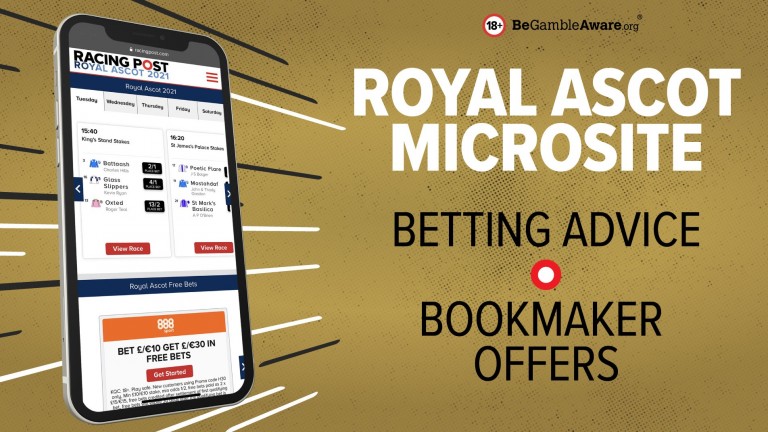 Check out the Racing Post Royal Ascot microsite for the latest tips and odds for the royal meeting. The best Royal Ascot betting advice and exclusive free betting offers all in one place.
---
If he doesn't win I hope it will be a 100-1 shot as the next four or five in the betting after Battaash will be big losers for me