Betting shops reopen across England and Wales on Monday
Betting shops in England and Wales open on Monday for the first time since early this year as part of the latest phase of Covid-19 restrictions being lifted across the nations.
Customers have been unable to place a bet in person in the UK since betting shops were closed as part of measures aimed at reducing the spread of coronavirus.
There will be no live sports pictures, no chairs and a maximum of two gaming machines allowed to be switched on when betting shops open on Monday, while customers will be limited to a maximum of two visits per day and shops will close at 8pm.
The number of customers allowed in a shop will depend on its size up to a maximum of eight and there will also be a limit on the time they are able to stay in a shop.
Nevertheless, Howard Chisholm, managing director of independent firm Chisholm Bookmakers, which operates 35 shops in north-east England, is eager to welcome back patrons.
He said: "Everyone's looking forward to it and getting back to the routine of opening up the shops to customers again. The staff are really pleased to be going back to work. We've been around all the shops making sure everyone's prepared.
"We know with the restrictions it's not going to be as sociable as it is normally, but we coped with the tier 3 restrictions before Christmas and the customers understand what needs to be done. Very few people come into a betting shop and spend all day there, or all day on the machines, so that shouldn't affect things in the way people think it might."
He added: "We'd rather be running things like normal but all things considered five weeks of these sort of restrictions is reasonable enough."
While betting shops are reopening in England and Wales, they will remain closed in Scotland until at least April 26, while lockdown regulations are being reviewed on Thursday in Northern Ireland.
Michael Dugher, chief executive of the Betting and Gaming Council, said: "It's been a long three months for betting shop staff, as well as their customers, and I know they're all looking forward to safely getting back to business thanks to the best-in-class anti-Covid measures in place."
The reopening of betting shops will also act as a boost for the battered finances of British racing with levy and media rights payments set to resume for the first time in 2021.
---
Read more
Aintree aces: six horses to put in your tracker from the Grand National meeting
No Grand National day trip to the bookies but betting shops reopen on Monday
Richard Johnson to take on new role at Arena Racing Company after retirement
---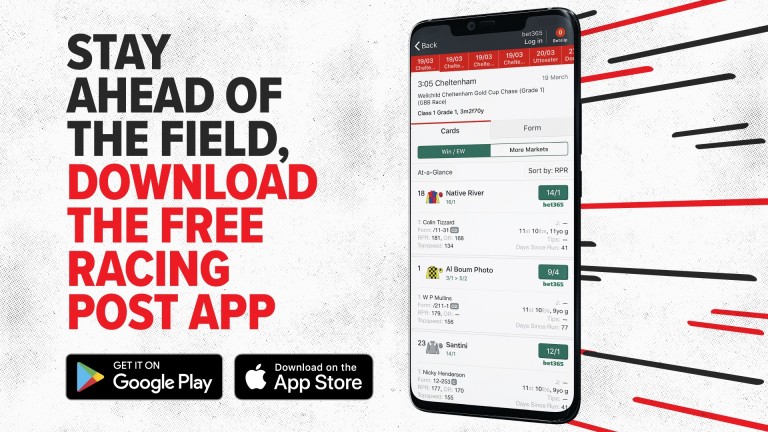 Download the free Racing Post app for cards, form, tips, in-app betting and to watch live races. Download for free at racingpost.com/mobile or search Racing Post app
---
We'd rather be running things like normal but all things considered five weeks of these sort of restrictions is reasonable enough