Bear Ghylls out until the new year but trainer knows 'he's very, very talented'
Trainer Nicky Martin has put a novice chasing campaign on hold for Bear Ghylls as the exciting prospect continues to recover from an injury that will keep him off the racecourse until at least January.
He suffered a fetlock injury last month and, while he was treated and is reportedly recovering well, Somerset-based Martin wants to preserve his novice status until he can have a full and clear season over fences.
Bear Ghylls developed into one of the leading novice hurdlers in Britain last season and signed off with a creditable fourth in a red-hot Ballymore Novices' Hurdle at the Cheltenham Festival in March.
He suffered his sole defeat when finishing behind Grade 1-winning trio Bob Olinger, Gaillard Du Mesnil and Bravemansgame but remains one of the most exciting young horses outside the bigger stables.
Martin said: "He sustained a minor injury to a hind fetlock back in early October but he's fine. We felt he wasn't quite right. He had a bit of ligament damage and we've gone overboard in treating it.
"He's fine but we just want to make sure he's right. I want him 100 – or even one million – per cent before he runs. He's way too good to risk something going wrong. It's easy for me as I don't have owners, he's mine and we'll only get him out when he's ready.
"He may be out in January but I don't want to mess up his novice status so he'd either stick to hurdles or we won't run until next season, which doesn't bother me in the slightest. Novice chasing was plan A but it would be too late in the season."
The six-year-old had won just three times over hurdles before the Cheltenham Festival, including when winning a handicap at Exeter – his jumping was described as "appalling" by Martin that day.
He had reportedly taken to fences better in early schooling sessions at Martin's Somerset base, while he continues to progress physically.
"I know he's very, very talented," said the trainer. "He's only six and he's still growing, he's so big and rangy. We knew through last season he wasn't fully developed and he still needs to fill out – he's a beast of an animal. To be honest, in the Ballymore, we rooted three out and if we hadn't I think we'd have beaten Bravemansgame.
"Next season, without a shadow of a doubt, will be his season regardless of what we do with him. He's fine, he's sound and he's been ridden but we're not in a rush to run."
Martin has also endured bad luck with mud-loving The Two Amigos as unsuitable ground means he may head back to the Coral Welsh Grand National without a prep run. He was second in the race last season.
---
Read this next:
Tingle Creek, Welsh National and Becher Chase: potential runners and verdicts
---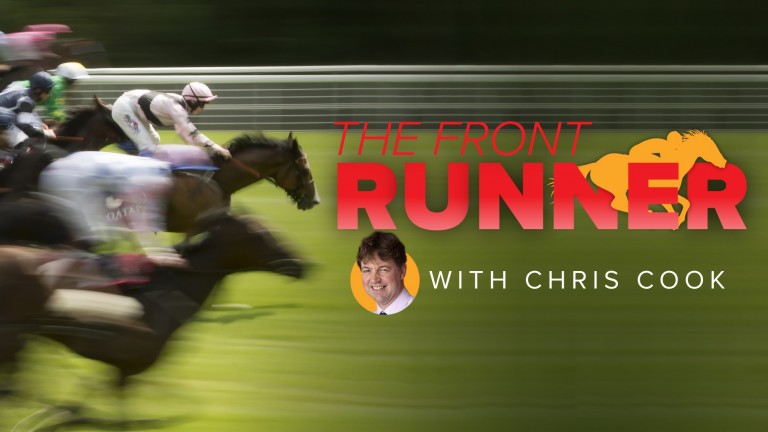 The Front Runner is our latest email newsletter available exclusively to Members' Club Ultimate subscribers. Chris Cook, a three-time Racing Reporter of the Year award winner, provides his take on the day's biggest stories and tips for the upcoming racing every morning from Monday to Friday
---
To be honest, in the Ballymore, we rooted three out and if we hadn't I think we'd have beaten Bravemansgame