Irish trainer hit with €4,000 fine after failing to pay staff prize-money bonus
Trainer Declan Queally has been fined €4,000 by an Irish Horseracing Regulatory Board referrals committee after issues surrounding his distribution of a stable staff bonus scheme linked to prize-money.
The panel also imposed a six-month removal of the Waterford-based trainer's licence but suspended that withdrawal for a period of 12 months subject to the IHRB's satisfaction that he was in full compliance with the rule related to employee bonuses.
Ireland's Stable Employee Bonus Scheme is financed by a three per cent deduction from all prize-money, with those funds paid to trainers quarterly before being distributed to all registered employees.
Amounts paid to each member of staff are agreed by all employees, based on a written agreement, with the details lodged through the IHRB.
An IHRB inspection team visited Queally's yard unannounced in May 2021 after an anonymous letter to the regulator complaining at his distribution of the employee scheme money.
At last week's referral, Queally accepted that misleading information had been provided to the IHRB relating to the stable staff initiative, and that the "funds had not been distributed in accordance with the agreement or as per the quarterly returns made to the IHRB as required".
Queally said the errors made were "unintentional and due to a lack of understanding of the workings of the scheme", adding he had no full-time staff at the time in question and believed it was only permanent employees who qualified for the payment.
The trainer, who saddled Western Victory to land Listed hurdle events in 2019 and 2021, confirmed that although the returns made by him declared his stable staff received the scheme money, those funds were not given.
Queally was found to have acted in a manner prejudicial to the integrity, proper conduct or good reputation of horseracing and "supplied misleading information to a racing official". He was fined €3,000 for this breach.
A further €1,000 fine was imposed due to breaches around his non-payment of the bonus money and failing to display a completed copy of the trainer-employee agreement in a staff working area.
---
Funeral of former trainer Peter Hedger to be held this month
Funeral details for former trainer Peter Hedger, who died on Sunday at the age of 82, have been announced with the service taking place this month.
It will be held at 1pm on Thursday, December 22 at The Oaks Crematorium in Havant, Hampshire.
Hedger had a distinguished career in racing spanning eight decades and was still riding out four years ago.
Having been encouraged to become a trainer by John Dunlop, he won the National Spirit Hurdle at Fontwell, his local track, in 1991 when Al Asoof beat Champion Hurdle winner Beech Road and also had plenty of success on the Flat, including with Continuum, who won the John Smith's Silver Cup at York in 2014.
---
Riding A Dream Academy's inaugural Regional Week a great success
Ten students from Harris Academy Peckham in South London were given the opportunity of riding for the first time, looking after horses at the British Racing School, as well as undertaking media training from ITV broadcaster Oli Bell.
The year-ten students had no experience of racing and were taking part in the Riding A Dream Academy's regional week at Epsom tacecourse last week.
The Racing Foundation-backed week is designed to increase access to the horse racing industry for 14-18 year olds and the benefits of the scheme were recognised by Harris Academy Peckham's assistant principal Charlotte Evans.
She said: "The beauty, majesty and therapeutic impact of horses is something so often not experienced when living in an inner city, and we are so very pleased that we have been able to expand our students' experiences through the people they met this week, the places they were able to visit, and experience that will stay with them for a lifetime.
"We have all been made to feel very welcome and I hope this is a programme that we will continue to be able to offer our students in the future."
---
Wolverhampton's Saturday card brought forward to avoid England v France clash
Wolverhampton's evening fixture on Saturday has been brought forward to avoid a clash with England's World Cup quarter final against France.
The fixture will get under way at 3.50, having been scheduled to start at 5.20, with the final race taking place at 6.50 (from 8.25). England's game kicks off at 7pm.
---
Funeral of popular clerk Hugo Bevan to take place on December 21
The funeral of Hugo Bevan, the popular clerk of the course across several tracks for more than four decades, will take place on Wednesday, December 21.
A service of thanksgiving will begin at midday at St Mary's Church, Everdon, Northamptonshire, NN11 3BL, after a private family burial service.
Bevan, who died last week at the age of 86, is survived by wife Carol, son Rupert, daughters Charlotte, Georgina and Sophie and ten grandchildren.
---
Highfield Princess receives another accolade at Go Racing In Yorkshire awards
Highfield Princess, who won Group 1s in three different countries in the space of 35 days across August and September, was crowned the Yorkshire Horse of the Year at the Go Racing In Yorkshire Awards on Thursday.
The John Quinn-trained mare was named sprinter of the year at the Cartier Racing Awards last month, and owner-breeder John Fairley and his wife Kitty were on hand to collect another accolade at the Tote-backed event at York racecourse.
The venue was the scene of Highfield Princess's Nunthorpe Stakes win, the second of the five-year-old's top-level hat-trick which also included the Prix Maurice de Gheest and the Flying Five Stakes at the Curragh.
Highfield Princess was last seen finishing fourth at the Breeders' Cup and John Fairley said: "She's having a little holiday right now and then will go back to John [Quinn] when he tells me the time is right. She has a wonderful mind that just wants to win races and we're thinking about the King's Stand at Royal Ascot."
Human talent as well as equine was recognised with Brian Hughes and Dan Skelton crowned leading jockey and trainer respectively for riding and saddling the most winners at the county's jumps tracks, Catterick, Doncaster and Wetherby in 2021-22. Danny Tudhope and Tim Easterby took the equivalent prize on the Flat with Ryan Sexton the winner of Future Stars Apprentice Series.
Hughes was one of the recipients of a Milestone Award for riding 1,500 winners with Kevin Stott also recognised for reaching 500 winners. Middleham maestro Mark Johnston was one of three trainers who received a Milestone Award, along with North Yorkshire-based handlers Ruth Carr and Paul Midgley, for achieving a record-breaking 5,000th winner in August.
Ben Warn, Chairman of Go Racing In Yorkshire said: "Having missed the last two award lunches due to Covid, it was a great opportunity to get everyone together to celebrate all that is good about racing in Yorkshire.
"We were delighted to have so many racing professionals and members of the media come and support the lunch and would also like to thank the Tote for sponsoring and York racecourse for being such wonderful hosts.
"As a sport we have a great deal to be proud of in the county and we look forward to more incredible performances and supporting the continued success of our athletes, both equine and human, in 2023 and beyond."
---
Barney Curley charity cup raceday at Bellewstown raises €73,000 for Dafa charity
The Barney Curley charity cup and golf classic, hosted by Bellewstown racecourse last September, raised €73,287 for the late Curley's charity Direct Aid For Africa (Dafa).
The event followed on from the Barney Curley raceday at Bellewstown a year earlier, which raised more than €100,000 for the same charity.
Curley was closely associated with the County Meath track after pulling off one of racing's greatest betting coups at Bellewstown Racecourse in June 1975 when Yellow Sam won at 20-1. Curley, who set up Dafa in 1996 to support the underprivileged people of Zambia, died in May 2021.
Dafa chairman Andrew Montague said: "Heartfelt thanks goes to the team at Bellewstown for the support and important funds raised, all in memory of our great founder, Barney Curley. He would be thrilled with the support."
Frankie Dettori said: "I'm always proud to support Dafa in memory of my great friend Barney Curley. Thanks to Bellewstown and Baltray Golf Club and to everyone who donated or gave their time so generously to ensure we all had a fantastic day and raise much needed funds."
---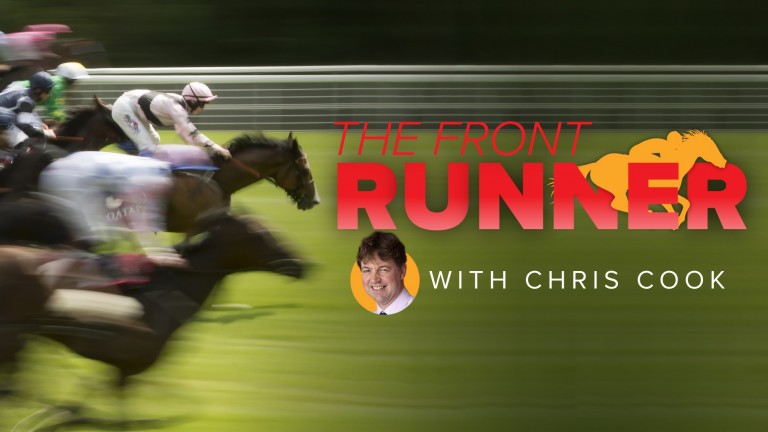 The Front Runner is our latest email newsletter available exclusively to Members' Club Ultimate subscribers. Chris Cook, a four-time Racing Reporter of the Year award winner, provides his take on the day's biggest stories and tips for the upcoming racing every morning from Monday to Friday
---
Queally accepted that misleading information had been provided to the IHRB relating to the stable staff initiative