Just like Sinatra, Cue Card gives his fans exactly what they want
First published in the Racing Post on Sunday, February 19, 2017
---
They came, they saw, he conquered. Four years on from his last victory in the Ascot Chase, Cue Card purred home to win by 15 lengths – a beautifully tuned V8 making his rivals look like two-stroke lawn mowers.
It is the four-year gap that tells you so much about this horse, a household god in many a jumping dwelling.
Cue Card has been at it for a long time now and has built up a mighty back catalogue of greatest hits. He is becoming a bit like Frank Sinatra on tour, and back in November on Betfair Chase day at Haydock he might have said to the crowd, "You've seen me do this race a couple of times before, in '13 and '15, well, here's my 2016 rearrangement".
And of course Cue Card's faithful fans love the show and the performer who first topped the bill as a 40-1 chance when slamming Al Ferof by eight lengths in the Champion Bumper in 2010, when pterodactyls still wheeled high over Cleeve Hill.
Seven years on he is still going strong, and that is an achievement in itself. He is a steeplechaser not a florist, and his place of work has been all coalface.
He has covered more than 80 miles pitched in uniformly against the best around and jumped countless obstacles, plus stood a training regime that isn't for softies.
Colin Tizzard does not send his horses out to race with a bit left to work on – they get a tough prep for hard races. In terms of soundness alone Cue Card is a marvel. Just think how many times those tendons have hammered down and been stretched. Greybeards don't talk about 'if' a horse gets a leg but 'when'. The physical strains are enormous, but Cue Card has so far ploughed his furrow seemingly immune to the attritional wear and tear.
If he were a soldier he wouldn't be in the catering corps, you would find him in the commandos or with the SAS flogging across the Brecon Beacons, which is probably the one place Tizzard has yet to gallop him.
Small wonder the public have cleaved to him in such a way. In 35 races he has unseated once and fallen once – and it is that fall so many of his fans ache to see avenged next month.
We are a sentimental lot and there was something of the gods getting in a grump and ganging up on him in last year's Gold Cup.
Cue Card was still travelling first-class in the wide-ass seats when falling three out and the groan that greeted his departure must have echoed all the way down past the Severn Bridge.
After yesterday's win Paddy Brennan, who always had Cue Card handy in second, said: "He's going to be ridden radically differently in the Gold Cup and if they get into a fight a long way out it could just fall into his lap."
---
Members can watch the 2017 Ascot Chase here
---
It must surely be the case that the Tizzard family have never clapped eyes on a horse they loved more than Cue Card.
Yet here is the old man, Colin, conspiring with malice aforethought to poop the party with the two horses ahead of him in the Gold Cup market, Thistlecrack and Native River.
Cue Card must have every right to mumble away in his box to the effect: "I graft season in and season out, making a fortune for this farm that wouldn't have seen a new tractor in years without me, and what gratitude do I get? The old so-and-so comes up with not one but two who could do the proverbial on my chips on Gold Cup day. Feeds and waters them too.
"I expect it from Mullins, Henderson, Nicholls and co. But to get the old stiletto sharpened by my own team – well, it's beyond belief. Rank ingratitude.
"If I knew how to do it I might be not off at Cheltenham, and I won't half land a kick on the old boy's knee if I find myself in the runner-up spot next to one of our own. We don't get on like Kauto Star and Denman you know."
Although racing has an endless capacity for fairytales at the festival, it takes a leap of faith to see Cue Card righting last year's wrong. But the beauty of chasers like him is that you can rule nothing out. His greatest fan was at Ascot in the still spry form of owner Jean Bishop.
It must still be a wonderful experience to greet her old stalwart back to the winner's enclosure, although doubtless not a patch on the days when her husband Bob, a man of many qualities, stood towering over her alongside.
Cue Card for the Gold Cup? Cheltenham is taking no chances and the huge bolts holding the roof on are due an extra tightening this week.
---
If you're interested in this, you might like:
'He can stay here as long as he lives' – Tizzard pays tribute to Cue Card
Cue Card retirement 'an end of an era' says proud owner Bishop
A legend bows out: the best images from Cue Card's stunning career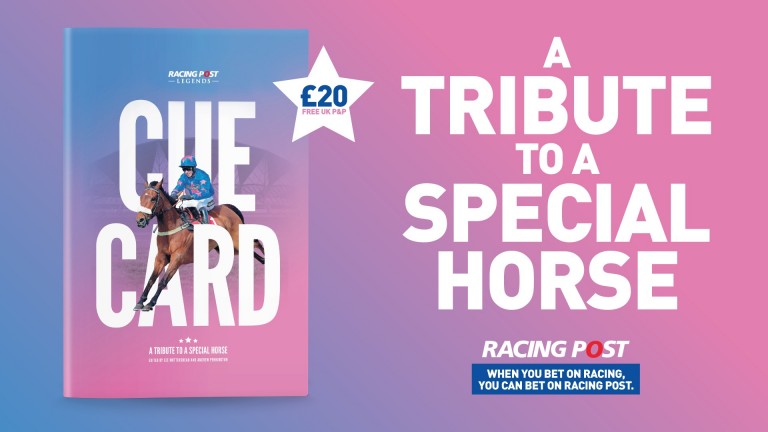 ---
You can pre-order Cue Card: A Tribute to a Special Horse from the Racing Post shop now
If he were a soldier he wouldn't be in the catering corps, you would find him in the commandos or with the SAS flogging across the Brecon Beacons