Pressure on jockeys revealed in trainers' WhatsApp group discussions
Trainers used a WhatsApp group to discuss how they should respond to jockeys taking rides at boycotted race meetings, prompting one of their number to warn their behaviour sounded "like coercion".
Racing professionals have been using the messaging service to discuss their response to Arena Racing Company's prize-money cuts.
In messages seen by the Racing Post, trainers discussed jockeys, including Danny Brock, booked to ride at Arc-run Lingfield on Wednesday, with one trainer asking if someone could speak to the rider.
In response one trainer says: "They will suffer in the long-run. I guess desperate people do desperate things." Another asked: "Will we boycott these jockeys in future, even on bank holidays in July?"
Other trainers in the group warned their colleagues about the consequences. One said: "This is sounding like coercion. Careful please."
Another said: "Cannot start bullying people. They have their own minds and have the right to make their own decisions like we all do."
However, the conversation continued with another trainer posting what appeared to be the text of a message to Brock. It said: "I see you are booked to ride. That is entirely your decision but I wanted to check that you were aware of what the majority were doing."
What was said on the trainers' WhatsApp group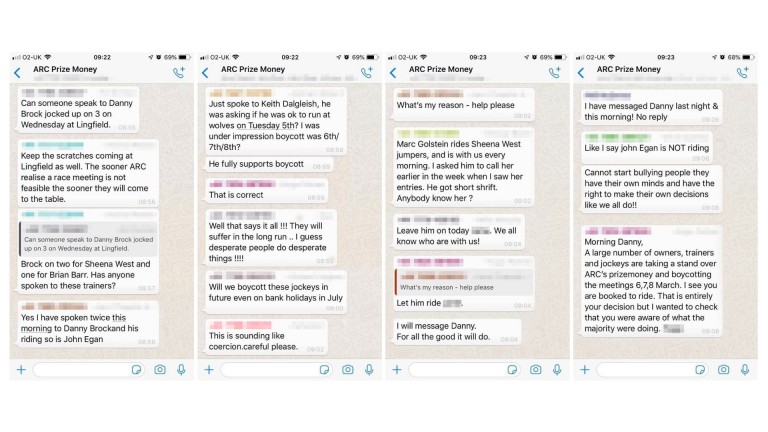 Trainer Brian Barr, whose Haats Off, one of just 17 runners at Lingfield on Wednesday, will be ridden by Brock, described the tactics used as "a joke".
Barr said: "There have been messages directed to Danny over the weekend and I don't see how a band of trainers can go down that road and influence people into not taking rides. I think it's a joke and you need to be given the option.
"We jocked Danny up on Saturday morning and I got a phone call from his agent asking if we could take him off for the time being because he's getting a lot of pressure from other trainers.
"I don't think that's right. I understand the boycott and why they are doing it and what they are trying to achieve, but I think there's a way of going about things and don't think you can be bullying people into getting what you want. It's 2019 not 1995."
A temporary truce was announced on Saturday evening between Arc and the National Trainers Federation, but Barr said: "I can't see how blackmailing Arc into giving out more prize-money is the way forward. We weren't consulted on any of it and this group chat on WhatsApp has come out.
"This is something we're not party to, not that it bothers me as the chances are I'd have been eliminated from it anyway. I spoke to [trainer] Paul George yesterday and he got eliminated from it for voicing his views because they weren't agreed with."
Responding to Barr's claims, trainer and NTF council member Ralph Beckett said: "If people are trying to influence Danny Brock they're not doing a very good job if he's riding in five out of six races. Nobody is being dictated to and it's up to the individual to make up their own minds and decide what they want to do."
The Professional Jockeys Association sent correspondence to its members on Monday, passed on to the Racing Post, in which it stated "each individual jockey must take their own decision" on whether to ride at the boycotted meetings.
PJA chief executive Paul Struthers wrote: "If Lingfield's declarations are anything to go by it would appear that very few horses will be declared but those that are declared will require jockeys.
"The PJA cannot and does not tell you to not ride – to do so would be inappropriate and, more importantly, potentially unlawful.
"We appreciate this will place individuals in a very difficult position but there is unfortunately nothing we can do to prevent that.
"Each individual jockey must take his or her own decision and our advice would be to speak to your main trainer(s) so any decisions you take are informed ones, and hopefully the agreement between Arc and the NTF makes whatever decision you take easier to justify."
Struthers added when talking to the Racing Post: "Whatever decision jockeys have taken we will support – clearly there was a significant strength of feeling in boycotting but it's not appropriate for the PJA to tell people what to do.
"If a jockey feels they have been the subject of bullying, they should contact the PJA or BHA and we could offer them the necessary advice and support."
---
Read The Briefing from 8.30am daily on the Racing Post mobile app and at racingpost.com for all the day's latest going, weather, market moves and non-runner news
---
I see you are booked to ride. That is entirely your decision but I wanted to check that you were aware of what the majority were doing